Just because I am late with this, it doesn't mean I didn't celebrate! Of course I celebrated! Who wouldn't? Happy National Kale Day! Officially a North American celebration held on Oct 1st. This wonderfully fibrous, vibrant, nutrient-blessed edible leaf has its own day and rightfully so. My love affair with Kale was instant. No one had to convince me eat and actually enjoy this super food. It sweet-talked its bad self into my life with ease. I immediately replaced it with my everyday iceberg or romaine lettuce. And for some reason, it created a sense of elation when I did that. Like I was doing something triumphant and worthy.
"YES, I am using kale on taco night! YES, I this is kale Caesar salad, YES, I am inhaling garlic, Parmesan kale CHIPS! Want some?"
I have to admit….there was a bit of trial and error. I found myself 'pinning' and 'googling' various kale recipes, but I love to experience and explore when cooking so it was one kale of a good time. I have loved experimenting with cooking since I was a little girl. My mom (I love you) was not much of a cook. She will admit that to you as well. Her signature dishes, she can rock, no doubt. But it's not her thing. Laundry however, she loves. Ugh. But as luck would have it, I've become a well-versed, slightly about average cook.
My first (kale) love was sprouted on a beautiful, winter day while I was on my maternity leave while watching ABC's The Chew. I had heard of this newly trending descendent of cabbage, Kale, being the new thing in the culinary and nutrition world. So I thought I'd bite (hehe). Co-host Daphne Oz, daughter to thee Dr. Oz, tossed together a beautiful salad….Its called "The King of Greens". Its amaze. (You can find the link at the end of this blog post)
As most do, specifically me, I tweak everything! My husband – to this day – still can't get over the fact that I MUST change something about my order at a restaurant. Get over it. So I have tweaked this recipe to make it my own. My friends and family love it and request it often. Here it is! Try it! Enjoy it!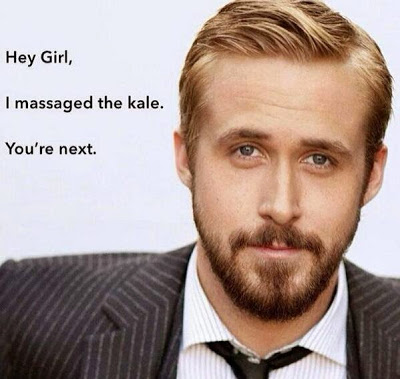 **ALERT! For optimal kale performance, please gently massage the kale with crushed sea salt! ALERT!**
What You Need:
1 bunch of curly kale (most popular in your grocery store) or Dinosaur Kale (roar!)
Sea Salt
2Tbsp of EVOO
1-2 cloves of fresh organic pressed garlic
¾ cup of freshly grated Parmesan cheese
2 tbsp. of lemon juice
¾ cup of freshly grated Parmesan cheese
¾ Energy Blend Mix(dried edamame, almond, pumpkin seed and cranberry mix)
A few healthy shakes of chili flakes (to your preference)
10 mushrooms (sliced)
The "How-To"
By hand, tear the kale into bite size pieces. Be sure to rip away from the stem. I don't like eating the stem. In the bowl, use a few healthy grinds of sea salt and sprinkle the kale with it. Now make like Ryan Gosling and massage that kale gently for about a minute. You want the leaves to soften slightly. This helps to take away the slight bitterness of the kale; relaxes it. Think of how you feel after a good massage. Mmhmm.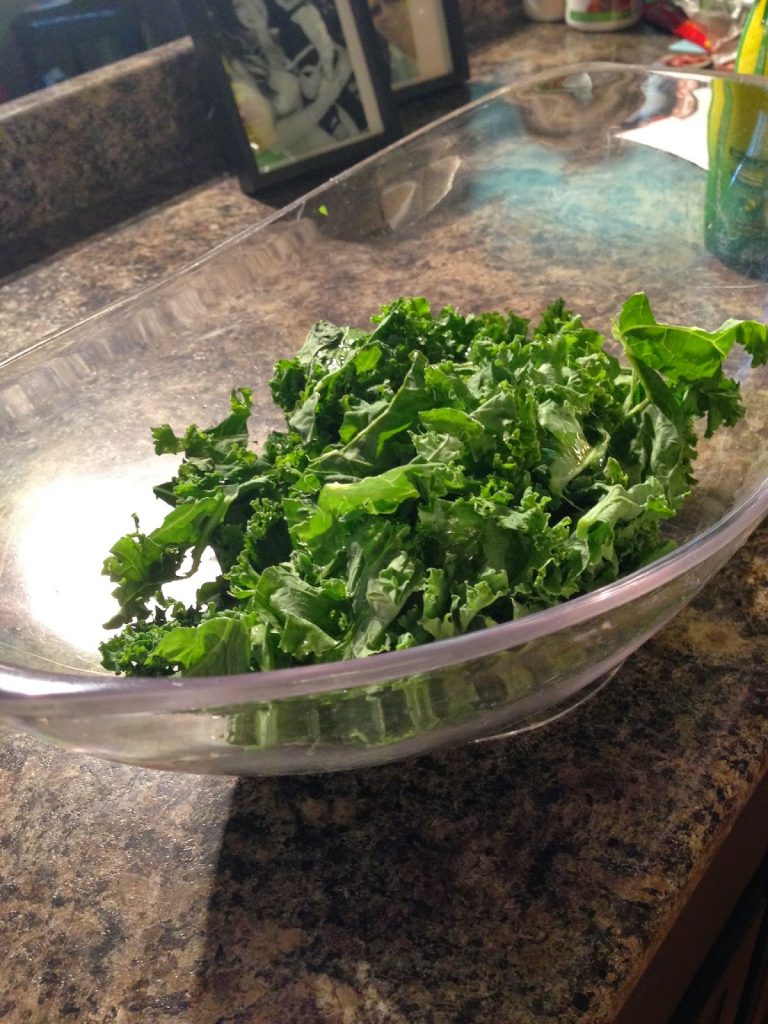 Put aside.
In a frying pan, use a dollop of butter (yes butter) or Olive oil, and sauté the sliced mushrooms to your liking. I like mine a bit crispy.
While the mushrooms are dancing around in butter, add in the ingredients as they are listed above. You may choose to pour the ingredients over the kale or mix it in a Magic bullet or give you an excuse to use your Vitamix (but don't put the edamame mixture in, that would be weird).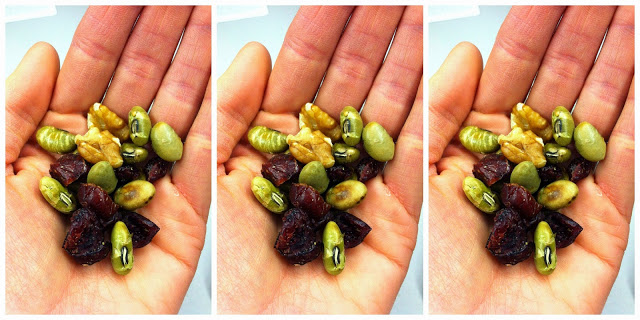 Costco Energy Blend~Awesome Salad Topper or Snack!
Finally, I top this gorge salad with the lightly crisped mushrooms and another sprinkle of Parmesan cheese. MMMM. So good.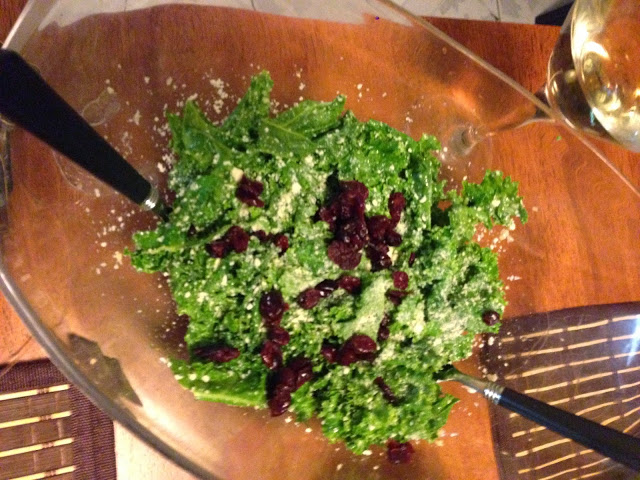 Click
HERE
for a quick and detail list of why Kale is so beneficial not only to our taste buds, but also our health!
For more on all the benefits of Kale or to become a
"Kale Ambassador"