Today started off amazing. Why? Because its FRESHY FRIDAY! I woke up today to the sun shining bright and my 22 month old snuggling up next to me in my bed. He decided that 5:30am was a great time to get up to hang out. Madre, however, thought otherwise. So I brought him in with me for a little extra shut eye. From my room I heard a small and gentle rapping at my front door around 7:45am. I knew exactly who or what was at my door. A smile slowly extended across my face, first birthing itself as a Mary-Kate-esque smirk to a full fledged toothy grin. Down the stairs I hobble to find sitting gloriously on my front stoop is my first ever organic produce delivery basket!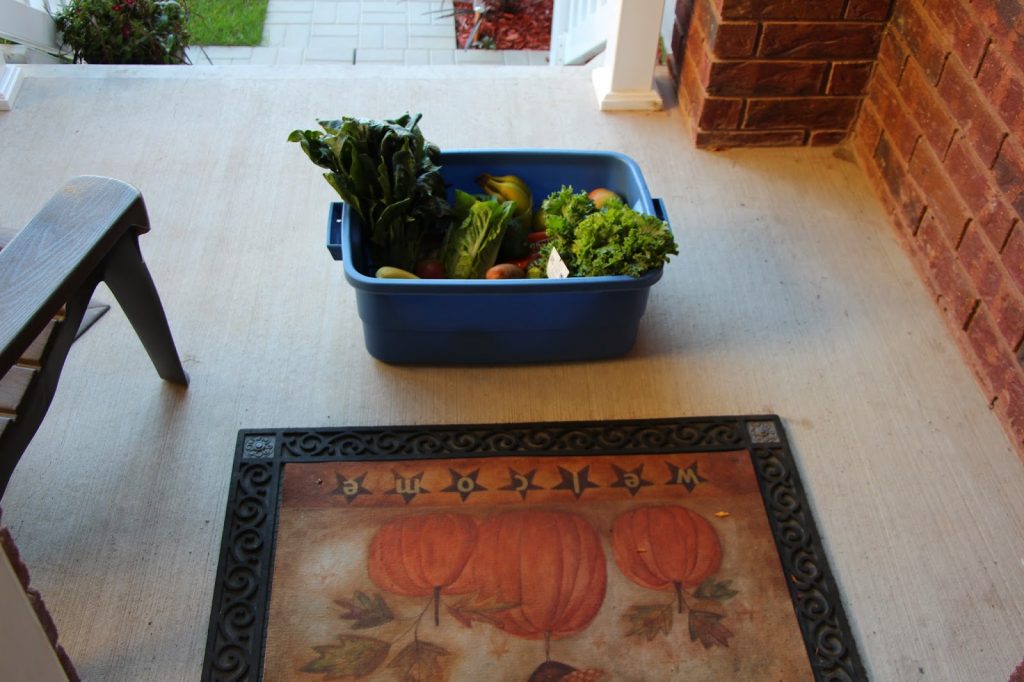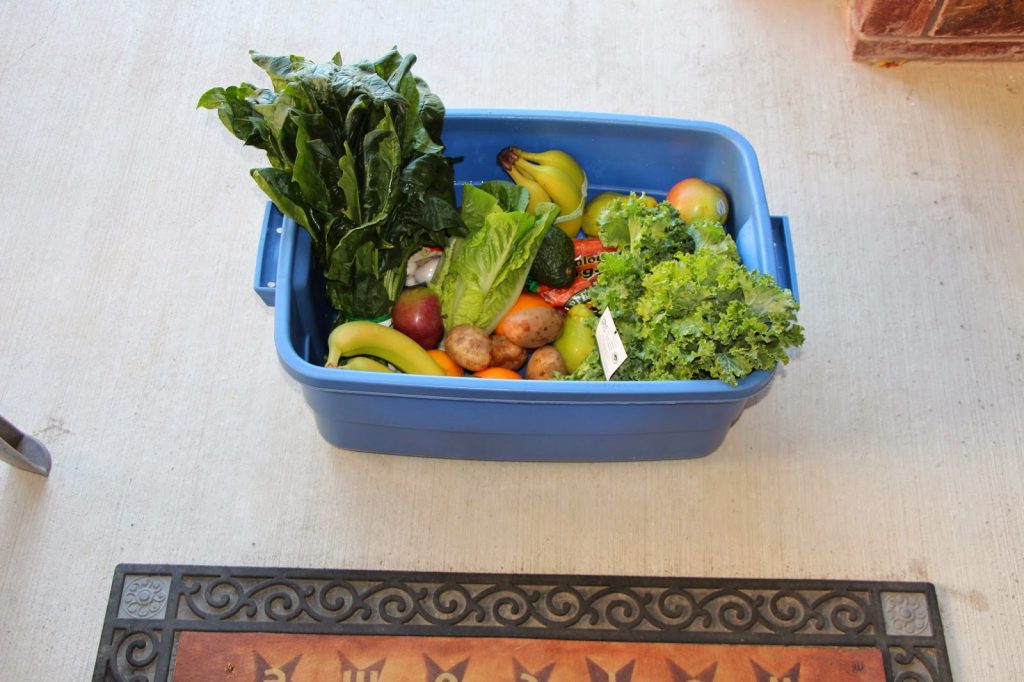 No Filter Needed Here. Look at the Colours!
Now this is the way to go. Now I buy organic every chance I get. LM gets nothing but the best. I had been pondering for some time about getting organic baskets delivered to our home, but it wasn't until hubby moved to his hockey city that I realized that I A) needed a little bit of assistance in ANY department of my life, B) deserved to be spoiled C) really needed to focus on clean eating and providing healthy options for LM and I. So I did it.
Why ORGANIC DELIVERY is awesome:
1) Um….Duh! Its ORGANIC!
What is ORGANIC you ask? Well, simply stated by Organic.org :
Organic produce and other ingredients are grown without the use of pesticides, synthetic fertilizers, sewage sludge, genetically modified organisms (GMO's), or ionizing radiation. Animals that produce meat, poultry, eggs, and dairy products do not take antibiotics or growth hormones.
2) Its LOCAL!
Supporting your local farmers and community is a huge must for our economy. And when I say economy I'm not talking about banks, investments, and stocks type of mainstream economy definitions. I'm not much of an investor on a large scale, but I invest in my community because I believe in it and I want to support the actual ideal of economy. We are truly dependent on farmers and businesses of this sort in order to survive on this planet. Ask yourself this: If there were no high rises, or stock markets, or all-inclusive resorts would you survive? Now ask this: If there were no small town farms providing fresh, safe and nutritient rich foods providing for grocery stores or delivering to your home….could you survive? The answer is NO! We need these people. Remember your roots, where you came from, where you live now and support one another.
3) Variety and CHOICE!
This online service is amazing. You can choose your preference every week or bi-weekly whatever you prefer. They tell you exactly what is in season, what is available, and provide you with alternative choices from a drop down menu if your 'favourites' are not available. There is also a "never send" option so if you are worried about getting food that you absolutely hate, or perhaps don't settle well with your gut, worry no more! This particular company sends you, by email, what will be in your organic basket 2 days before your delivery. Then you can easily make an modifications you like to your order. By the way….all produce is washed and cleaned for you.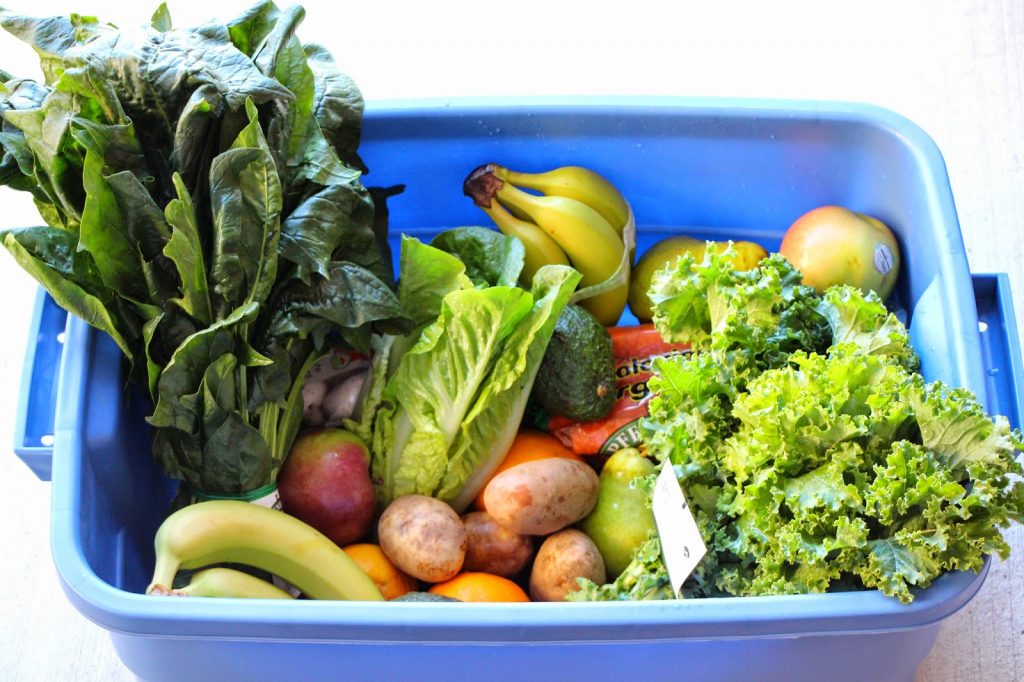 What's in my basket?
2lb of Fair Trade Bananas (LM's fave!)
1lb Russett Potatoes
2 Gala Apples
2 McIntosh Apples
3 Valencia Apples
2 Avocados
2 Bartlett Pears
2lb Carrots
1 Green Kale (Mumma Fave! Watch for my Kale Chip Recipe!)
1 Bunch Spinach
1 Romaine Lettuce
8oz White Mushrooms
2 Lemons
4) DELIVERY!!!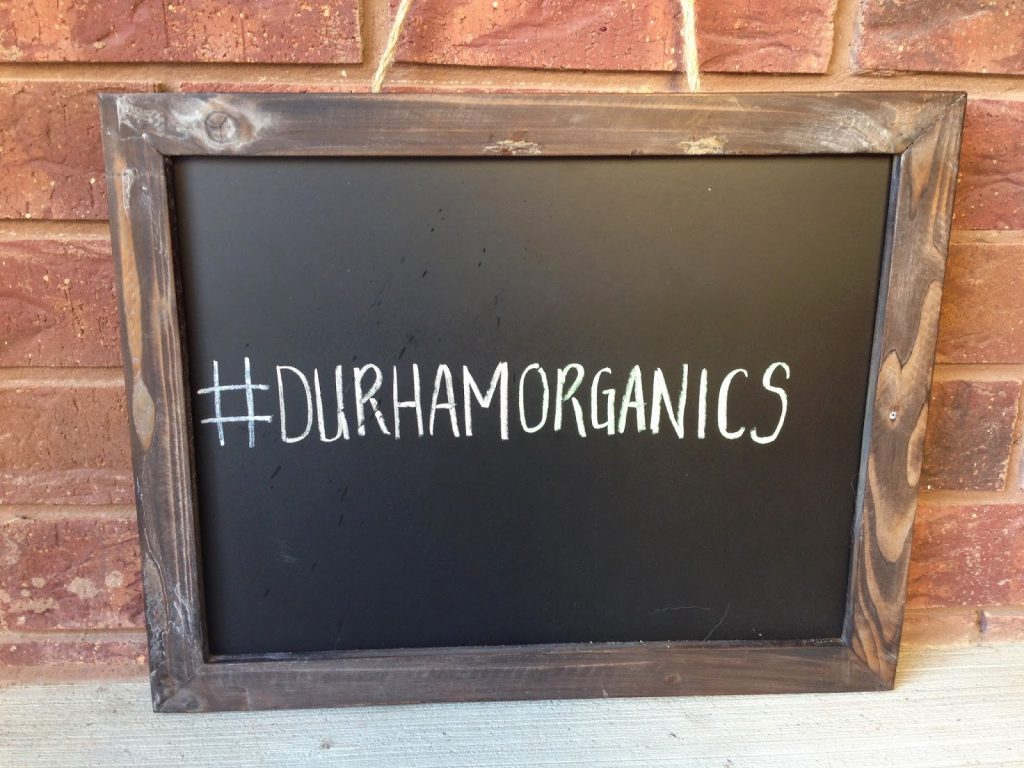 Knock, Knock.
Who's there?
Durham Organics.
Ermehgerd. Thank You
Enjoy your basket.
Nuff said.
Check your local area for similar farms/companies who will enrich your life and your belly!
Here are some links to help you get in touch with your organic side 🙂 These are just suggested sites to get you on the right track. Make sure to ask around your community to see if there are small farms that participate in Organic exchange programs. There are many farms that may not offer delivery but will have prepared baskets for pick-up as well. Be sure to check out local Farmers Markets too.
ONTARIO:
Farms & Forks — Delivery Area: Burlington, Halton Hills, Milton, Oakville, Brampton, Mississauga, Vaughan, King, Richmond Hill, Aurora, Newmarket, Stouffville, BARRIE, Markham, Pickering, Ajax, Whitby, Oshawa.
Green Earth Organics — Delivery Area: Toronto, Simcoe and Muskoka.
Eat Green Organics — Delivery Area: London, Komoka, Thorndale, Dorchester, Ingersoll, Woodstock, Strathroy, St. Thomas, Sarnia, Forest, and Petrolia.
Lee & Maria's Market — Delivery Area: Windor and Essex County.
BRITISH COLUMBIA:
Green Earth Organics — Delivery Area: Vancouver, Victoria, Fraser Valley, Sea to Sky (Squamish/Whistler Highway Region)
ALBERTA:
Green Earth Organics — Delivery Area: Calgary
THE MARITIMES:
The Yokel Local — Delivery Area: Site offering a plethora of local farms and small business dedicated to organic living and delivery services 🙂