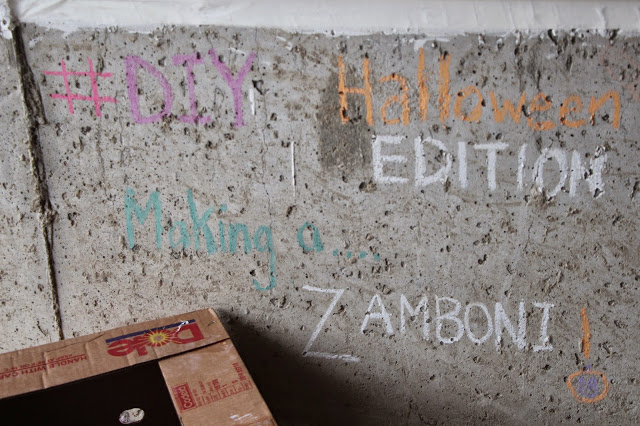 #DIY Halloween Edition: Making a Zamboni!
There was a lot of discussion this Halloween, mostly fuelled by myself due to halloween being my FAVE, regarding what L.M. is going to dress up as. There were many ideas thrown into the mix such as an elephant, a monkey, a ninja turtle, a golden retriever….but none seemed to fly with Daddy. Last Halloween was just about getting something cute and quick. He wasn't even one yet. L.M went as Superman and I was of course, his Lois Lane. It was quite easy because it didn't require preparation or have some elaborate drawn up connection to something he was extremely passionate about. If that was the case he would have been dressed up as a boob. I was actually quite disappointed in myself. I was better than that. He didn't (and still doesn't) even know who Superman was. I set the goal for myself that next year (this year) I would do better. But let's be serious Mom's out there, time is of the essence. Its hard to find the time to really get into the nitty gritty of creativity with a toddler in your face 24/7 (bless his little momma's boy heart).
But I thought to myself…."Self, what would your Little Man want to be if he actually understood the concept of Halloween?" What does he love? Agent Oso? Yes. But I don't want to buy a generic costume. Olaf? No, dime a dozen. Hockey Player…let's face it, he'll be that probably 2 or 3 times at least in his lifetime anyway….moving on…..Then it hit me….what's the thing that can make a temper tantrum stop in its tracks? What can bring a smile to his face at the mere mention of its name? And what the most exciting thing at a hockey game to our little pride and joy…..ZAMBONI! Yes! that would be amazing. He loves Zamboni's. But how does one find a Zamboni costume? Amazon. Nope. Walmart. Nope. Anywhere on the planet. Nope. This calls for job for Madre! This calls for a….
Do it Yo'Self!
My husband loved the idea. No other costume would do. He loved it so much that he told my hometown newspaper that a Zamboni was what our son what going to be on his first halloween adventure. So basically, if its in the paper, I had to do it. I'm not saying its perfect. I've made better costumes in my day….but Little Man loves it! Here's how I did it:
Step 1: Find the right sized box. One that my not-yet two year old can carry/walk around in.
Step 2: Paper Mache! A Zamboni is not a perfect cube so I had to make some adjustments to it using paper mache. Is super easy to do. I don't have time to cook up any of those fancy recipes so I just use:
Good old fashioned flour (3 Parts)
and warm water (1 Part)
Mix Well.
Next simply dip and adhere strips of newspaper to my son's soon-to-be Zamboni costume. Voila!
Use Cardboard for any additional shapes or edges you wish to add to your structure. It provides additional support for your paper mache to take shape.
Step 3: Give yourself some time for this to dry. I let it set overnight.
Step 4: Choose your team colours. Again, there was much discussion on this. At heart, I'm a Detroit Red Wings Fan, and my hubby is a Toronto Maple Leafs Fan….but in the end we decided to go with neither and we chose Daddy's team. Representing the Black and Gold this Halloween.
Step 5: Paint your Zamboni. It will need two coats for sure. I painted the cardboard box grey as a primer first.
Step 6: Find your team Logo. Print off.
RECYCLE!
Step 7: Place your team logo at its desired position and brush Mod Podge over top (can be purchased at Walmart or any craft) to adhere the logo to your Zamboni. Let Dry.
Step 8: Use a staple gun or very strong glue to adhere any additional "zamboni" parts to the base frame.
Step 9: Wheels-You can take the option on this one. You can either paint wheels on the sides of the box or you can glue real wheels on. Fortunately, L.M. destroyed his dump truck toy and the wheels were usable!
Step 10: Wearing the costume: You can use suspenders to have the zamboni 'hang' from your Little Mans shoulders. If he was older, he might be inclined to have a better hold. But let's be real here, moms and dads, we are visiting a few houses, ordering pizza, and calling it a night….oh and I will eat his halloween treats. 😉
Peace out. May Halloween be ever in your hearts.