Merry Christmas Her Write Peacers!
Today I sit back and reflect on all the things I am grateful for. Today I am surrounded by crinkled, recyclable wrapping paper, overstuffed bellies, and reminiscing thoughts of the smiles on the faces of my loved ones. Today, my family and myself are all getting over our holiday hangover….not necessarily alcohol induced. Today we get a chance to breathe…kind of. During the holidays there is no such thing as the "calm before the storm", rather its more like a "storm before the calm". Every year its chaos and mayhem. We all make sure everyone on our list is checked off with the perfect gift, every bed is filled with a loved one, and every mouth is enjoying their favourite holiday comfort food. Its a tough job to do and at times it can be a lot to deal with but for extreme organizers (like myself) its also the best job as well. I enjoy the giving more than the receiving. I become quite awkward during gift opening. For a writer, I can't find the right words to say, can you imagine. They say hindsight is 20/20. Now that its over, I wish I could rewind and do it all over again.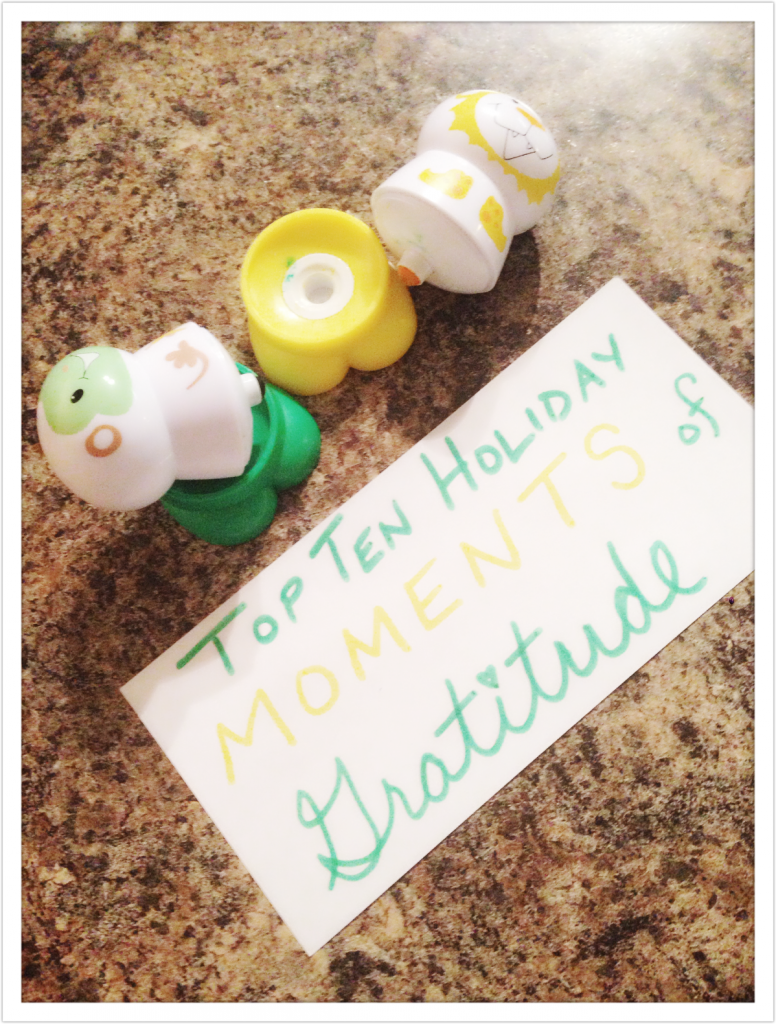 Here are my Top Ten Holiday Moments of Gratitude:
(Check out my Instagram account for some of my holiday moments)
1) The Hockey Season took a breather and gave me my Husband back. I kicked off the break by surprising hubby and took the train 2 hours to surprise him (hoping to nip a bad streak in the bud). His smile = Gratitude.
2) When Little Man yelled to me "Mumma!" across the restaurant on Christmas Eve. He's been calling me "Daddy" for a long time. (Its all about the simple things in life)
3) My family and my husbands family all joined together to have Christmas Eve at The Octagon Restaurant. They are always so welcoming with each other and it truly means the world to me.
4) My hubby's Nana told me I had the warmest heart. Her favourite saying is, after all, "Cold hands, warm heart". She also likes to call people "Old Socks" but this didn't apply.
5) The look on my Father-in-Laws face when he opens his annual calendar I make for him every year.
6) The unnecessary abundance of generosity from my family. (My new juicer! My Kate Spade purse! My Ugg slippers! My '642 Things to Write About' book!) Someone's been reading my blog. Muah xo
7) My hubby battling the flu and not missing a beat to be by my side.
8) The perfect family photo.
9) My mom, co-workers, and friends for saying the right things even when they don't know what those 'right things' are.
10) My grandma for telling me that she didn't know that my dream was to become a writer and that I shouldn't hide something that means the world to me. Be Brave. Take Risks. Listen to your grandmother.
When its all over….I want it all back again. The good and the not-so-good.
One of my favourite quotes claims that "attitudes are contagious…"
Share some of your favourite Holiday Moments of Gratitude. Post them in the comment box. I'd love to hear what you are grateful for.