Erica and I have never officially met…in person. But I have to say that I have come to know her fairly well over the past couple of months. She let my into her life. That says a lot about her character. When I approached her about my idea to include hockey wives in my blog she was a) supportive b) humbled and c) encouraging and ready to help, with excitement, at my new writing venture.
There seems to be a sisterhood in hockey wives. We understand each other and understand that it takes a certain kind of woman to be married to or in a relationship with a professional athlete. Its not about the man either, its about the lifestyle. I suppose she was forthcoming to help due to the fact that her husband, Steve Ott of the St. Louis Blues, and I come from the same hometown or maybe she just had a good feeling about me. Obviously she is a great judge of character 😉 Steve is a well known and respected alumnus of the Windsor Spitfires hockey club and will be honoured this January with the retirement of his jersey. This is NOT where Steve and Erica's story began. Timing is everything. Geography, among other factors, was an issue for their impending love story to begin. Ott needed the right team at the right time. They were destined to take that evening stroll down the streets of Dallas.
Erica is your All-American girl reigning from Dallas, Texas. Admittedly, Erica is a city girl. She is proud of her roots and embraces, whole-heartedly, her new Canadian heritage. Erica tells me, "I LOVE escaping the busy life to spend our summers in Windsor, Ontario, Canada. We have a nice spot on the lake, and I have made some forever friends. Nothing beats waking up every morning to a beautiful lake and fresh air". You can also find Erica checking in at the lake for one of my personal faves, standup paddleboarding or busting a bead on the backroads for some killer workouts to maintain her ultra-fit physique. Perhaps she will let us in on some of her fitness secrets in a future blog. After a busy day on the lake and spending time with Steve's, always supportive, family, Erica shares that they, "have a bon fire almost every night, our summer memories are so, so special to me".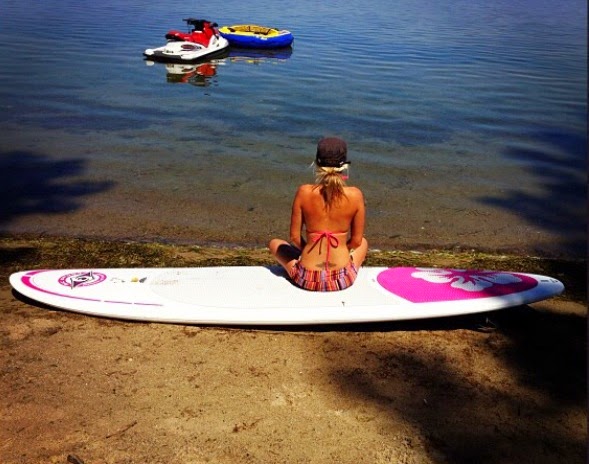 Erica loves SUP'ing. Great for the core and arms!
The perfect summer workout.
One thing that people may not know about hockey players, no matter what level they are at, is their undying need and appreciation for family. You have to understand that hockey players leave home at the tender age of 16 to play for their drafted hockey club and really don't return with the exception of summer holidays and a brief and bittersweet Christmas break, which is usually only about 5-7 days depending on their schedule. For those European players, they usually don't get that quick respite of familial reconnect.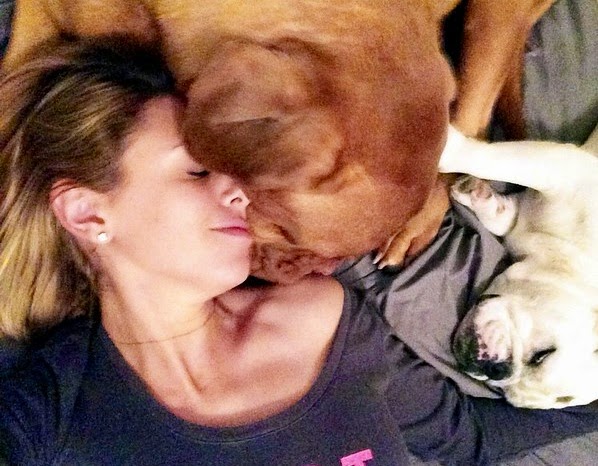 Loving her some FUR BABIES
Sometimes in my busy day-to-day life, I forget that my moments of stress truly come from missing my husband and family. In communicating with Erica, I am always reminded that gratitude and celebration of family is what its all about. I asked Erica what her key to happiness as a hockey wife was and her answer wasn't about hockey at all. Hockey doesn't run our lives, although it does have a commanding presence. It's not always about calculating ice time, or scoring a goal, or winning a game. Her key to happiness? "Hands down my family, including my fur babies. We are kind of obsessed with our pets. I really am unbelievably lucky and I tell myself that everyday".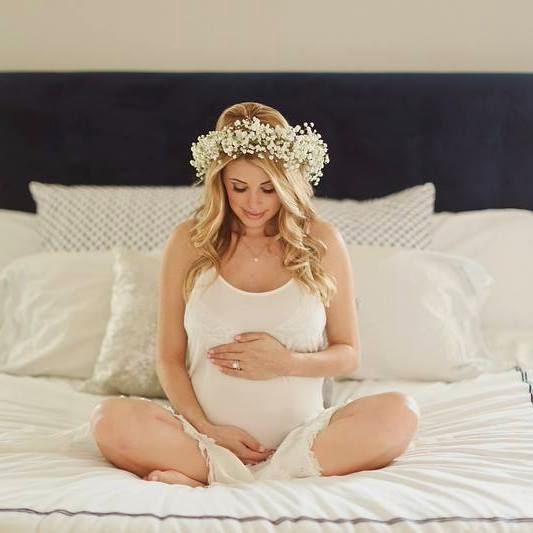 Erica has got the GLOW
Beautiful Maternity Moments by Kelly Manno Photography
And speaking of family, Erica and Steve are expecting their first child together, due in February! During an adorable gender reveal, the couple bit into a cupcake to reveal a baby blue center, giving away that her growing bump is in fact a growing baby boy! Baby M only adds to their unbreakable family bond. Erica is a Step-Mom extraordinaire to Steve's 7-year-old daughter, Layna. My heart melts when hearing Erica speaks of her. Coming into Layna's life when she was only two years old, the hockey wife gushes, "We have an unbreakable bond that is so special to both of us. Her and I have had so much one on one time over the years. Sometimes I am blown away how crazy-loveable she can be. I am so excited to watch her grow into a young woman and be there for all her ups and downs along the way". Ugh! Now I get it mom….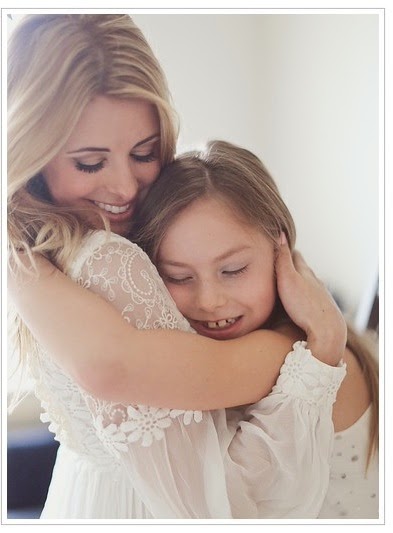 Erica and Layna
This is my first real move as a hockey wife. Well, its an impending move. As you all know, my hubby and I live apart presently, but most definitely won't be forever. No relationship can thrive in a situation like ours for an extended amount of time. We do our very best everyday. It makes us appreciate our time together that much more. Erica and I feel the same about travelling, which means the possibility of a new city, new friends, and new team; Always down for a new adventure, wherever it may take us. Erica has thrillingly said that she has now lived east, west, north, and south. I have to say I'm pretty excited to fill my travel resume with those stats too. Secretly, I'm hoping for more SOUTH than any other place. She has bee-bopped from Dallas to Buffalo, to Windsor, to St. Louis…and honestly there is no guarantee where 'home' will be. But her attitude on the matter? "OK! Let's do this!" She has given her husband the reassurance that she will follow him anywhere. You can see in their relationship that he is eternally grateful for her and her sacrifice. That's what we sign up for and are happy to do it. My husband and I wrote our own vows that included aspects that pertained to our unique lifestyle and goals and veered away from the traditional jargon that is quite honestly…general. Erica and Steve also made promises to one another during their picture perfect nuptials in Cabo San Lucas in 2013. We become part of the game, happy to be a linemate.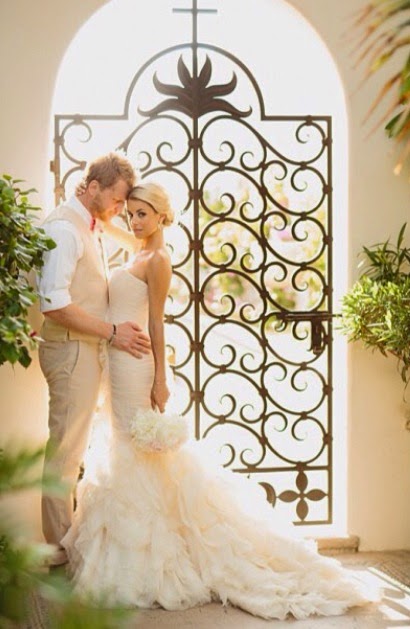 A Picture Perfect Wedding in Cabo San Lucas, July 2013
You can see more of their special day at StyleMePretty.com Blog
Aside from being a supportive wife, step-mom to Layna, and preggo, Erica still finds the time to make herself and her home look fabulous! She is a smoke show. Her home is magazine worthy. As a graduate from Cosmetology school, it is clear to see that there is method to how Erica always nails her looks. I don't remember looking on point as much as Erica does during my pregnancy with Little Man. If we lived closer, I'd hire her to give me a mommy makeover! And to boot I'd also have her come decorate my home (wherever my home will be). Interior design has become a passionate hobby of hers. Part of it goes to her natural talent and her belief in the hunt for great products. A lesson well-learned at my Spark Sessions blogging conference. You can find Erica's favourite products at the bottom of this post. Erica likes to dabble in many things aside from makeup artistry and interior design such as photography, fashion, and travel planning, and she blames this on boredom, but thank god for boredom! It allows our background interests to come to the forefront. Ahem, blogging… I love watching her fashion trends ignite. They exude femininity and all the while still maintaining comfort. And when it comes to photography, her photos always speak to her gratitude and appreciation of what she has, making the photo come to life. There is rarely an Instagram or Facebook photo that I don't 'like' or comment on. It has been a great experience getting to know Erica and her adorable, growing family.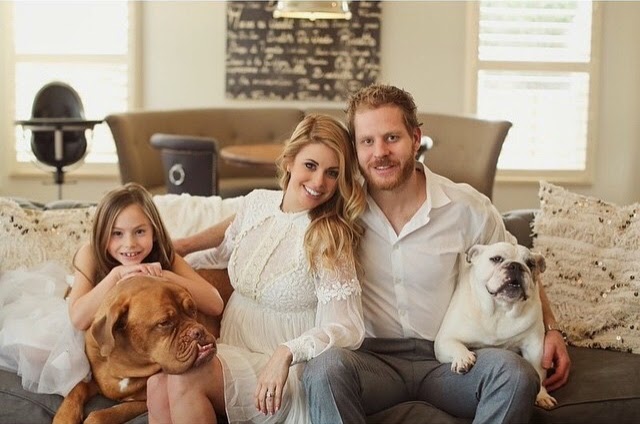 Layna, Tattoo, Erica, Steve and Bella Ott
Some of Erica's Favourite Makeup Brands: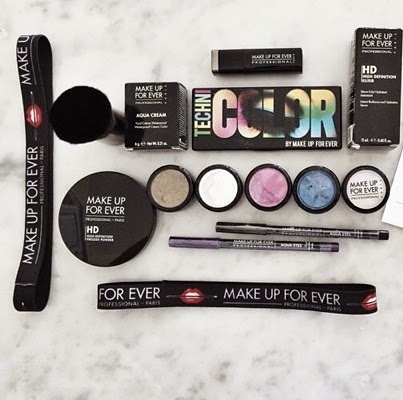 For the Skin
Makeup Forever High Definition Foundation
Makeup Forever Pro Finish Multi-Use Powder
Makeup Forever HD Pressed Powder
For the Eyes
YSL Babydoll Mascara
Urban Decay Palette 1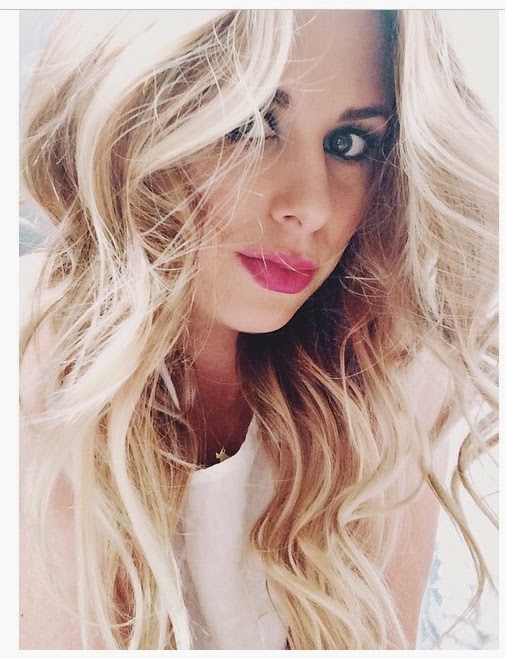 Putting it all together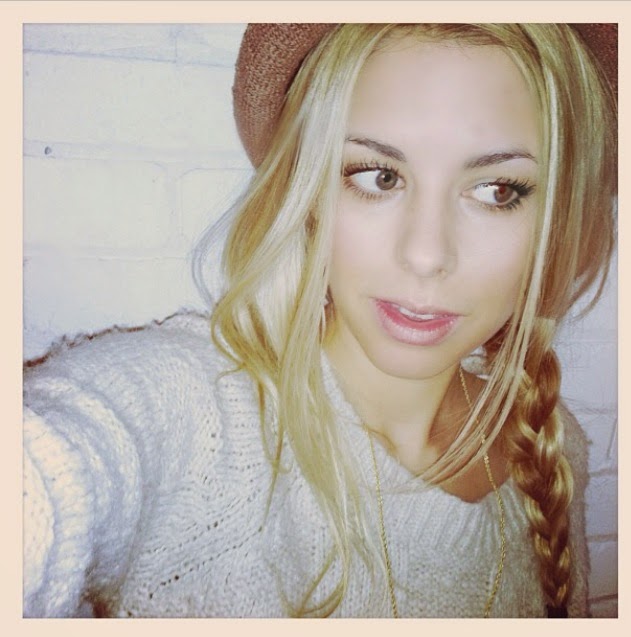 Natural
Stay Tuned for more contributions from my fellow "Hockey Wife" friend, Erica Ott.
Be sure to check in often to HERWRITEPEACE for monthly series updates of "Doing it Right: The Life of a Hockey Wife"
Love you all,
K.