Ok, you have asked for it! I made this over the holiday break and even got my hubby to eat it. That says a lot, considering he is a pizza connoisseur. I am guilty too, however, but I just can't keep eating pizza the way I have in the past. I'll never be beach body ready for the BAHAMAS!
This IS a series piece, called Copy Cook, where I take recipes from whatever piece of literature such as cookbooks, magazines,….PINTEREST, what have you and make them my own. I love to cook but sometimes I need a little boost to get me started and then I have fun tweaking my recipe to suit the palette needs or nutritional needs of myself or family. I have had some great success but also some hiccups along the way. Who hasn't.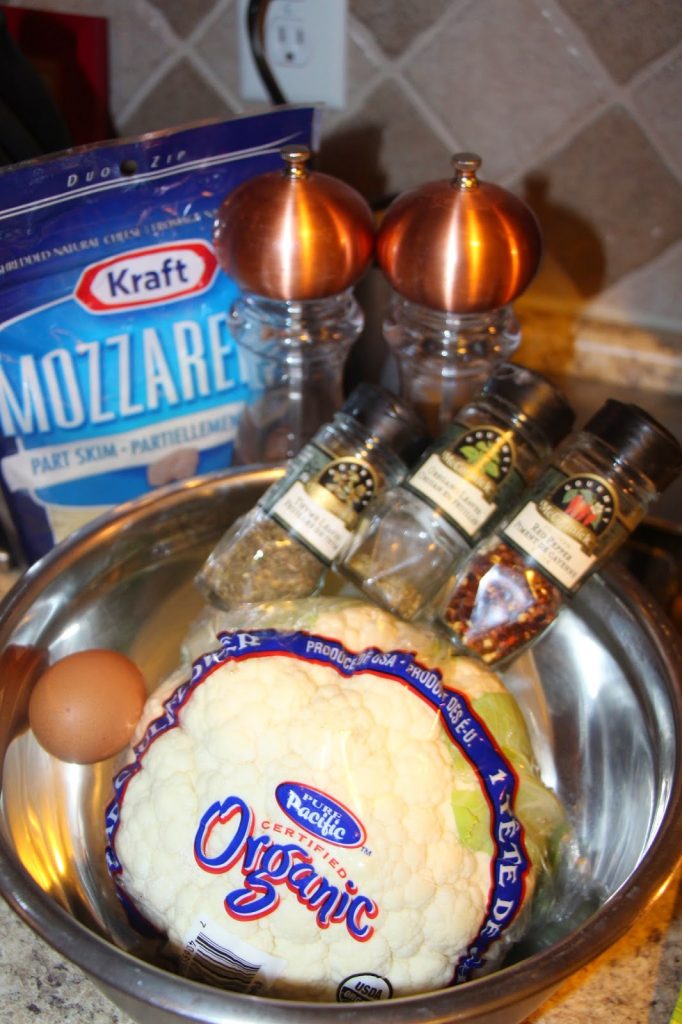 Let me tell you, this recipe is easy and well worth the steps to have a gluten-free, carb-free pizza crust that…what for it….TASTES DELICIOUS! I know you have been wanting to try this so without further ado…
CAULIFLOWER CRUST PIZZA CRUST!
This was a super fun blogging experience. I collaborated with my good, good friend and fellow blogger Darby from MidtownDiaries.blogspot.com to put our minds and bellies together to create the ultimate Cauliflower Pizza Crust. She is an experienced Cauliflower Crust Pizza maker, so we shared ideas, a Mill St. Organic Lager, and used a mashup of each of our recipes and let the magic happen.
What you will need:
(I prefer to use organic ingredients whenever possible)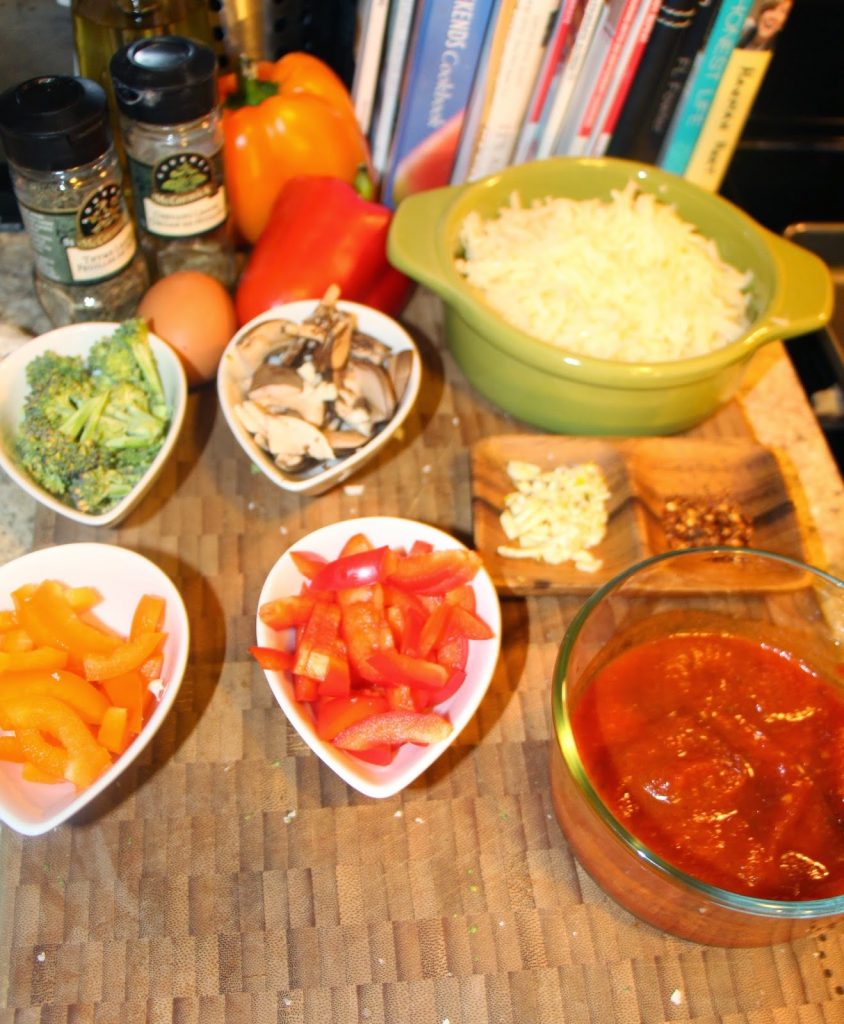 Get creative! Our toppings
include red and orange
peppers, mushrooms, broccoli
chopped garlic and chili flakes
Make it your own!
– 1 head of cauliflower (makes two personal-sized pizzas)
– 1 egg
– 1 cup of mozzarella cheese
– 3/4 cups pizza sauce (substitutions can include anything you have in the fridge- pesto, leftover pasta sauce, BBQ sauce, etc)
– 2 cloves of garlic finely chopped
– a dash of spices like oregano, thyme, chili flakes, salt, pepper to give the "dough" a bit of extra flavour.
– toppings of your choice (We used red pepper, mushroom, broccoli and garlic)
Step by Step (Oo Baby!)
Check out our Hyperlapse (fast-forward) videos to see how we put it all together.
There are variations in this recipe. With the proper ingredients you can make this recipe with anything in your home. No fancy gadgets required. The steps listed below are complimentary to the Hyperlapse videos.
Step 1:
Grab your lovely head of organic cauliflower and break it apart into large florets. Once you have your florets, begin by cutting them up into very small pieces. You want it to be as 'crumby' as possible. There are a variety of options to use to complete this step. You can use a sharp knife, a grater, or a food processor to save you time if you have access to one. The food processor we had gave us a bit of a hard time…in the end we discovered that we forgot a part called the "power shaft"….
Step 2:
Cook that cauliflower. In order to turn cauliflower into "dough", it needs to be soft. The quickest way to do this is in the microwave. We recommend an initial cooking time of 7 minutes (usually sufficient for a 1/2 batch). Once your time is up, give the cauliflower a stir. It should be steaming and quite soft. If not, put it back in for another 5 minutes but be sure to keep an eye on things. While the cauliflower is cooking, preheat your oven to 450 degrees.
Once its steaming hot and soft, pour the cauliflower onto a tea towel and wrap it up. The tea absorbs the excess water. You want to get out as much moisture as possible. Let that sit for about 5-7 minutes.
Step 3:
Now that your cauliflower has had an additional steam treatment, wring out the "dough" ridding it of as much water is possible. You should get a couple of ounces of liquid. When you open the tea towel you will see now that the cauliflower has now taken on a more "dough-like" quality to it. YAY!
Empty the contents back in your mixing bowl. Give it a quick stir and you can now add your (1) egg and your mozzarella cheese. Throw in some parmesan cheese too. Get crazy. Mix these ingredients together well.
This is where you can have some creative freedom in the kitchen. Everyone has their own preferences of flavours, so have fun with it. We chose to use oregano, thyme, chopped garlic, and chili flakes. You can create any culinary palette you fancy! Try curry and turmeric or jerk cauliflower crust. Mmm..nom.
Line a cookie sheet, if you do not have a pizza stone, with parchment paper.
Once you have added your spices, give it one final stir and clump your "dough" into two baseball sized portions and gently press the mixture into a circle. It is advisable you spread it out to create a THIN crust.
Let the crust cook in the oven for 15 minutes at 450 degress.
Step 4:
Now that the crusts have baked themselves to perfection, take them out and let them cool for about 5 minutes. You can garnish your plates with a healthy and tasty Kale Salad, that is featured on a Her Write Peace previous post–> Check it here!
K's Kale Salad!
Here comes the fun part! The toppings! Again, here you have culinary freedom to suit your needs. Load that pizza up with your go-to toppings. Then put your creations back into the oven for 7-10 minutes.
Step 5:
And 3… 2… 1… Your pizza is ready! Take the pan out of the oven and transfer your parchment paper to a cutting board. Grab your pizza cutter or sharp knife and divide that sucker into four adorable slices. Get them onto a plate, pick up a slice (careful… they're hot!), cheers your pizza-eating partner, take a bite and high five. #goteam
It was so great to do my first cooking collaboration and blog post with
MidtownDiaries.blogspot.com.
Its always great to collaborate and can't wait for more collaborative projects. I hope you all LOVE
your zaa!
Husband Reviews
"I forgot I was eating cauliflower."
"Tell me there is more, because I'm starving…"
If they can dig it, you can!
And as always…
Love you all,
K
and D!