I had always admired that hockey players,
well any athlete who plays a team sport, are not only given the chance to live
out their dream, but they are handed instant friends. Now mind you, they may not
always be your BFF's but its someone you build comradery with, grown with,
learn from, and often build an unbreakable and lasting bond. And in my
experience, thus far in my hubby's hockey career, I too have reaped the benefits
of this friendship clause.
This month's hockey wife is a personal
friend of mine. She is amazing and is truly "Doing it Right". I have come to
know Christie Bezaire, in much of the same way as most athletes come to know
their friends. We were on the same team. Still are…figuratively. Christie and I had an instant connection. It took no time to start griping about details of our hubby's obsessive work habits, sharing stresses, and finding similarities within ourselves that had nothing to do with our other halves, such as writing. She has a charismatic way about her that makes you feel you've found a friend for life. It is my honour to feature Christie Bezaire as Her Write Peace's February "Doing it Right: The Life of a Hockey Wife".
Her fiancée at the time, DJ Smith, formally
of the Toronto Maple Leafs, two-time Memorial Cup assistant coach of the
Windsor Spitfires in the OHL, and now cleaning up as Head Coach of the Oshawa
Generals, is responsible for bringing us together. Her hubby, being the big
cheese and my hubby taking the assistant coach position as one of the hardest
working dynamic duos in the OHL. I am forever thankful to him and the organization for gifting me this friend.
She does it all folks. She's beautiful,
kind, hilarious, strong, patient, and talented (to say the least!). Her resume
in life is one we can all aspire to juggle successfully. And juggle she does. She literally lives the circus life….hehe.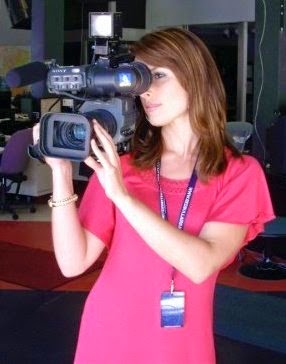 Seeing life through her lens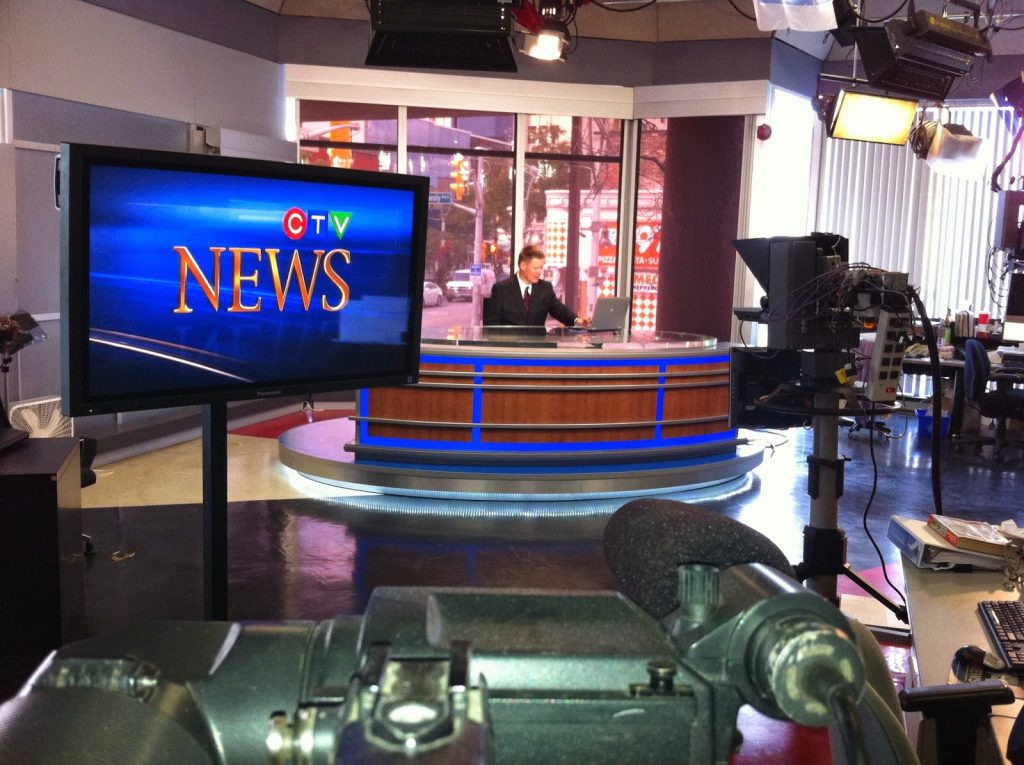 She's got your back Mr.
One thing that some of us hockey wives have
to think about is our jobs. Some of us have jobs and are torn with the idea of
transferring, finding new jobs, or just down right quitting. This becomes even
more problematic for those wives who are moved to a place where working isn't
even an option. Luckily for Christie, this is not the case…right now. Christie is a
well-known and admired member of CTV Windsor. She graduated from the University
of Windsor with a degree in Communications. She started with CTV in 2005 as a writer, tape
editor and a prompter operator, moving her way up to videographer. Christie now
graces your television screens as anchor of the six and eleven o'clock news
when the lead anchor is absent. That's
reason enough to watch the news. Aside from being a weekend anchor and reporter for CTV, Christie also teaches for St. Clair College as a journalism instructor. She specializes in Performance in Media courses for 1st and 3rd years. She also runs a small circus company call Sky Society with her cousin, Amy.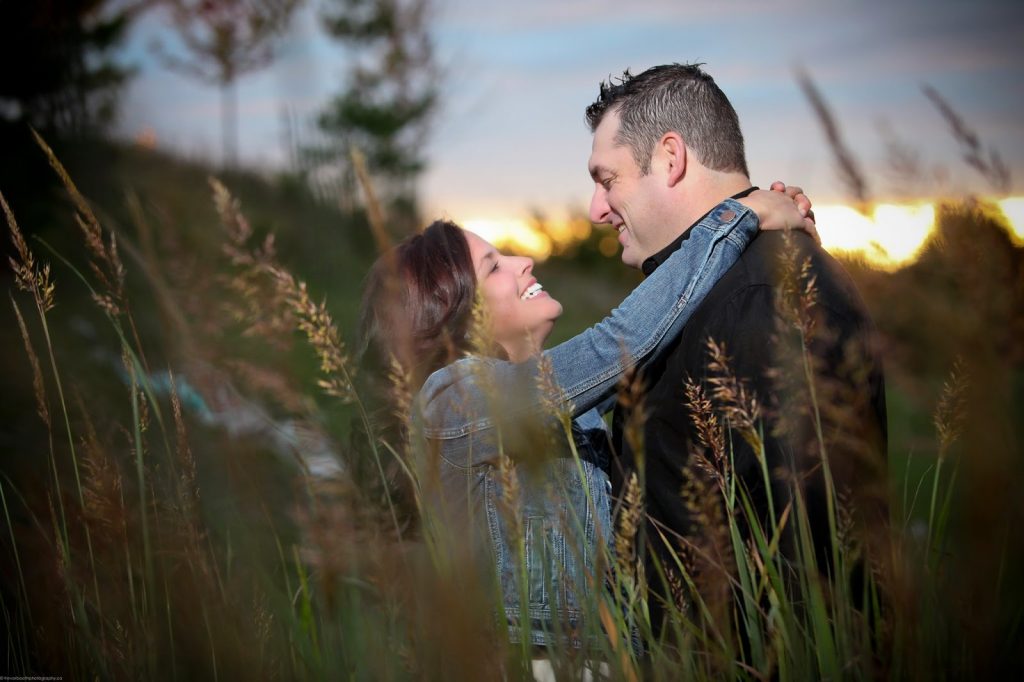 Beautiful Engagement Shots
"Enough to bring a tear to a glass eye."
Now here is the kicker. As mentioned above,
her husband is the bench boss in Oshawa, and Christie is an anchor in Windsor.
If you are any bit of a geography buff you would infer that there seems to be a
couple hundred of kilometers between this husband and wife. Yet another thing that bonds us…living afar
from our partners. It is HARD. Of course it is, and there are probably
nay-sayers out there. But to you I say "GOOD DAY!" Some of us have had the
experience when another wife/mother/sister has had one too many and thought it would be
prudent to offer marital advice. Fair enough, we need our girls to be
honest. But to be so blunt to say that "It'll never last", if we don't up and
quit our jobs, and get the hell out of dodge, is a bit harsh. And as much as these
comments irk Christie (and ME!), she has to consider that the Wino Wives might be right. "This is not to suggest that other women who choose to stay at home aren't doing it right. I give mad props to stay-at-home moms, or women who make tough sacrifices for their family". She is very cognizant that she might have to do that someday. This will never discount how hard Christie works
at her job, her health, and her well being.
And for the newlyweds, its working. "For now, we'll keep making the 4 hour drive a few times a month. We appreciate the short time we have together." Its inspiring to see how motivated
and driven Christie is about her job and her other ventures. Her hubby understands it because he is shares the very same character traits. In supporting her hubby's intense career, she speaks the mantra that all hockey wives should have, "I love him win or lose. I want him to win…but I don't need him to." He understands her passion and need to have purpose and identity. I've seen them together often and its genuine and real…and a good show. Hands down the ones of the funniest hockey personalities I've known.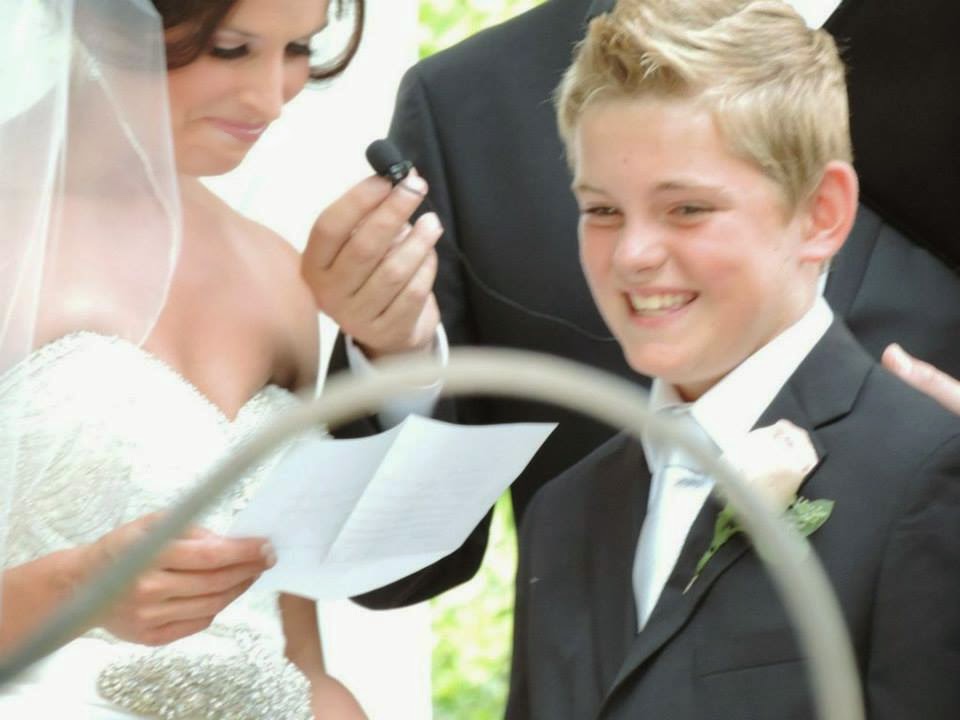 "Cutest kid Ever"
Christie's biggest challenge, she says, is balance. "Things feel off balance when we aren't seeing each other enough. Too much work, not enough family time. I miss him and Colton during the hockey season." Colton is DJ's hilarious and charismatic son. Christie came into Colton's life when he was 3. "Cutest kid ever!" she gushes. "He is full of energy and although he got his good looks from his mom, he definitely has his dad's sense of humour, outgoing personality, and hockey skills." When I asked Christie about how it is being a step-mom to 11 year old Colton, she boasts, "We get along great. I am also an only child and I think I understand him on a different level. My approach is to just be a great friend to him." She tries to stay away from the discipline side of things and rather guide him in a positive way and let him know that, "I'll always be there for him. I love him very much. He is definitely DJ's priority when he is home, and that's they way it should be."
She's got two of them! Colton is a miniature version of his Pops. They are like peanut butter and jam. His right hand man and of course DJ's best man in their insanely gorgeous circus-chic wedding this past summer…Oh, did I mention that Christie, along with her cousin, planned her wedding as well. Pretty much another job, as most of you know. They sealed this deal August 3rd, 2015. It was a classy affair through and through. It wasn't your typical "under the big top" circus theme. They exchanged vows in a historical village in Michigan that had incredible charm and character. Christie looked absolutely ravishing in her Lazaro dress. It.was.to.die.for. Their reception was held in an atrium not far from the ceremony, with giant rod lanterns that gave off a very Parisian feel as guests were able to dance under the stars…and performing circus artists from Sky Society. This wedding obviously had to have a splash of hockey as well. Christie took to crafting and made table numbers from pucks spray painted black and gold. The tables were numbered after DJ's favourite hockey players, like Mike Weber!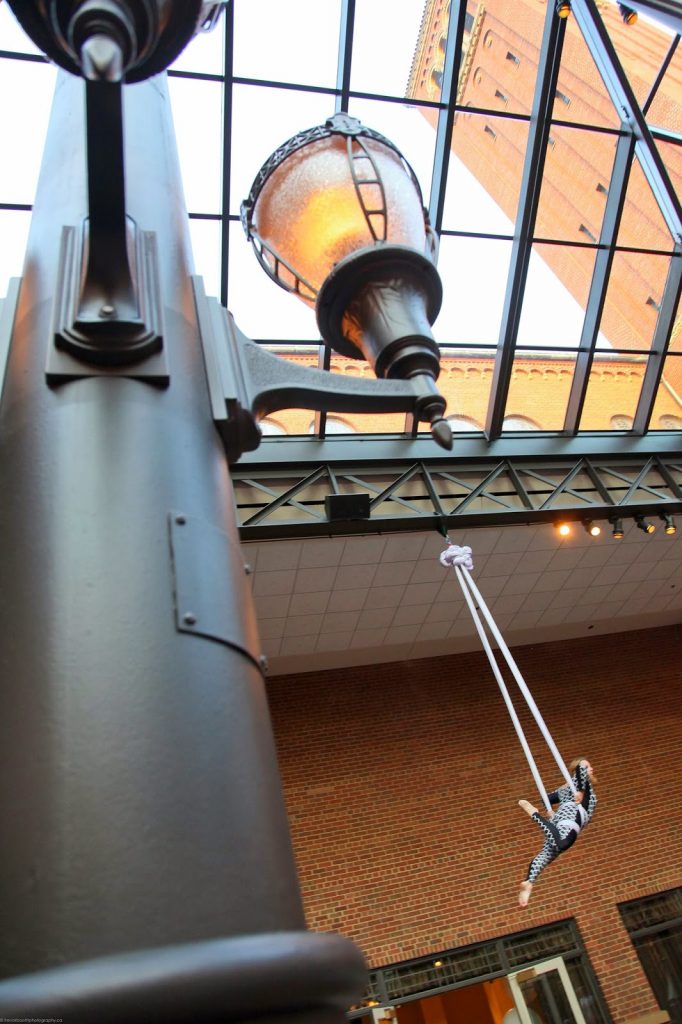 Circus Artists entertained AND served beverages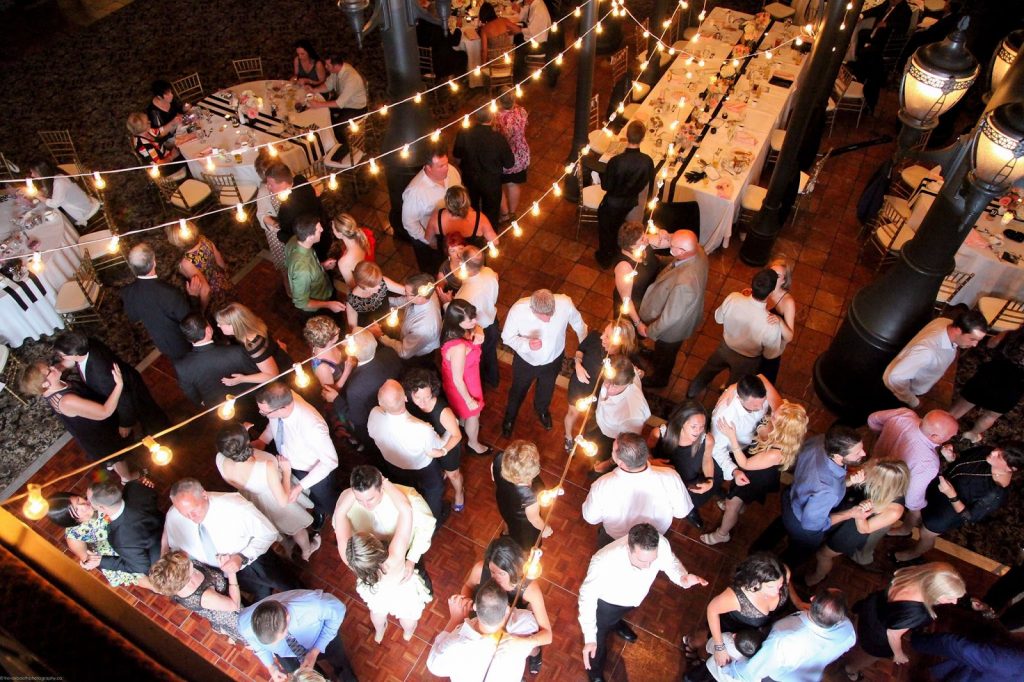 I spy next month's hockey wife!
She really does it all. She likes it that way. I suppose its how we deal with the distance or the long road trips when we miss our other halves. Keep busy. But I truly can't even fathom how she does it! Her company
Sky Society
performs aerial arts including long fabrics, lyra, hammock, trapeze and partner acrobatics. Their company has been hired to perform at events like The International Children's Games, The Ontario Summer Games, The Coming Home Music Festival, and Windsor Pride. Bezaire usually practices 1-2 times a week, but can increase that if they are preparing for an event. Its lower right now due to her partner being on tour with John Mellancamp. Mmmhmm.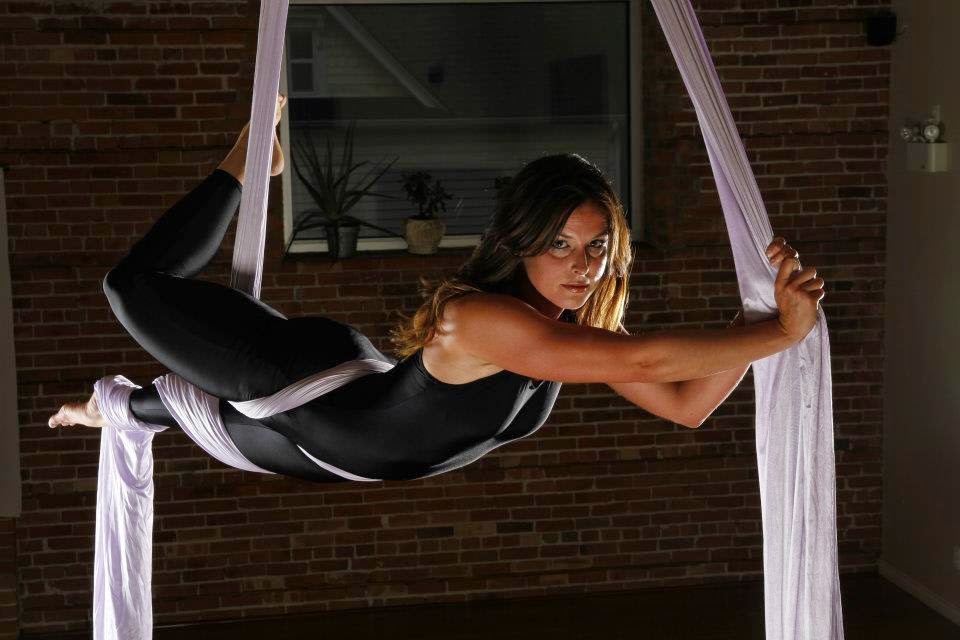 Beauty in strength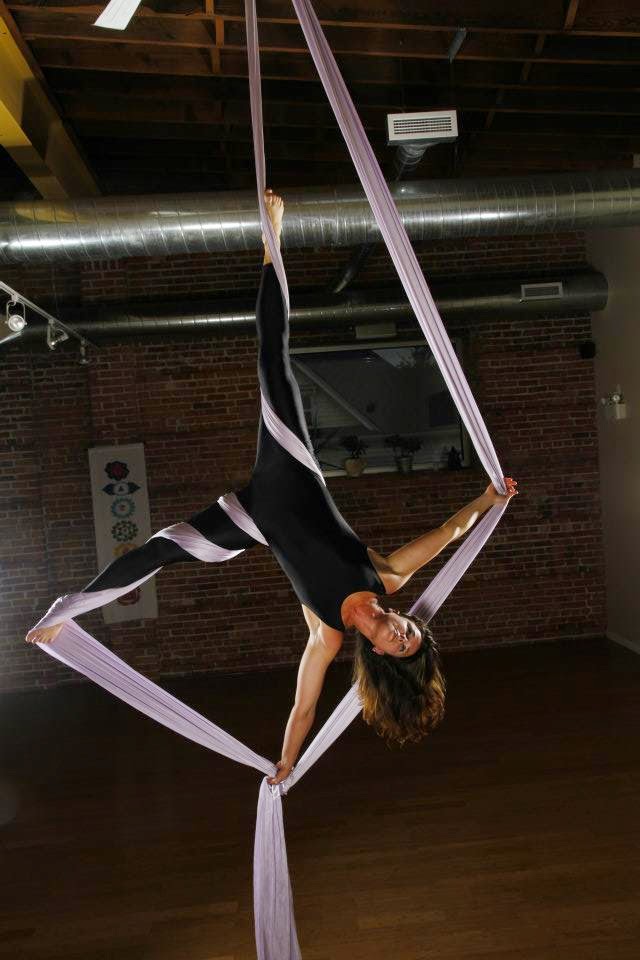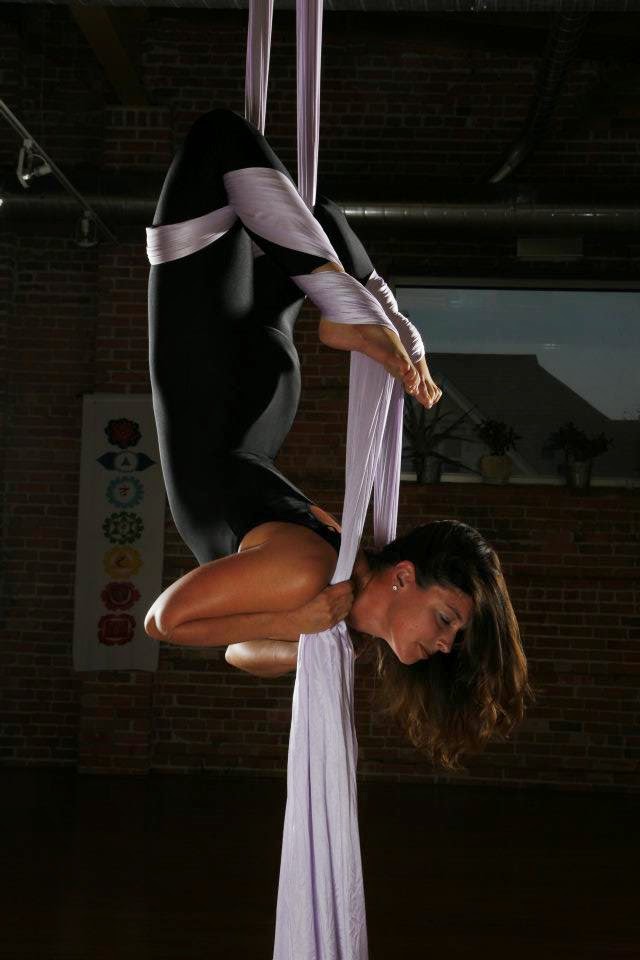 In a previous post, I talked about how trapeze arts was a killer workout and I can see exactly why Christie is as strong as she is. I'm talking really strong. She takes a real interest in fitness and makes every effort to maintain and build a body that keeps her safe up in the air. Christie's circus love budded from yoga. "I think both yoga and circus arts have a playful spirit that attracts me. Both require strength, courage, trust, and the ability to let go, (sometimes literally)!"
Every month I get more and more inspired by these women. I meet them, learn from them, and continue this sisterhood. In return, I become so hopeful in this world that women can rely and support each other rather tear each other down or compete with one another.
Christie Bezaire (Smith) you are doing it right girl.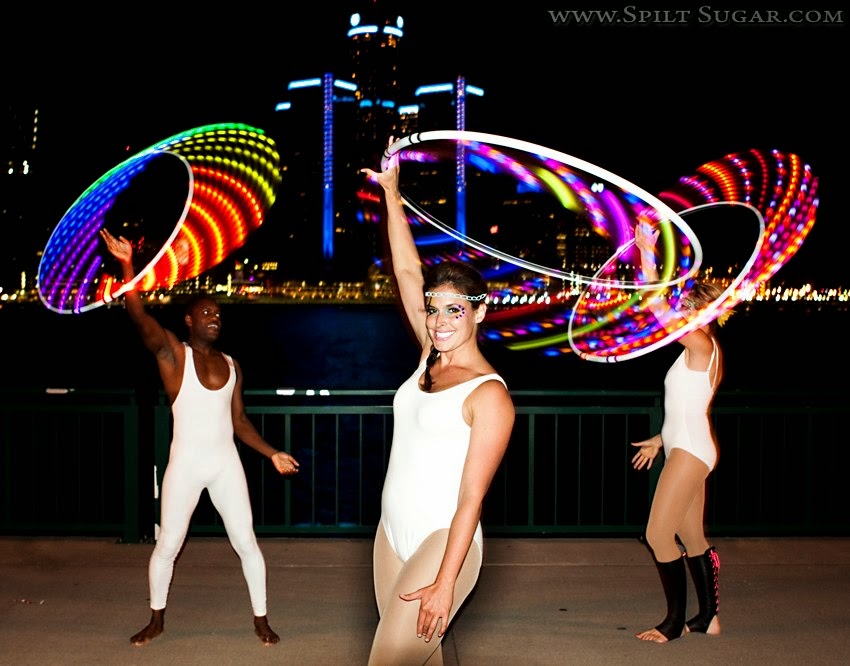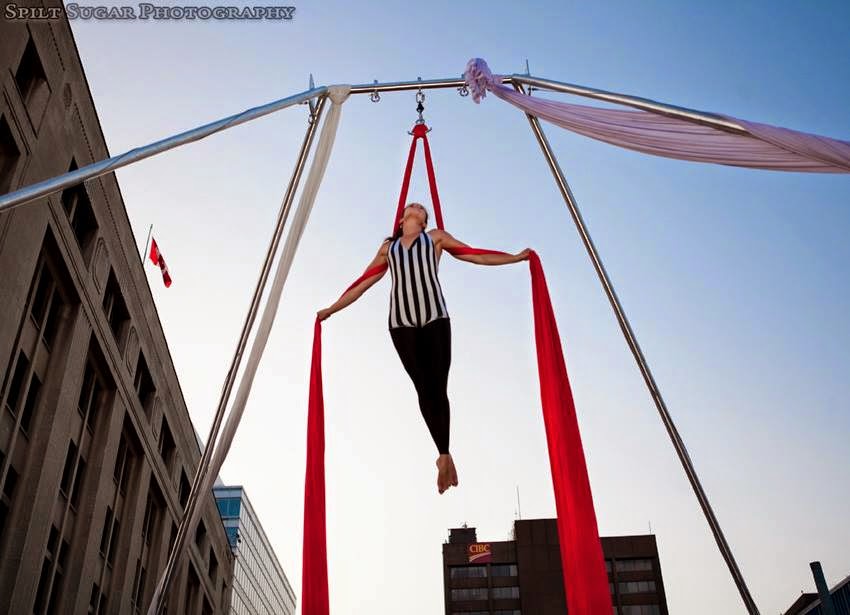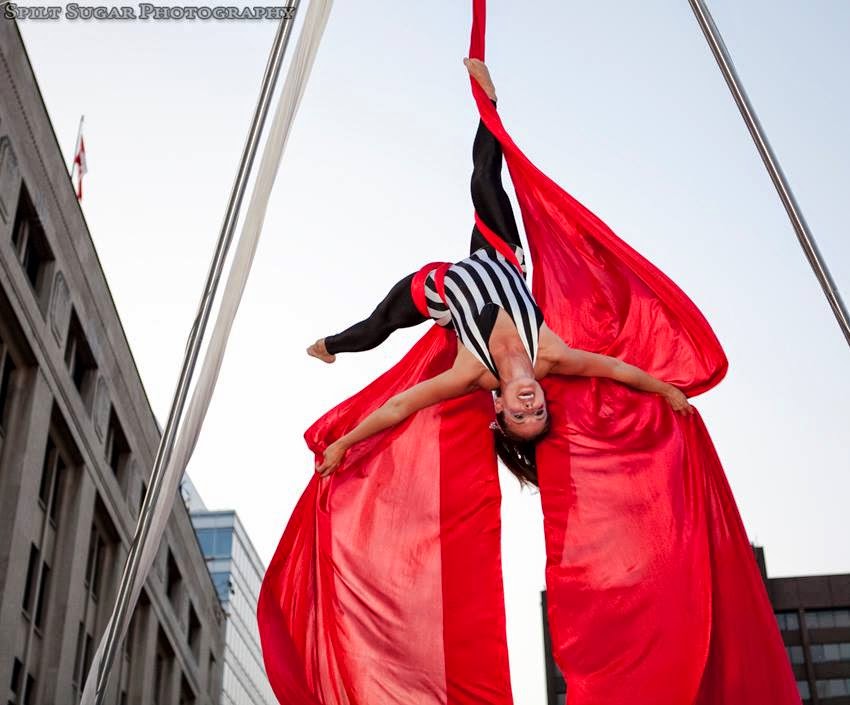 Photos courtesy of Spilt Sugar Photography
Thank you always for being a part of my peace.
Love you all,
K.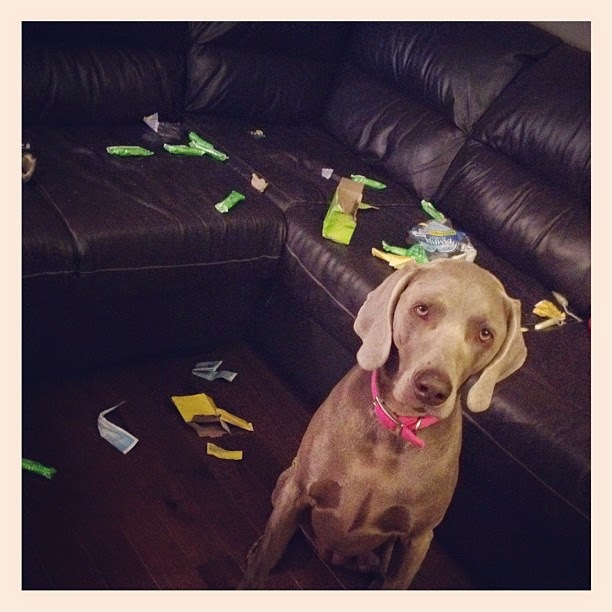 Love you too Vegas…
Canada's most destructive dog…