Superbowl, Schmuperbowl. Hockey is Canada's game, and we love to celebrate it. To be honest with you, I didn't even watch the Superbowl. I only YouTubed the half time show a few days later to see what I actually wanted to see. Don't get me wrong, I enjoy football and usually watch the Super Bowl, but Hubby had a game nearby so I opted for family over fooseball. Duty calls.
As you know, I live the hockey life and I love a good party. I also love FOOD! That's always my achilles heel. FOOD. Food is always what gets me in trouble in regards to my health. Food + Party = OVERINDULGENCE. S.O.S!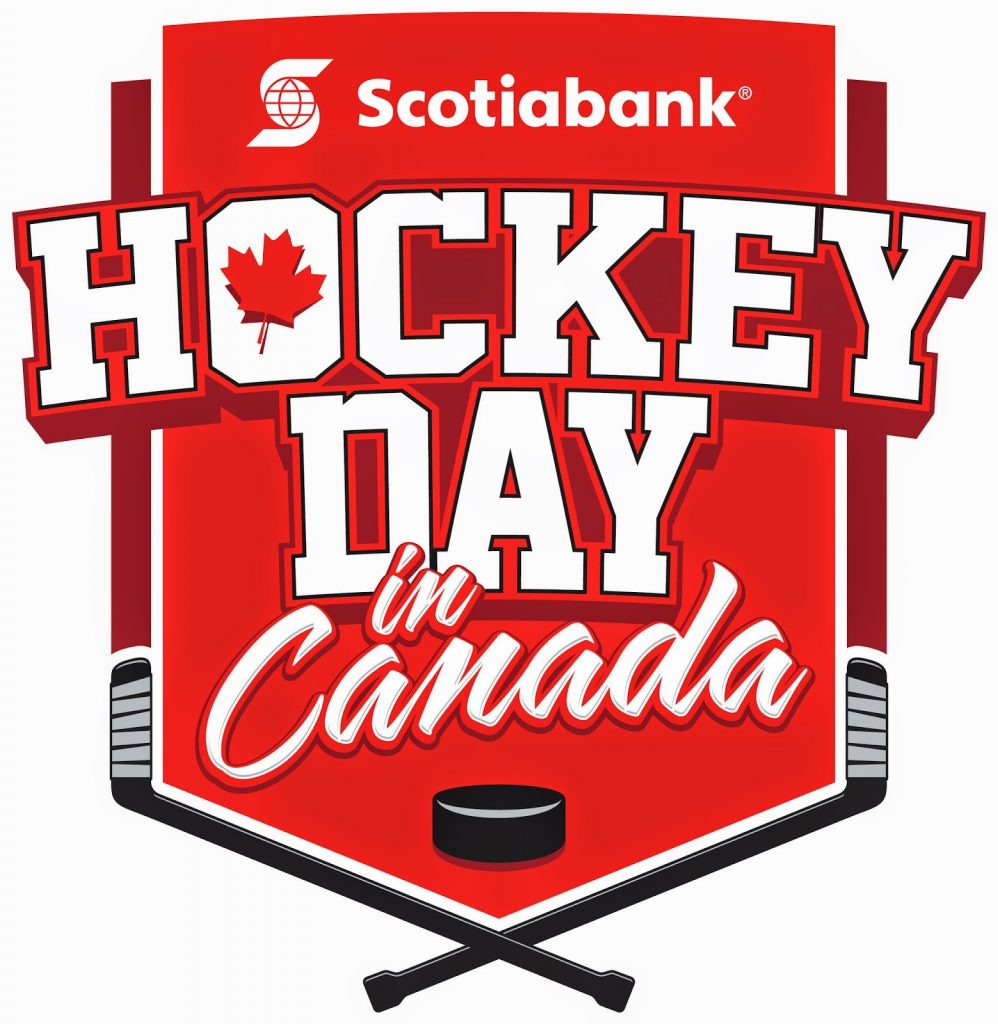 Happy Hockey Day in Canada!
Permissions Granted
Lately, I have been experimenting in alternative ways to get those party food fixes, but with some healthy or beneficial aspects. I still want to enjoy the same dishes that go hand in hand with such parties. And with this weekend being HOCKEY DAY IN CANADA, it is only fitting that I share my favourite healthy treats with you. It is proven that healthy foods and treating your body right makes people generally happier. I have spoken to some of my fellow hockey wives, and their hubbies work really hard to maintain a healthy diet to keep them in the best shape possible, but they are often skeptical to veer from traditional foods. So I devised a menu that will keep both hubby and wifey happy this Hockey Day in Canada.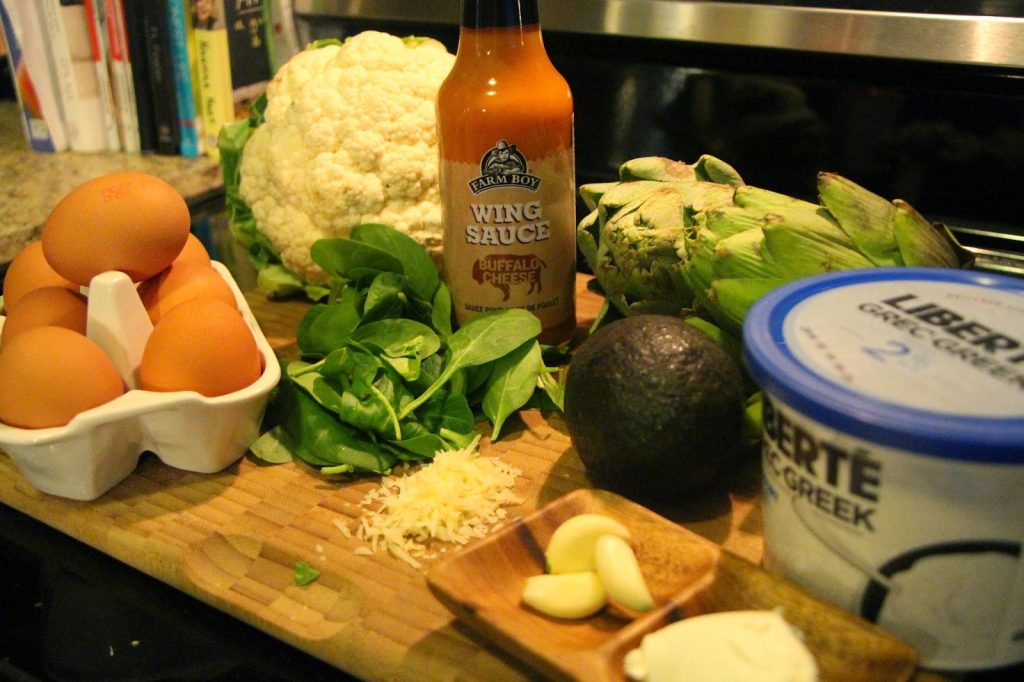 Healthy Ingredients make for a healthy life.
Give it a try! You can't lose with these snacks! So come on, don your favourite team jersey, paper-scissor-rock over the remote, draft up a hockey pool of this weekends games, and settle in for another another great hockey weekend. This time, its ok to indulge.
Here are my healthy alternatives to your typical (high fat) appetizers:
Crunchy CANUCK Curried Chickpeas! (These are so unbelievably easy!)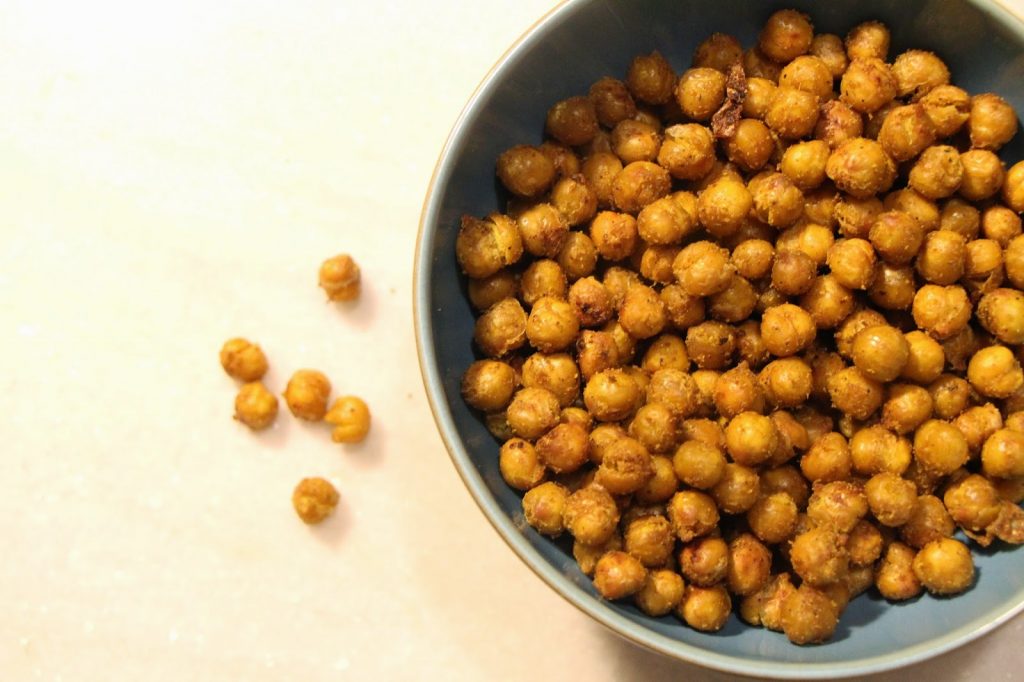 A Satisfying, Crunchy Treat with TONS of flavour!
What you need:
2-3 Cans of Chickpeas
1 Tsp Tumeric
2 Tsp Cumin
2 Tsp Curry (your fave choice)
2 Tbsp of EVOO or Coconut Oil
Salt and Pepper
Preheat your oven to 400 Degrees.
Rinse Chickpeas. Dab with a paper towel to absorb some of the access water.
In a mixing bowl or Ziplock Baggie, mix chickpeas, oil, and spices.
Lay on your rimmed baking sheet.
Bake for 30-50 minutes or until desired "crunchiness". Feel free to taste intermittently. 😉
PRESTO!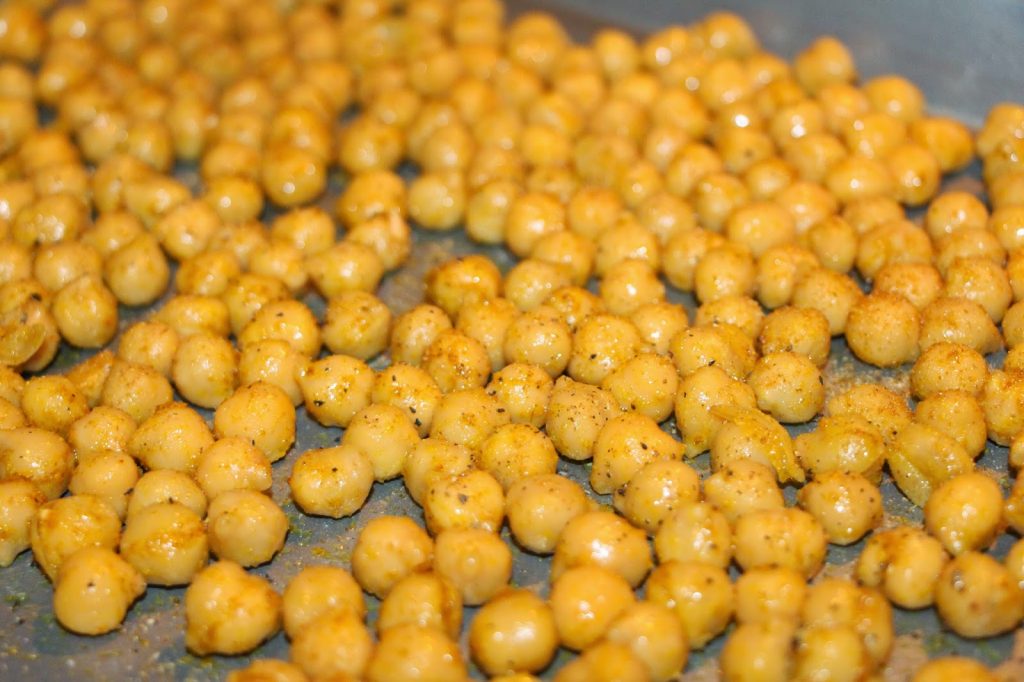 Feel Free to choose your own flavour flave!
Check out what others are doing on PINTEREST!
SHAKE AND BAKE BABY!
New Jersey DEVIL'd Avocado Eggs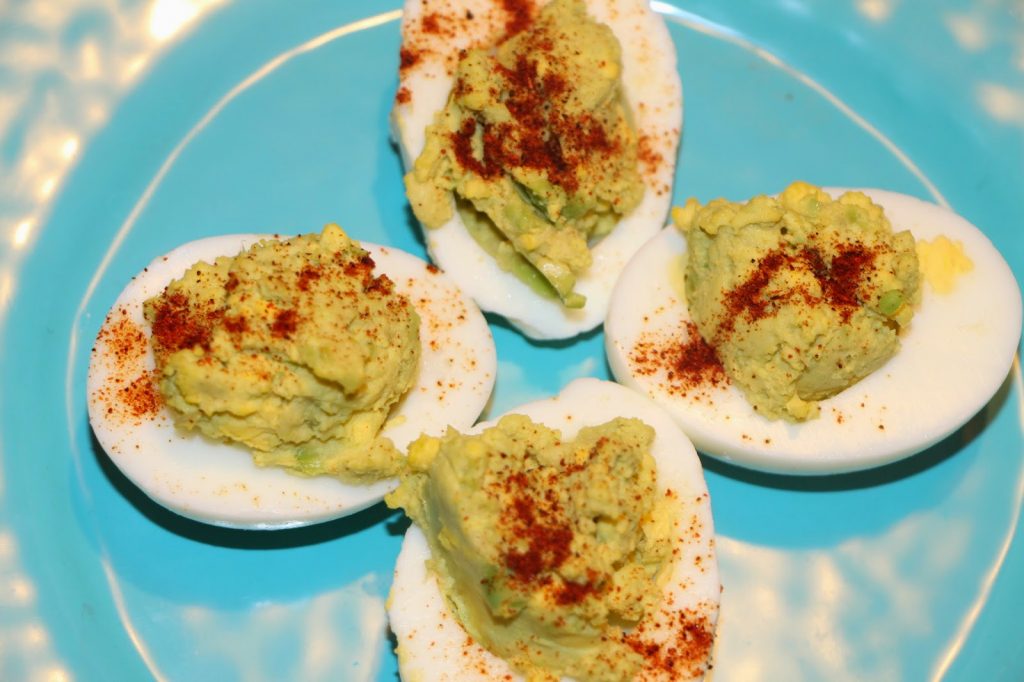 Pump up the Protein: Avocado Hard Boiled Eggs
What you need:
Farm Fresh or Organic Eggs
Avocado
Plain greek yogurt
Paprika or Chili Powder
Salt and Pepper
Boil your eggs for approximately 8-10 minutes until whites and yolks are solid.
Let your eggs cool. This works best if they are chilled.
Once chilled, cut eggs in half lengthwise and scoop out yolks into a separate bowl.
Cut an avocado, remove the pit and spoon the avocado into the bowl housing your cooked egg yolks.
Spoon a dollop of greek yogurt into this mixture. Mix well.
Scoop a teaspoon amount of your avocado egg mixture back into your hard boiled egg white.
Sprinkle with paprika.
BOOM!
Spinach Dip with Artichokes "LEAFS"
What you need:
8 oz of LIGHT cream cheese
16 oz of plain greek yogurt
1 cup of parmesan cheese
1 tbsp of butter or your choice of substitute
4 cups of fresh spinach OR 1 package of frozen spinach (thawed, drained)
3 cloves of Garlic
2 Jalapeño peppers
2 whole, fresh Artichokes
Frank's Hot Sauce
Salt and Pepper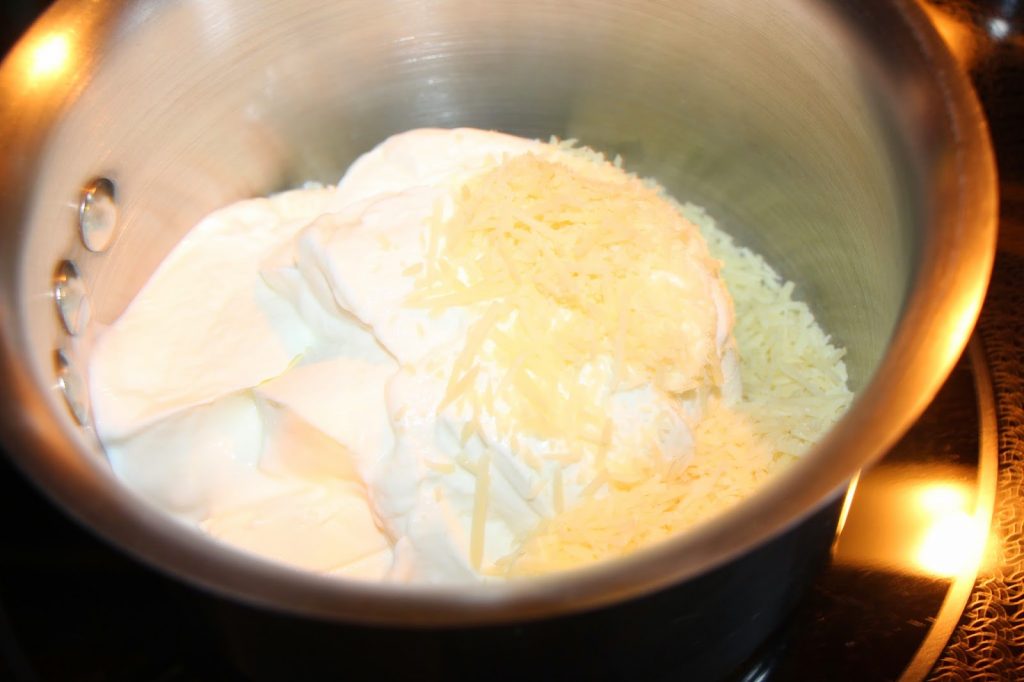 All your typical mixings….just half the fat. This recipe saves
you about 250 calories! Not including the carbs!
In a pot, combine cream cheese, yogurt, parm cheese, and butter. Let them melt together at med-high heat on your stovetop. It will start to bubble. Stir often.
Once integrated nicely, add your freshly pressed garlic cloves into your creamy mixture. Then add your finely chopped Jalapeños, Franks, and Spinach.
Grind in your salt and pepper to taste.
Serve with Artichokes in replace of starch. Feel free to bake whole wheat tortillas if your need those carbs!
CELLY!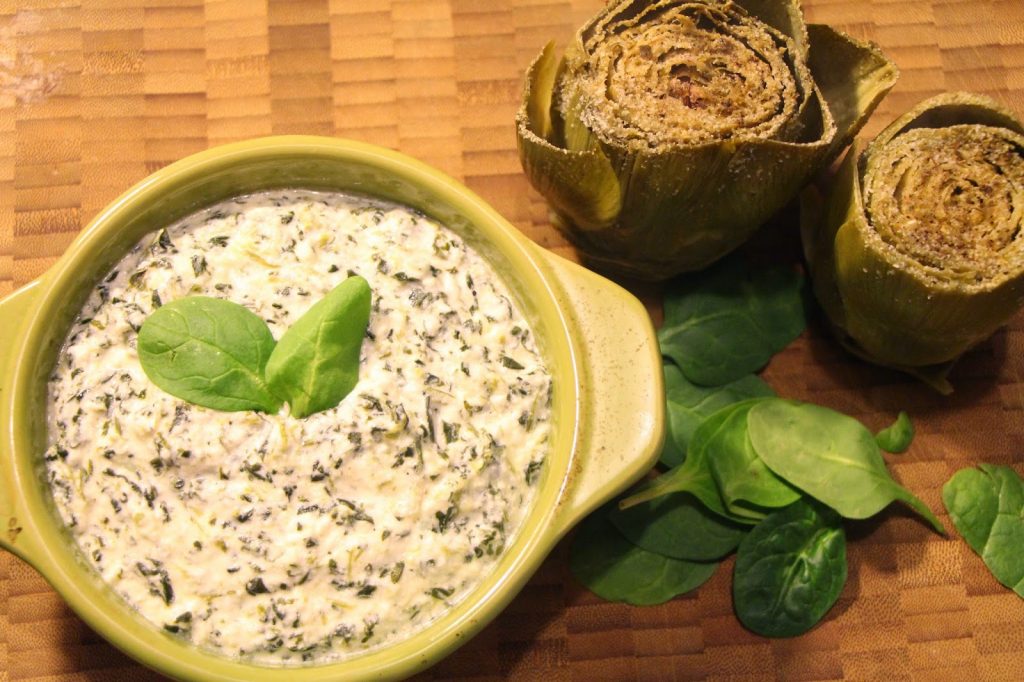 Skinny "Shinny" Spinach Dip served with Artichokes.
For instructions on how to clean, cut, and cook an artichoke check out this link: How to Cook an Artichoke
BUFFALO Cauliflower (Red) "WINGS"
What you need:
1 Large head of organic Cauliflower
1/2 Cup of Almond or Cashew Milk (any milk product of your preference)
1/2 Cup of Water
1 tsp onion power
1/2 tsp of garlic powder, NOT garlic salt.
3/4 of Chickpea Flour (dudes will NOT notice the difference, again you may use your preference)
1 Tbsp of melted Ghee, Butter, or Coconut Oil
Farm Boy Buffalo Wing Sauce. Its Organic, but you may choose your favourite or make your own!
Ranch or Blue Cheese Dressing
Preheat your oven to 425 degrees. Line a baking sheet with parchment paper.
Cut your cauliflower into bite size florets. Set aside.
In a mixing bowl, combine flour, milk, water, garlic and onion powder. Make sure there are no clumps.
Dip your florets into your batter, letting the excess drip off and lay on the lined baking sheet.
Bake for 25 minutes.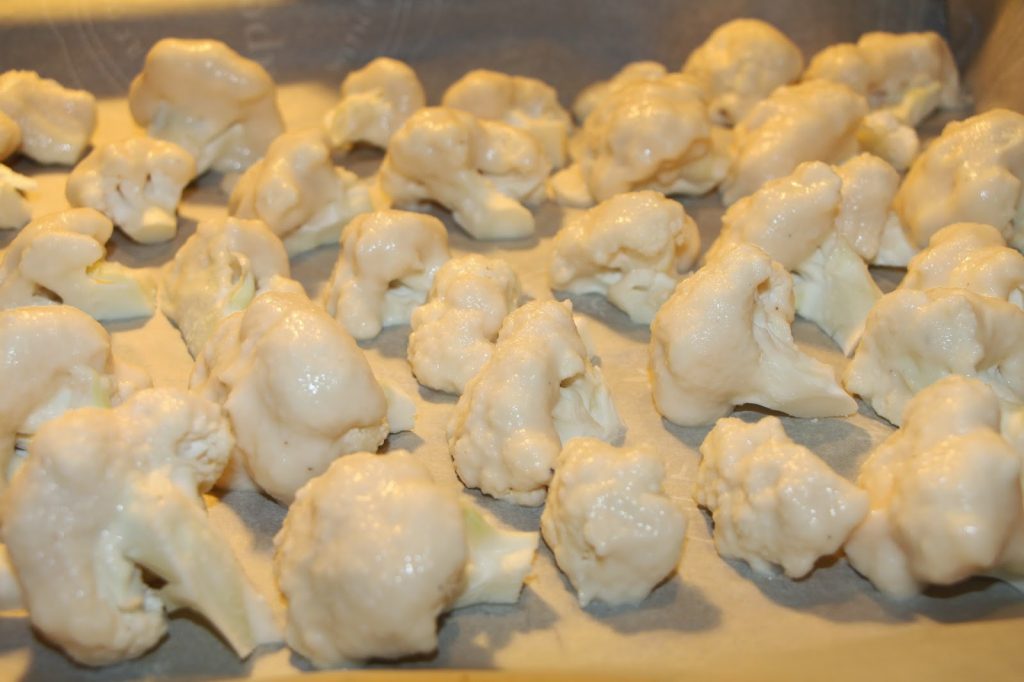 Make sure the florets are well-coated. I left the stems uncoated for a better "wing-like" grip.
While your florets are baking, mix together your wing sauce and the melted oil of your choice.
The batter should be moulded to your "wings" nicely at this point.
Gently brush the "wing" sauce on your florets, making sure each has sauce coated on it. The sauce is the best part after all.
Bake for another 10 minutes or so. You will see them start to brown beautifully.
Take out and let cool for a couple minutes before serving.
Garnish with celery stick and dish out your ranch or blue cheese into a ramekin.
SCORE!
I hope one of these dishes make it to your game day spread. Don't forget, you are in charge of your health.
Game Day Reminders:
There are plenty of games today so let's be Canadian! "Say please, "Thank You", and "These are good eh?". Don't forget to share that remote control as there are so many amazing games happening. To help you out, here is the schedule for Hockey Day in Canada:
Saturday, February 14th
Edmonton Oilers @ Ottawa Senators 2pm EST
Toronto Maple Leafs @ Montreal Canadian 7pm EST
Winnipeg Jets @ Detroit Red Wings 7pm EST
Columbus Blue Jackets @ NY Islanders 7pm EST
New Jersey Devils @ Nashville Predators 8pm EST
Carolina Hurricanes @ Minnesota Wild 8pm EST
New York Rangers @ Arizona Coyotes 8pm EST
Dallas Stars @ Colorado Avalanche 9pm EST
Vancouver Canucks @ Calgary Flames 10pm EST
Washington Capitals @ LA Kings 10pm EST
Have a healthy, happy, HOCKEY DAY IN CANADA!!!
Love you all,
K.