Lately I have found that the only time I really get to dig deep into my closet are on hubby's game nights. With Little Man, its hard to get out for a night out on the town. Disclaimer: SO not a complaint.
Most games take place on the weekends, thus taking up our Friday and Saturday nights. I wouldn't dream of missing a game if I can help it, but at the same time, I find myself missing some really amazing pieces from my wardrobe. I'm not much of a jersey-wearing dame, but will rock an emblemed hoodie or chapeau if I'm feeling super casual on that particular night. Since game day/night is technically my "NIGHT OUT", I find those are the nights that I want to a) look great for hubby, b) look and feel great for myself, and c) let those great fashion pieces, housed in my closet, have a night out on the town/rink.
Now, I am no almanac of fashion do's and don'ts, so I've called to the front lines some very fashionable ladies to let the readers of Her Write Peace, know how to have fun with fashion on game days.
Over the weekend, I made a road trip across the border to Buffalo to catch a Sabres game and catch up with some hometown alumni Mike Weber and his contagiously charismatic and fashionable wife, Janine. It was amazing. They are amazing. The Webers and the Sabres organization really know how to show family and friends how much they appreciate their support.
Janine is a fashion muse of mine. Effortless, fun, natural, and trendy, to say the least, when describing her fashion style. When she picked me up from my hotel, I knew we were going to have a great night when she was wearing, literally, what I was going to wear! Instant love affair. As a busy mom, finding time to get ready is hard to find. Yet, she looks so put together and gorgeous. Here is a look at what we wore on game night, Buffalo versus New York: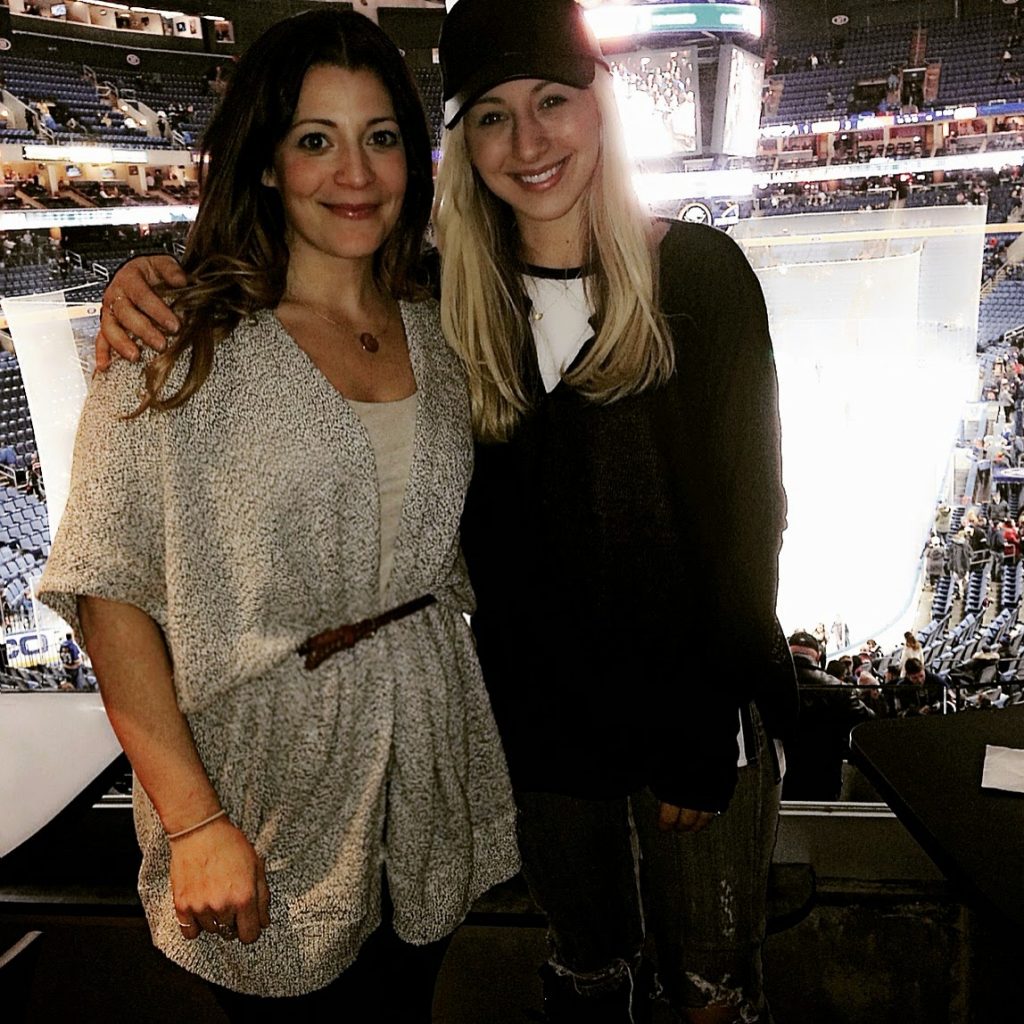 Weber is gorgeous, inside and out.
What I wore: Iconic Cape Sweater by Community (Aritizia)
Braided belt by Gap
Layering tank by H&M
Olive green leggings by Talula
Clydesdale wedge boots by ALDO
What Janine wore: Leather Decker Hat by Wilfred Free
Jeans by Citizens of Humanity
Black Layering Sweater by 360
Black Corked heel tall boots by J Crew
Heart of Gold.
Another closet I would raid belongs to Kodette Labarbera. Not only is Kodette a fashionista, she is a hard working mom, advocate for Mental Health Awareness and endorser for maintaining sport within the community. Kodette is also a fellow hockey wife as she is the better half to hockey pro net-minder, Jason Labarbera. You can catch Kodette as one of the featured wives on the upcoming reality series, Hockey Wives, on the W Network. The shows premieres March 18th at 10pm EST. TUNE IN!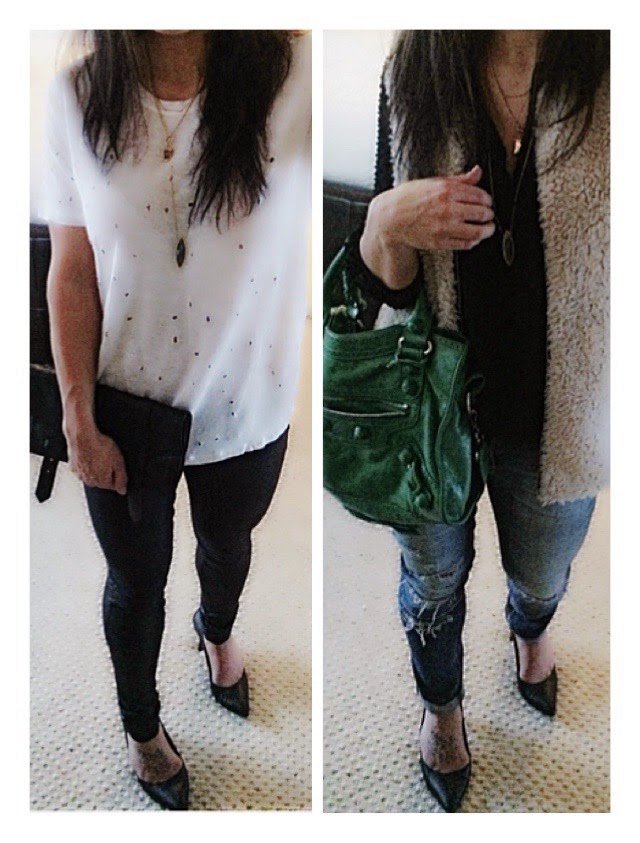 Side note…I'd kill for those legs!
What Kodette wore: Black Jeans by Seven (super comfy and stretchy!)
Outfit #1: White embellished Tee by IRO
Clutch by Proenza Schouler
Black pumps by Nine West
Outfit #2: Jeans by Rag and Bone
Black Montana Blouse by Talula
Vest by Artizia
Green Balenciaga City Bag
Black pumps by Nine West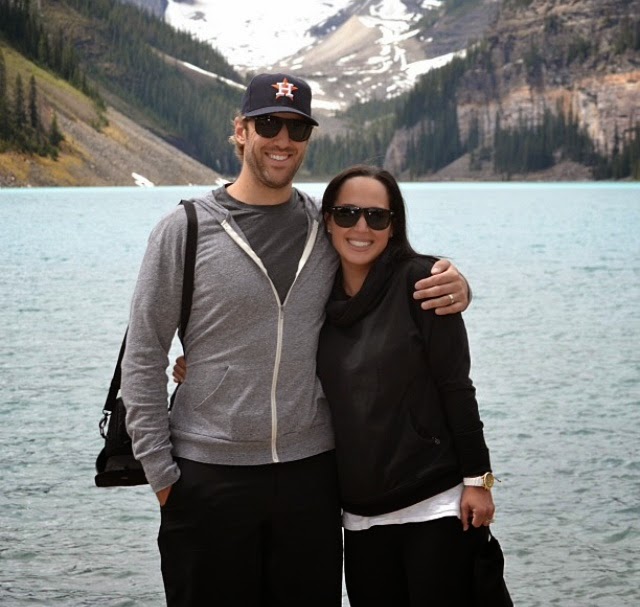 Kodette and her hubby, Jason Labarbera take in the sights at Lake Louise.
Never Understated, ALWAYS ACCESSORIZE!
In my opinion, you can dress up ANY outfit with the proper accessories. Lately, I tend to get more basic in my day to day wardrobe and go wild in the accessory department. I also find myself shopping more for accessories than actual clothing! And this accessory designer has me jonesin' for more, more, more! This company by Kristina Regehr, wife to Los Angeles Kings Pro Robyn Regehr, is all hand-crafted, original pieces designed to suit your style and wardrobe. Not to officially say that these gems are good luck, but a special bullet casing crystal necklace made by Robyn for Kristina could be partially responsible for the LA Kings Stanley Cup victory as Kristina wore it to every game…Who says superstitions are all a state of mind. Check out this fabulous designer. Creative in heart, soul, and style.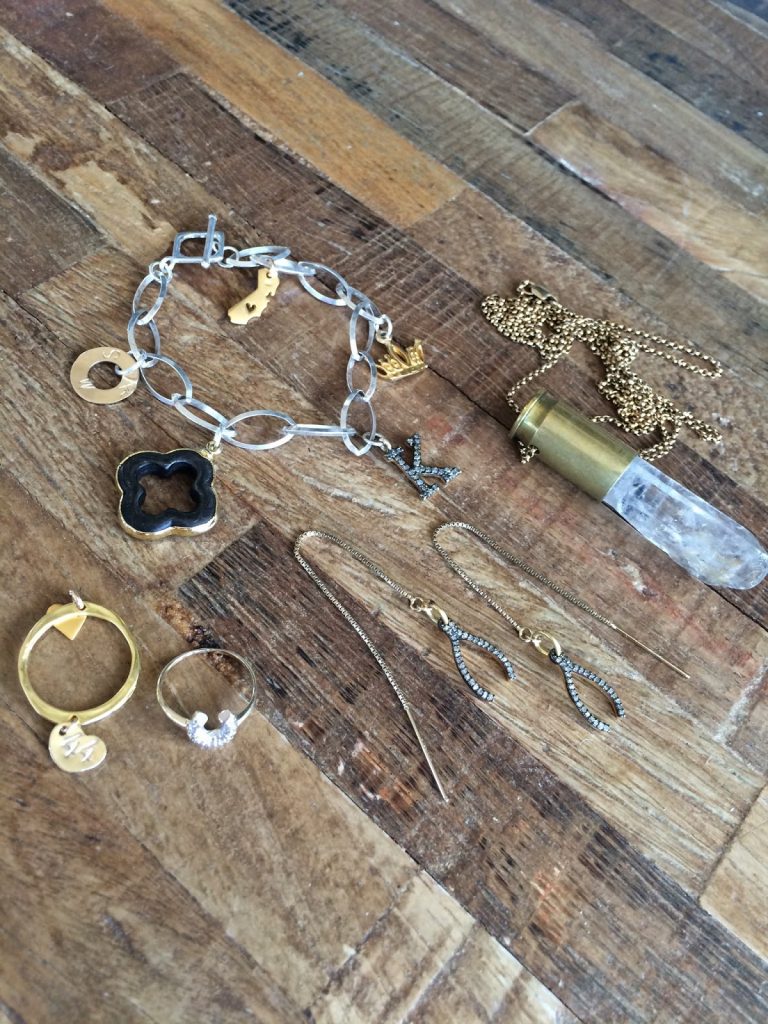 Kristina Regehr's stunning jewelry line can be found at www.finery.ca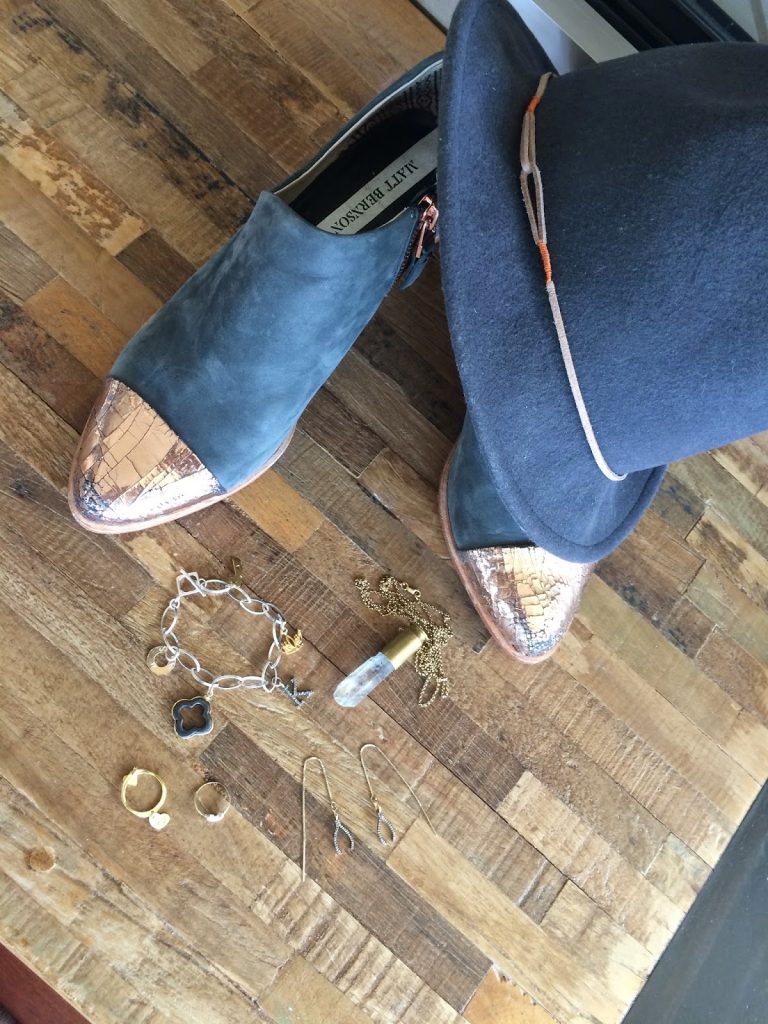 Its all about accessories. She does this right and she does it herself!
She loves donning her own jewels, a felt hat and her go-to booties by Matt Bernson!
Loving the rose gold toes on them BOOTIES!
Thanks for checking in Write Peacers! Stay tuned for more Game Day Fashion in the Future!
Love you all,
K