I seem to get luckier and luckier when it comes to meeting new friends and hockey wives in my writing journey. With each passing day I am making new kinships filled full with light and laughter. Kodette LaBarbera is no exception to this compliment or description. Over the past month, we have shared laughs, exercise regimes, and fashion tips….I almost feel a tad guilty seeing that she is the one bestowing those essentials onto me. Guilty and GRATEFUL.
Kodette LaBarbera, although born in Arizona, is a homegrown Canadian girl reigning from Nelson, BC. She presently resides in Flames territory but wears the mighty duck on her heart this season. Kodette is married to pro goaltender Jason LaBarbera, who is presently on a one-way contract with Anaheim. Jason is keeping busy between the pipes for their farm team, the Norfolk Admirals. These geographic pin points keeps Jason and his family divided by 4000 miles, give or take, during the hockey season. Something I can respect and relate to.
Through the separation and constant moves that come with Jason's career, Kodette is nothing short of grateful for the life she has. Kodette and Jason are blessed with two adorable little dudes, Ryder (6) and Easton (3). I have one little man and find it taxing to do it all on my own, but when speaking with Kodette, I've learned to swallow hard and keep my head up.
I'm sure many of you might wonder WHY they are living apart? Well, before you come to your own conclusions, Kodette and Jason made a very difficult decision, that is actually not so difficult at all in the eyes of a parent. Ryder, the oldest of the Labarbera boys was diagnosed with Autism when he was just three and a half. She describes her first born love as "the kindest, most gentle little person. He is so incredibly smart and just the most amazing person I have ever met."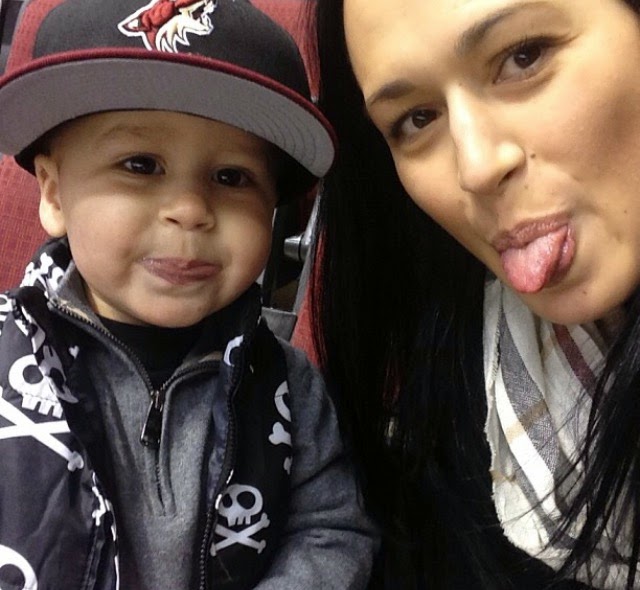 Two Peas in a Pod
Last season was actually the family's first season living apart in their NHL journey. LaBarbera was playing for the Edmonton Oilers at the time and they all made the move to oil country together. And as the lifestyle dictates, Jason was traded to Chicago and they ultimately made the decision that it was best for little Ryder be in a consistent and familiar place. Calgary. The LaBarbera's had just been approved for funding and therapy for Ryder. For Ryder, it was best to stay in his program for the following year. "He has come so far with his diagnosis," Kodette beams, "which I would never call a disadvantage or a disability, because he is absolutely thriving!" Jason and Kodette rest easy knowing they made the best decision for their family. "Its hard to be in Calgary without Jason in regards to him not being a part of our day to day life. I know he wishes he could be involved in Ryder's everyday therapy and doing everything with the boys". Kodette tries to be "dad" to the boys by wrestling, playing hockey and engaging in other little boy type energizers, but claims she can't even pretend to know or fill in for. At the end of the day, when hubby is home, she loves to see how Dad does it best and together they seek comfort in knowing they have an iron clad family base.
She doesn't do it all on her own. She's got her other wingman, Easton, who is "the funniest person we have ever met." What is so endearing is that not only is Easton hilarious, like his mommy, but he is has a heart of gold and cares for his big bro. Easton has been an integral character in the LaBarbera clan. "I couldn't have hand picked a better brother for Ryder. Easton has helped Ryder in making him converse, bring out his silly side and just forcing him into situations he wouldn't be comfortable in." We all need a little bit of Easton in our lives. Take note human race.
Its not all rainbows and butterflies. Its hard. Benefits aside, there are days and moments that bring heartache or as Kodette says, "rips my heart out". I asked Kodette what the hardest part is about living apart or going on the road. Whole-heartedly, she discloses that "the hardest part is watching Jason say bye to his boys. He is such a hands-on dad, so it has been extremely hard for him to be away." As I said in a previous post, that I was pleased to learn how supportive the Buffalo Sabres were in terms of supporting the families of their players. I was curious to know how connected the LaBarbera's team, the Anaheim Ducks, were to their players and families, even if they were playing down in the minors. Kodette boasted enthusiastically that she has been "absolutely blown away. They have sent him home whenever they can. They are BEYOND generous. They obviously know our situation and have been so accommodating. I have so much respect for them. First class organization." Although, Kodette and the kiddos have only been to Anaheim once, they will be going to Norfolk for Spring Break. The LaBarbera family haven't been together since January 27th, and won't be reunited until March 22nd. I can only imagine the warm fuzzies of that group hug.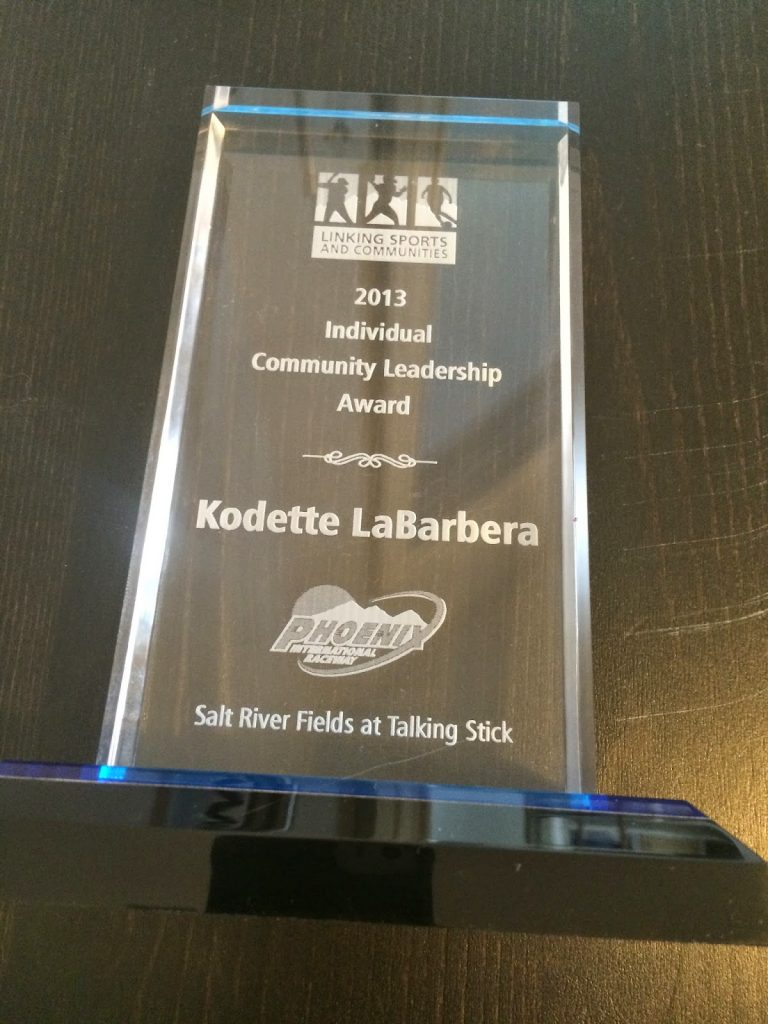 Kodette is particularly proud of this Leadership award. She SHOULD be! In a city as
BIG as Phoenix, Arizona, she left her mark!
She's like the frigging energizer bunny! I can't get enough of her. If your feeling the same way as me, you will get the opportunity to see her on the W Network starring as one of the leading ladies in new reality series, HOCKEY WIVES. Kodette is the perfect wife to grace the screen as she is an advocate for so many amazing things and did I mention, I think she is a riot? That always makes for great entertainment. Especially for those reality T.V. loving folks…ahem…moi. But truth be told, if we were all asked to be on a reality show there would be a plethora of concerns that accompany the compliment. I asked Kodette if she had any reservations about the show, she responded with "Of course. I had a lot of reservations. I'm semi-private and Jason is pretty private." As most players I have met are. "When they presented the show to me, they had done their research and know that I do a lot of charity work. So they offered to help promote charities that I work for." With the help and support of Jason's agent advocating for additional awareness for Autism, as well as Kodette knowing some of the other wives on the show, she decided to take the plunge! Kodette is extremely proactive and ultimately decided that she should use her hockey lifestyle as a platform for charity work. You go girl!
It can be taxing doing it all and "Doing It Right", all the while not having your husband and father of your children be a part of your day to day life. Jason wishes he could be more involved in Ryder's therapy everyday and to see was Easton is showcasing as family entertainment. Its a team effort and this team is a team I cheer for. It is the last year for the intensive therapy program for the family and Ryder. "Ryder is doing SO well in his program." When the program is completed, Kodette and the boys will be able to join Jason. "Honestly, when we see Ryder's progress and cross off goal after goal, we know we made the best decision for our little man. We are so proud of him!"