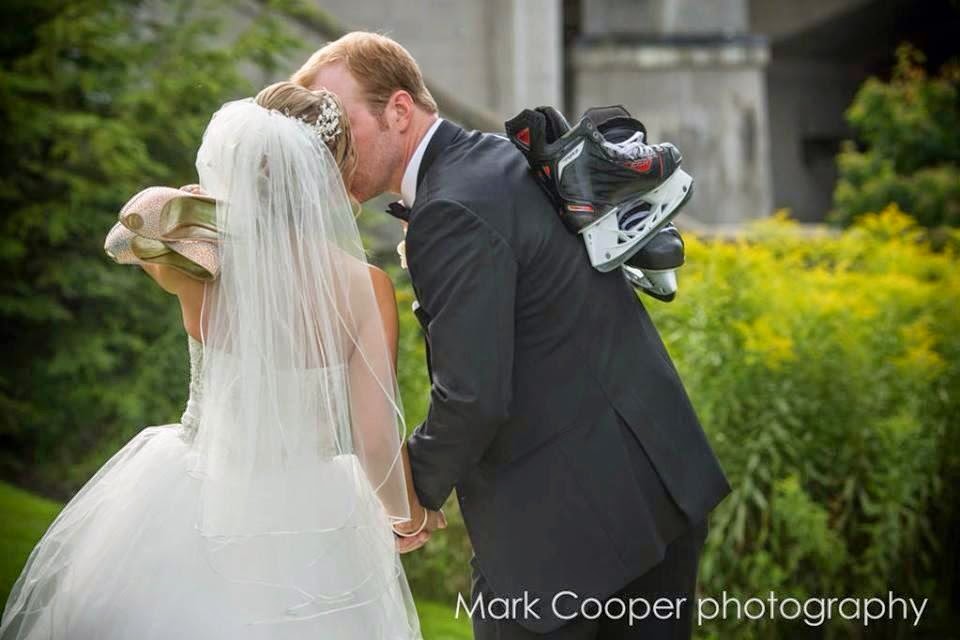 My "job" as a writer isn't exactly tough, like the toughness required to play say…Hockey. I mean sure, there is planning and organizing, and stressing out to make a deadline for a post publication. Then there is editing and choosing just the right photograph to accompany the masterpiece of a post I just put my heart and soul into. But the reason I don't call it work is because it's a passion and its a calling. Otherwise…what's the point?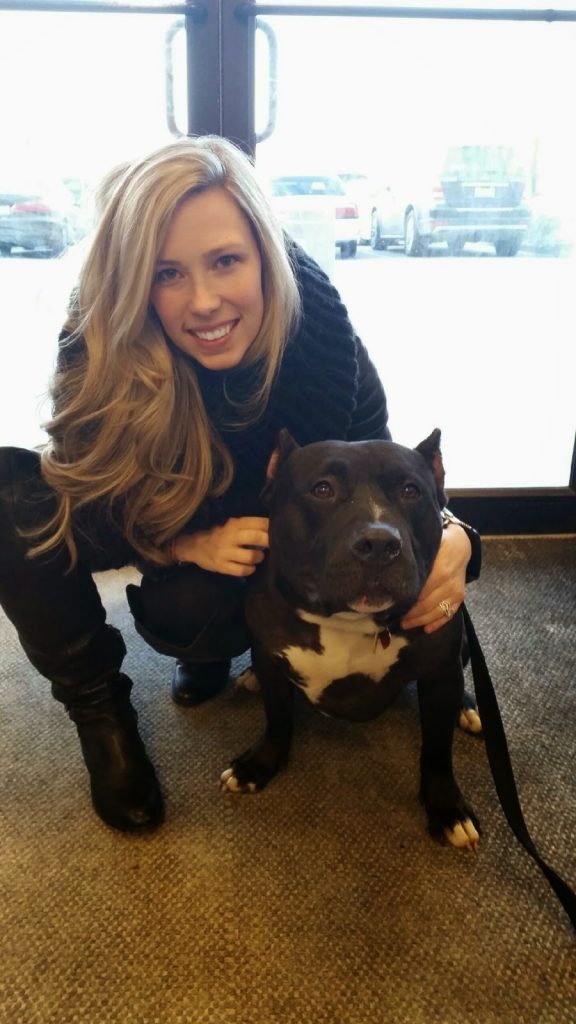 Meet AMANDA!
Not only is the above the truth, it's also an analogy for what this month's "Doing it Right: The Life of a Hockey Wife" does for her "job" as well. This remarkable woman actually can't have a 'job' per say. That my friends would be illegal. While accompanying her husband Bryan Bickell, of the Chicago Blackhawks, to the windy city she forfeited any chance to build a income generating career of her own. In lieu of becoming the wife that most haters assume all hockey wives are (the stay at home, shopping obsessed, gold-digging leach), this month's wife started her very own foundation. A foundation that speaks on behalf of those who don't have a voice. Who are misread, mistreated, and morphed into a category of the dangerous, the dumb, and the despaired. Meet Amanda Bickell, the founder of the Bryan and Amanda Bickell Foundation aimed to assist abused 'pit-bull' type dogs and children. In our lengthy discussions together, Amanda not only welcomed me into her life, but she taught me a great deal about the misconceptions surrounding 'pit-bulls', starting a foundation, becoming a new mom, and balancing a hockey wife lifestyle that can often limit spouses from becoming at contributing member of the employable populace.
A fellow Canuck, Amanda was born and raised in Ottawa, Ontario. Where she coincidentally met husband Bryan. At the time Bryan was playing in the Ontario Hockey League (OHL) for the Ottawa 67's. Amanda reminisces that she was "lucky enough to have Bryan in Ottawa for three years before he was traded to the Windsor Spitfires". At an early age, Amanda was introduced to the hardships of unexpected trades and impending long distance relationships in the hockey world. "As a young girl in love, it was devastating knowing that my boyfriend was moving 10 hours away. At that age you definitely don't think about moving with them" she recalls. Even though it seemed like an "eternity", Bryan only played for the Spitfires for the remainder of the season. The next year, Bryan found himself playing for the Norfolk Admirals, and Amanda remained in Ottawa. Norfolk was the AHL affiliate for the Blackhawks before the NHL made sense of creating closer proximity between the National Hockey League and their respective farm teams. For Bryan and Amanda, they made it through another season of, what Amanda calls, "hell" in regards to long distance love.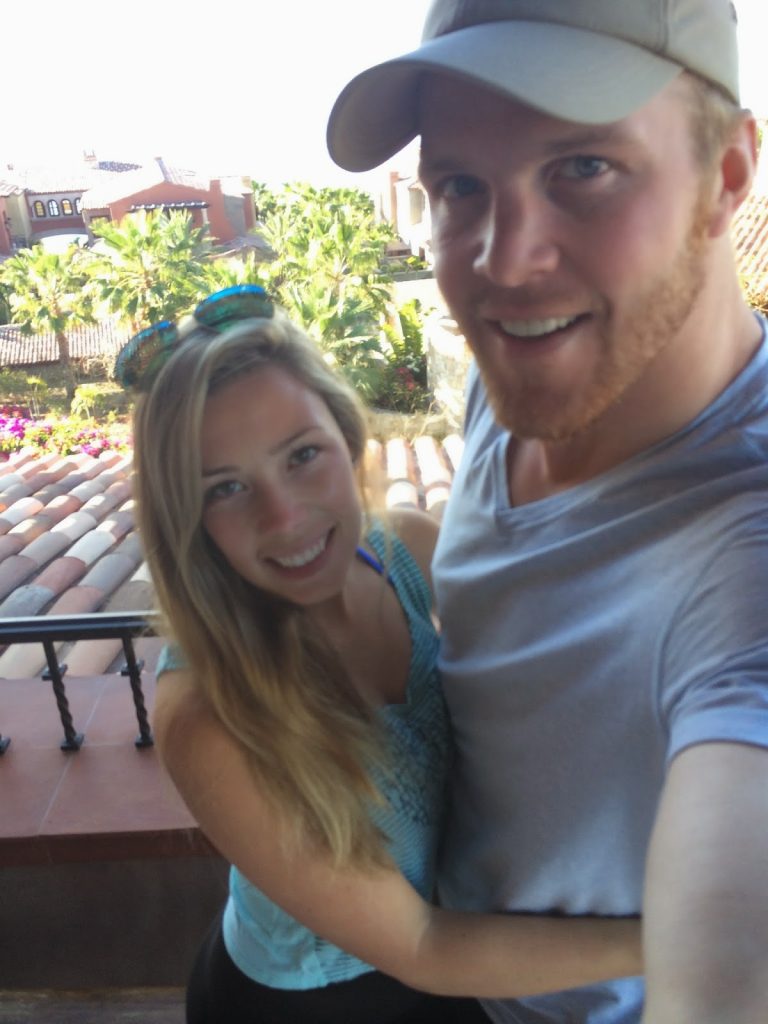 Amanda bravely and graciously let me in on how hard it truly was for her when she and her hubby-to-be decided that distance was no longer an option in their love affair. It wasn't the decision to be with Bryan that was hard for her, but it was leaving her family and friends. Amanda is extremely close with her mother and brother. She definitely holds a shield up when it comes to her family. She tells me that she almost didn't leave to go with Bryan because her brother had asked her to stay. Amanda also shares that the reason she also assists children of emotional, physical and sexual abuse in her foundation is because it hits close to home. Amanda's mother was once a victim of abuse as a child. Amanda took a deep breath and took the chance on love. "I'm grateful everyday that I took that chance but it still never gets easier being away from family and friends. Especially now that we have a daughter. It would be nice to have some help from family when Bryan's on the road sometimes…I guess that's the price we pay."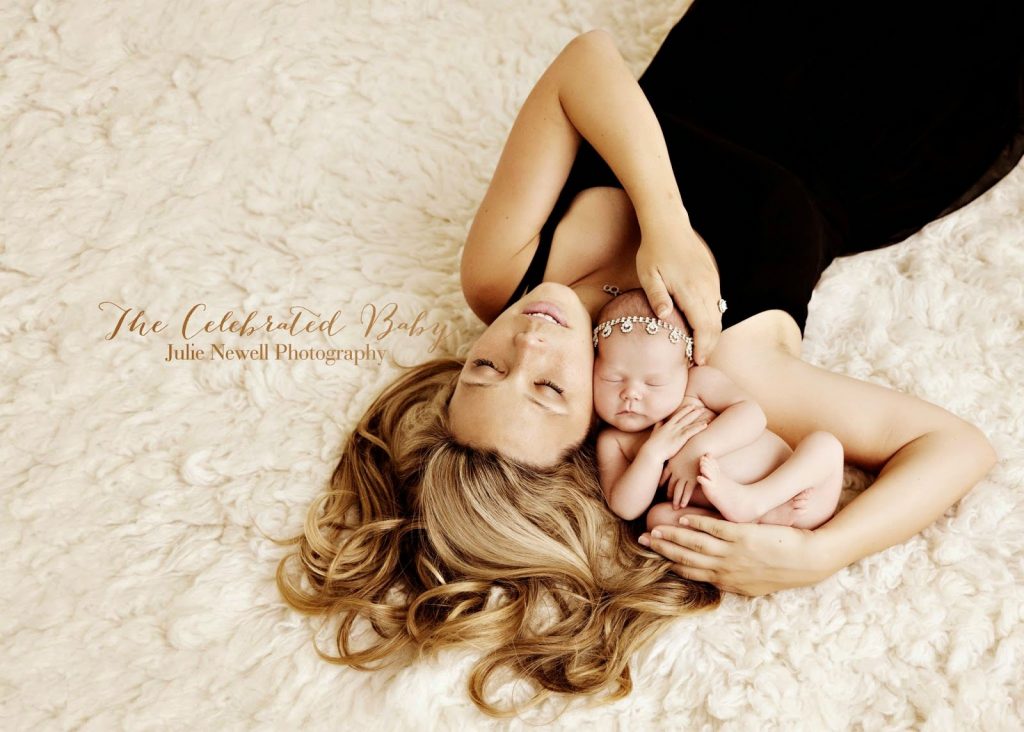 Amanda and Bryan are the proud parents to the sweetest, chattiest, little fashionista in the Chi-town area! Little Makayla is the perfect mix of this duo. I had the pleasure of babbling along with little Mackayla during our FaceTime chat as the two of us juggled our little ones, munched on snacks, guzzled green juice, and counted down before we were due to be present for puck drop. Juggling is the game, that's for sure, and little Makayla is mobile with mom on the daily. Her little sidekick goes to 'work' at the Bryan and Amanda Bickell Foundation headquarters everyday. "Sometimes I get sad wondering about the 'what ifs', but I do not regret my decision because I wouldn't have my beautiful family. I would choose the same path over and over." Spoken like a true champion. PS. Bryan has won a Stanley Cup, so they literally are champions.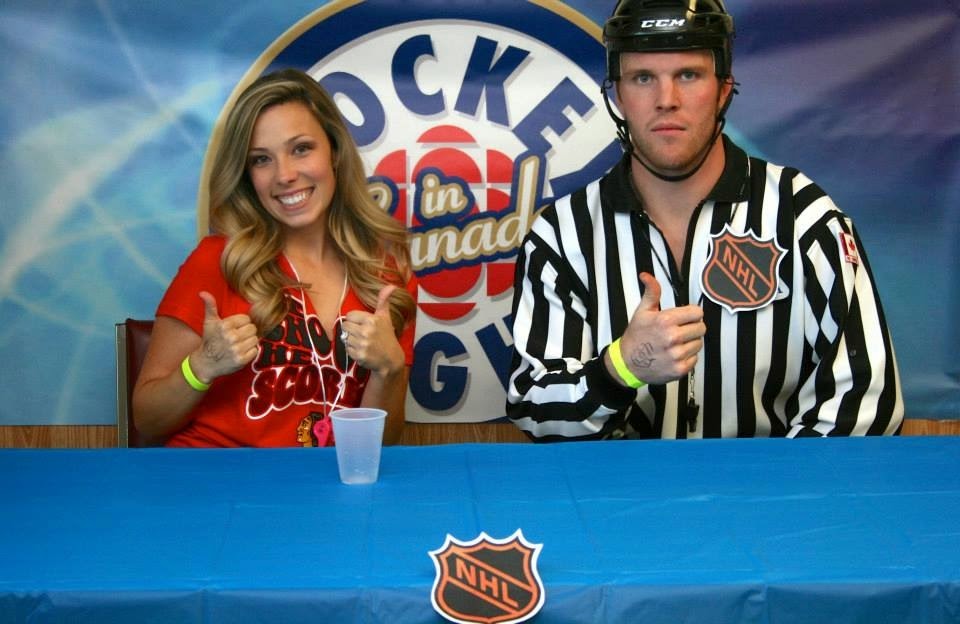 Thumbs up for winning the Stanley Cup! Amanda still tears up at reminiscing about when Bryan raised the cup. Dawww.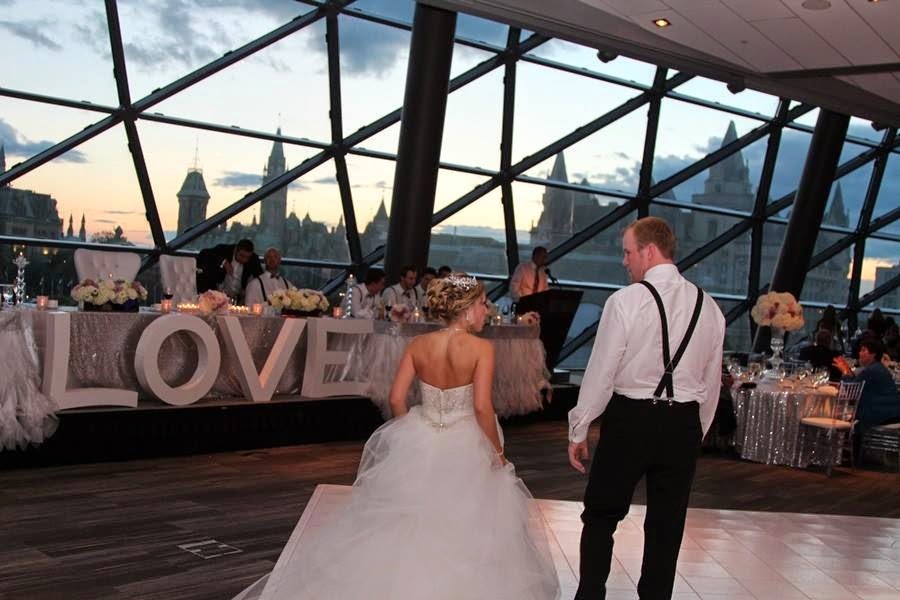 First comes love, then comes marriage.
As a hockey wife, I am often struck with questions regarding what I would do if I my hubby accepted a job in the U.S. or overseas. What about my job, my plans, my goals? Knowing Amanda is Canadian and living in the U.S. I took the opportunity to educate myself. Before moving, Amanda was accepted to Stella Adler Studio of Acting in New York. She decided to forgo that path and travel down the road less travelled. On her journey with Bryan, Amanda found herself in social situations where people would ask her, "what do you do for a living?". She confesses even though it was a nice break for the initial phase of her move, it began to get embarrassing for her. Not being a hockey wife, but not having anything to strive towards or be connected to. "I had a really hard time in the beginning dealing with the fact that I could not work in the United States. I was bored and depressed and on multiple occasions questioned whether I should return home to do something for myself." To fill the void, Amanda created her foundation.
Since it is illegal for Amanda to work in the U.S., Amanda began her foundation. It took time and patience to begin this foundation. It took approximately two years for her and Bryan to get the proper paperwork and permissions to be able to start their foundation. She is able to run a foundation that raises money because all the money stays within the U.S.. As I said previously, this foundation serves as a charity to assist "pit-bull" type dogs and children who are victims of abuse and abandonment. Again, not only was this a fun chat with a great gal, but it was also extremely educational. I was one of those people who had adopted the stigma surrounding "pitbulls". As history goes to show us, we fear what we do not know. It is how we discriminate and judge. It becomes the reason why we lack perspective and lose sight of the idea that we are all in this life together. Part of our problem, specifically today, rather than historically, is the media. "Everything is media based now. If negativity
is in the media that's what people are going to believe, if there is positivity then that is what people will adopt as well." Spoken like a media veteran, Amanda schools me with confidence and finesse about how "pit'-bulls" are worthy of life and love, free from prejudice.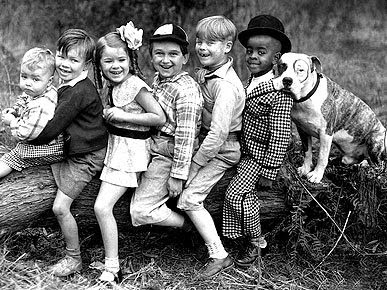 The Little Rascals "Nanny Dog"
I truly was ignorant to anything and everything that involved "pit-bulls". The reason I put quotations around "pit-bulls" is that; Lesson numero uno–there is no such breed called "Pit-Bull". "If you look for "Pit-Bulls" in the American Kennel Club database, there is no such pooch. "Pit-Bulls" have been categorized into a group of dogs that are typically short-haired and muscular. In fact most, "Pit-Bulls" are of the terrier family. One of the Bickell's family pets is a Staffordshire Terrier, and the other is a mix. They trusts their "Pits" with their heart and soul and they don't have any reservations about having their little Makayla in the same company as their Pits. In fact, "pit-bulls" were referred to as "Nanny Dogs" back in the day. If you use visual literacy as a reference you will find that Pits were used in movies as dogs that protected and ensured the safety of children or those in need. For example, remember the dog from The Little Rascals; never left their side, watched out for them, alerted them at any sign of danger or intrusion. Boom-"Pit-Bull".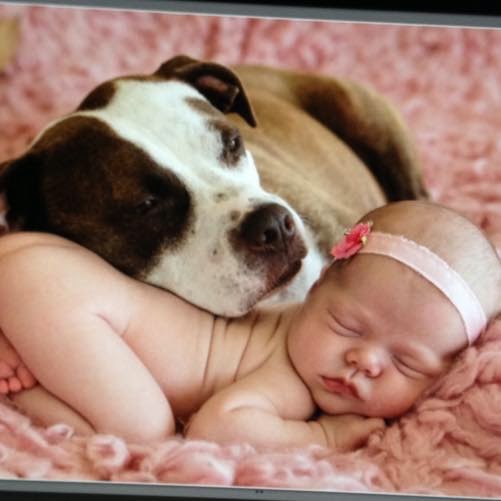 Got your back, girl.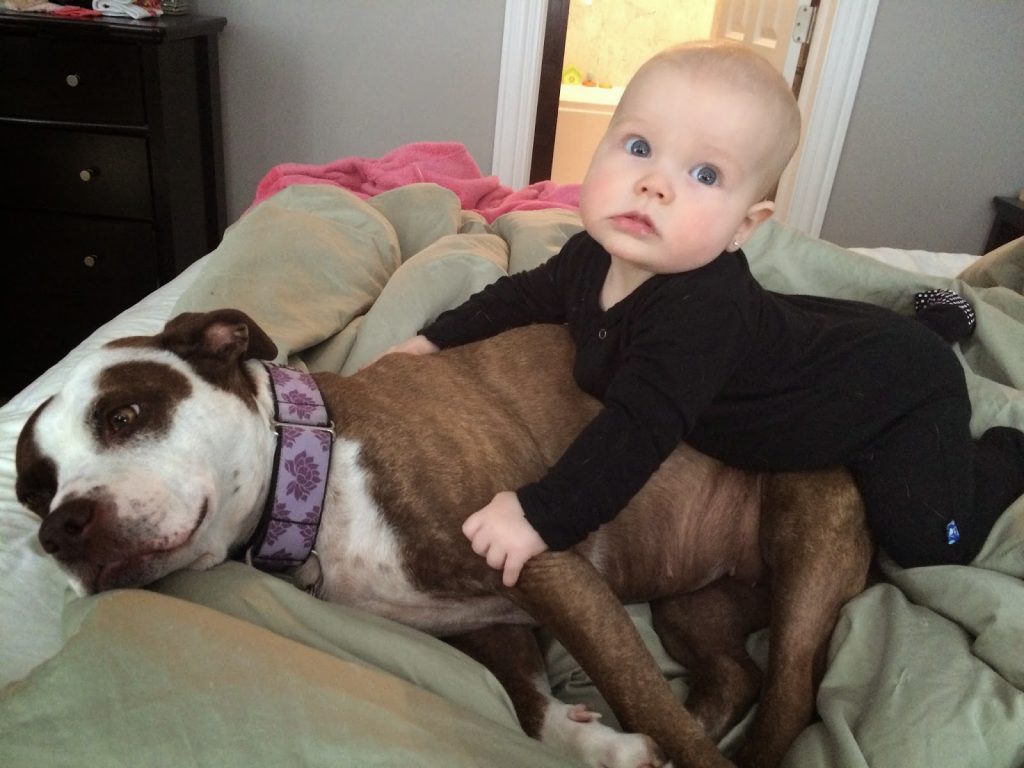 No, I got YOUR back!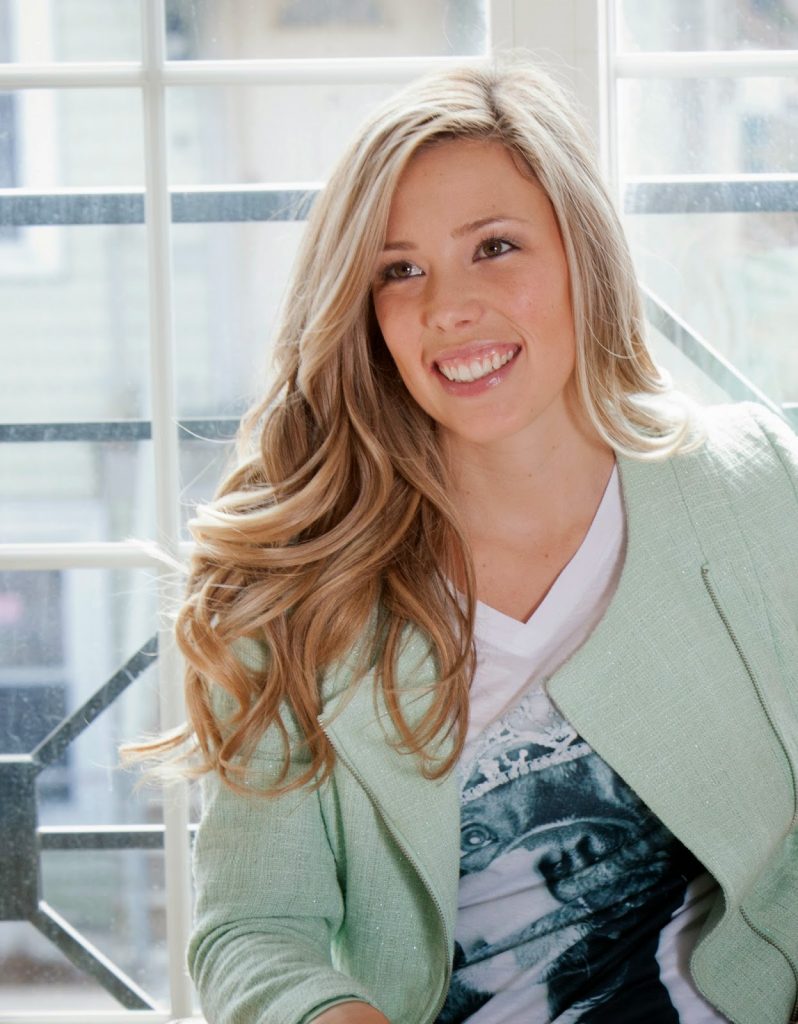 The Face of Hope.
Amanda herself has experienced dog racism in her time adopting and owning Pits. She has been reported just for owning one and has had her home investigated on several occasions, only to have the pet control investigator apologize with sympathy that they must attend on any report given. She has been judged just for walking her dog across the street or in the park, banned from dog obedience class and even evicted from her apartment! Aside from the unwarranted segregation and pain from futile disregard of bestowing love upon a living thing, Amanda's fuel was fired when her beloved pet had escaped from its leash while on a walk one evening. By the time they found their four-legged best friend, animal control has seized possession and refused to release her to Amanda without temperament testing. Statistically, "Pit-Bulls" test higher in temperament and obedience, meaning they score better. They scored higher than the typical family dog such as Golden Retrievers or labs. Pit-Bulls also scored lower in bite tests. Which means that they do not bite as often as small dogs do. According to Amanda, Chihuahua's actually bite most often. People fear larger dogs due to the fact that they might do more damage in the event of a bite. Pits are also dogs that are associated in dog fighting and are often put to sleep because they are regarded as violent and deadly creatures. In actuality, Amanda informs me that Pit's are one of the most loyal and obedient dogs and that is the reason they are used in aggressive fighting situations–they will do anything to please their master. Regardless if it causes them pain. Like people, they can be created to be ill-natured. In regards to "Pit-Bull Bans" Amanda states that, " the bans aren't eliminating dog fights or dog bites, all it's really doing is eliminating good owners. The good owners abide by the law."
What scared Amanda, a good owner, was that it could take up to a week or more to get her pooch tested on her temperance. Amanda was not satisfied with this result. She thought about how scared her dog would be crated for an indefinite amount of time and then tested by complete strangers who would decide if she was fit enough to be released. And if they thought the dog was not of expected temperance, she would be euthanized. With the help of Amanda and Bryan's vet, their dog was referred to be bumped up and to be tested immediately. Luckily, their beloved family member passed with flying colours.
Some family pets, abandoned or strayed, are not as lucky. For those canines who are not claimed, are euthanized within one week. For dogs that are brought in by owners-release, they are euthanized within 24 hours. This is the leading charge for Amanda. She did not want to see these helpless and kind-hearted animals killed for no reason. They deserve a chance at life and love. Amanda and Bryan run several programs that help assist "pit-bulls" find homes. Please check out their website The Bryan and Amanda Bickell Foundation or follow the foundation on Facebook for more information. They are always posting a feature pooch that needs a nice home and lots of love.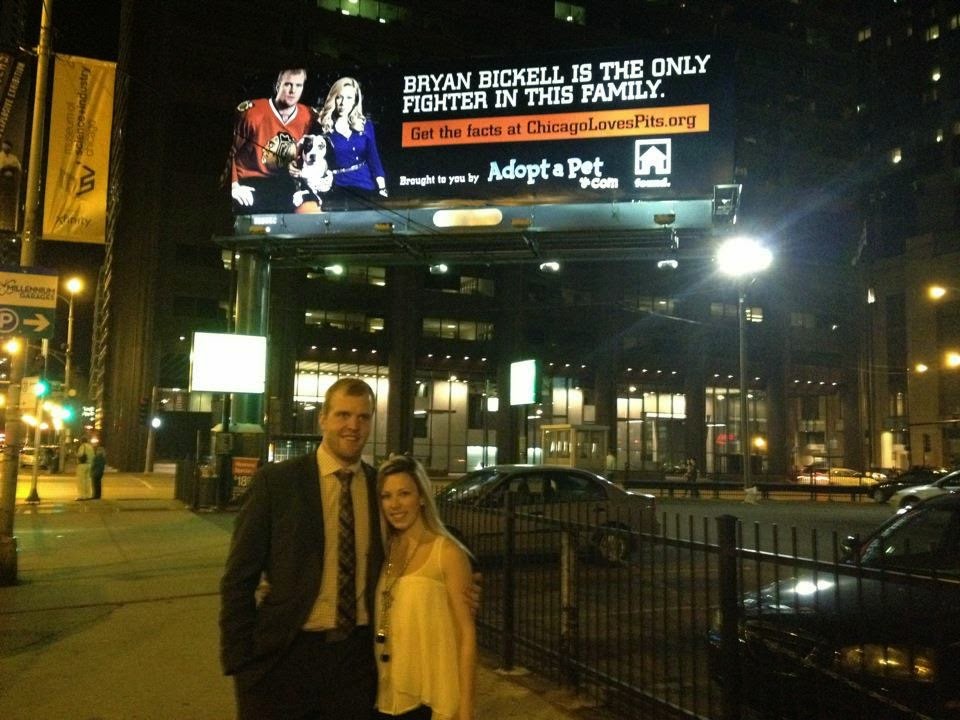 Billboards in Chicago promoting their work. Amazing.
Amanda may not have a paycheque rolling in, but her time is certainly devoted to a worthy cause to give life and rehabilitation to those living beings who can't seek respite themselves. Amanda proudly and confidently taught me about how its possible to seek purpose in something in which the rewards far outweigh any monetary value. I admire her for finding herself in a situation that would seem so easy to sit back and rest on her laurels. She does this all while raising an adorable seven month old Gerber baby, maintains Bryan's lifestyle needs, (including agent meetings, financial responsibilities, appearances, etc) organizes an extremely busy foundation and its fundraising efforts, adoptions, and galas, and loves the heck out of her hubby who is in the race for another Stanley Cup. She stays humble, but goes for exactly what she wants and deserves. I'm so very lucky to have had the chance to really get to know her and acknowledge her accolades.

Please check out what Amanda is doing and open your eyes to perspective before closing your mind.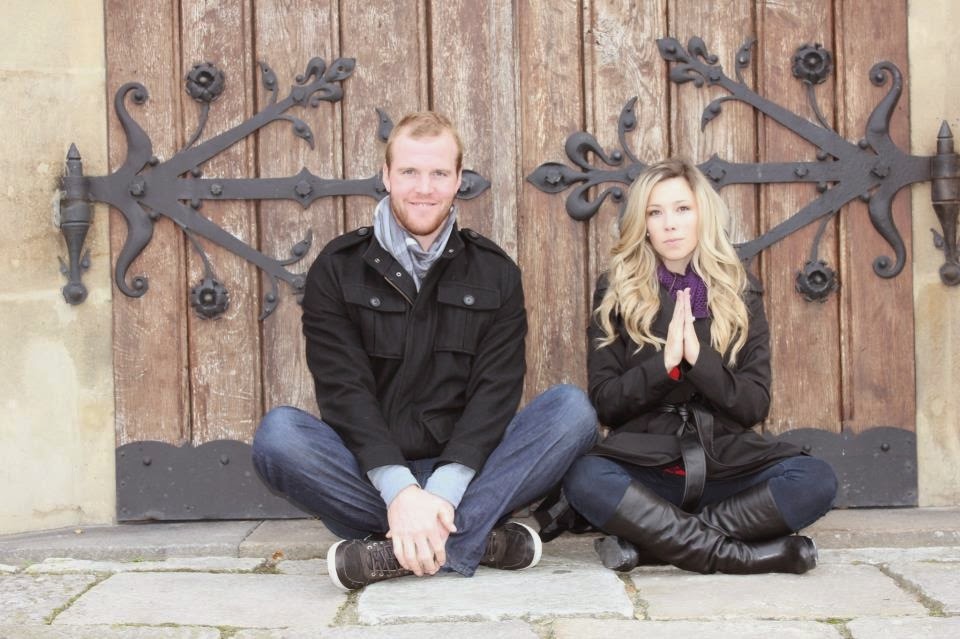 Give "Pits" a Chance.
Love You All,
K.