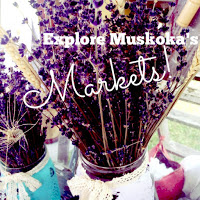 As I've said before, I'm a cottage girl.
Through and through. I've never known a summer without the presence of cottage
country, specifically Muskoka, in my life. I've literally done it all from
learning how to slalom ski at 9 years old, to jumping off cliffs, bisquiting
(now known as tubing), hiking to waterfalls and telling secrets underneath them,
exploring the unknown with bouts of trespassing here and there, and of course late-night skinny dipping. I could go on and tell you stories upon
stories of my adventures from child to teen to almost adult and now if I
must…as a adult, but this is my blog not my novel.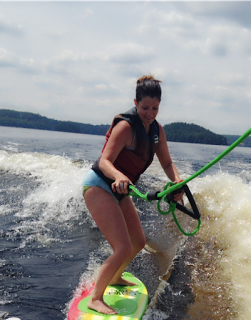 Wake Surfing. Yes Please!
As a adult, my style of what goes down at a
cottage has changed slightly. I don't have the energy to do the same thing over
and over and over again, like skiing. I would honestly go for a ski that would last
anywhere from 10-15 minutes, and at least 3 times a day! If I did that now I
wouldn't feel my legs, arms or back for a month. No Seriously, for reals. I do
my best to stay in shape, but there aren't many adults who can do that let
alone be enthusiastically immersed for the duration of the ride. I've learned
to wakeboard in my adult life and even more recently if you have followed my
Instagram updates, you can see that I have even indulged in the ever-trending
'Wake Surfing'. I did thoroughly enjoy that and can do that for an extended
period of time. But smack my wrist, send me to bed without dessert (please
don't!) or disinherit me from your life, but sometimes it's really, really nice
to get away from the cottage dock and the redundancy of routine and explore what
else Muskoka or your respected cottage country has to offer.
You all know I have a toddler who is
absolutely obsessed with being outside and down by the waterfront, much like
his mommy. Little Man gets quite disgruntled at the idea of leaving his oasis of fun
and sun. However, Mummy needs some respite and adventure of her own sort as
well. So what works for both Mummy (Daddy's too!) and kids? THE MARKETS!!!
As a parent I was shocked at how much there is to do for kids! Live music, food, playground, open beach with lifeguards, face
painting, tasters, and plenty of talented artisans marketing to all
demographics. Chances of you buying something your little one just HAS to have?
HIGH.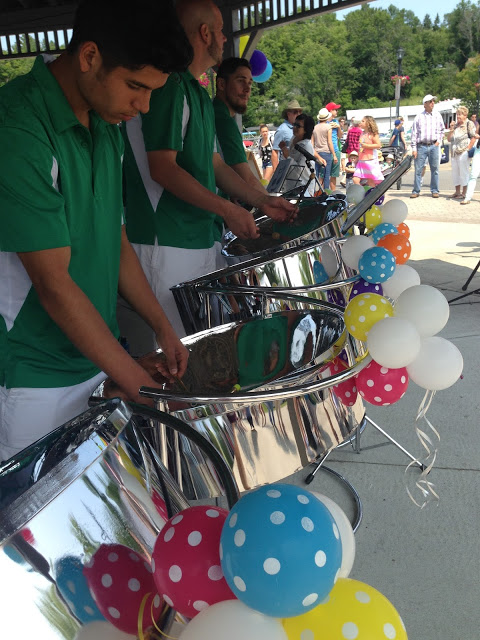 Steel Drum Orchestra-AHmazing. Little Man danced up a storm.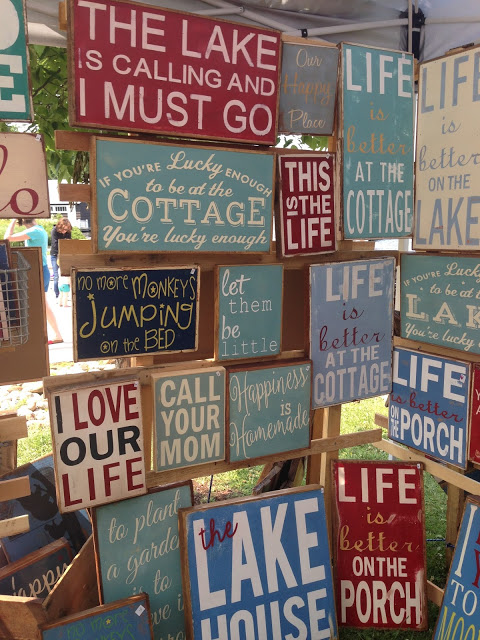 Hand-Crafted signs for your cottage, boathouse, bunkie, or even something for back home to
keep you connected to the cottage all year round.
In the Muskoka's there is what I would call
a travelling market. From Wednesday thru Saturday and as well on Monday, a
group of artisans, vendors, and other talents travel from various cottage
country towns to display, share, and hopefully sell to you their treasures.
It's basically like a live Etsy expedition! I will warn you, I have never left
a market without something in hand. You will find a plethora of woodworkers,
glassblowers, hand-made clothing merchants, jewelers, natural skin care
advocates and mixologists, bakers, local organic farmers, tourism moguls,
antique experts, and the cutest set of biddies selling the freshest squeezed
lemonade that operates solely on the honor system since their hands are deep in
sweet and sour goodness! Super refreshing on a hot summers day.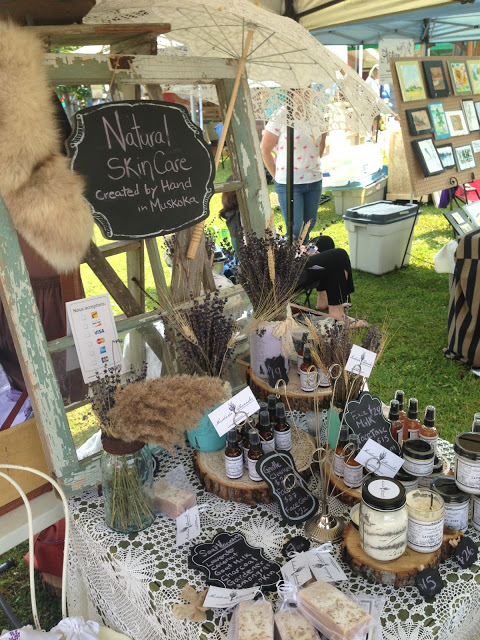 My favourite vendor by far this year! This lovely lady creates her own NATURAL product
line of soaps, lotions, oils, balms, candles etc! NO chemicals! I indulged in a lavendar face
mist. Kicked my headaches in the arse! Ahhhh…. And her gratitude? Off the charts. Happy to help.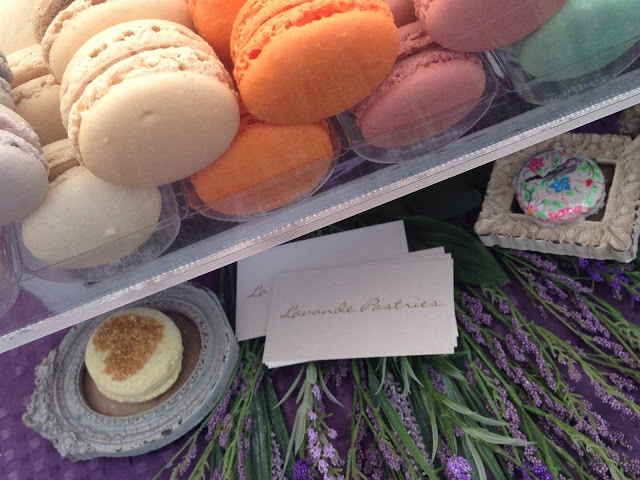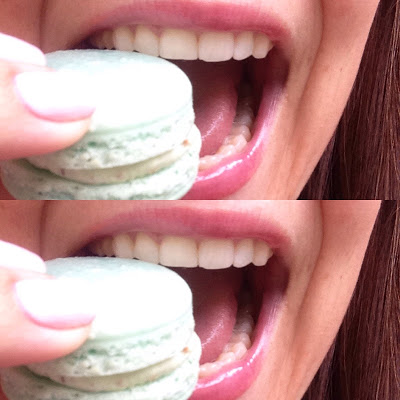 Get in my belly! This Macaroon master from Toronto assured me I couldn't wait to get home to indulge.
Lava due Pasteries 1, Kelly 0. Well played. Crisp, Creamy, Delish.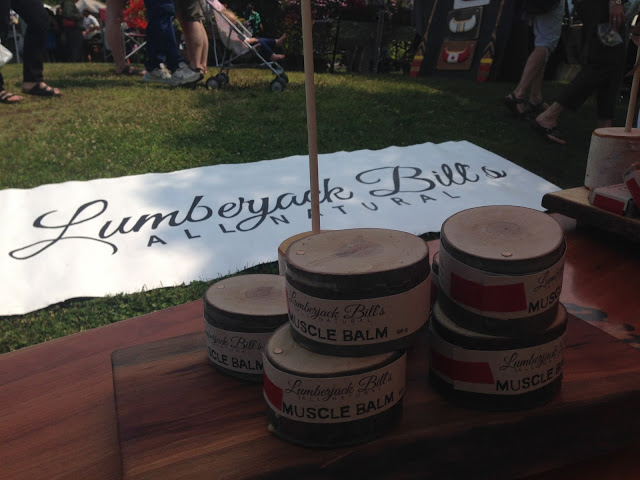 There is stuff for your dude's too! This Lumberjack line is tailored to men, again using all natural ingredients. Products
include muscle balm, bug spray, deodorant etc. Some amazing wood carving comes from this vendor as well!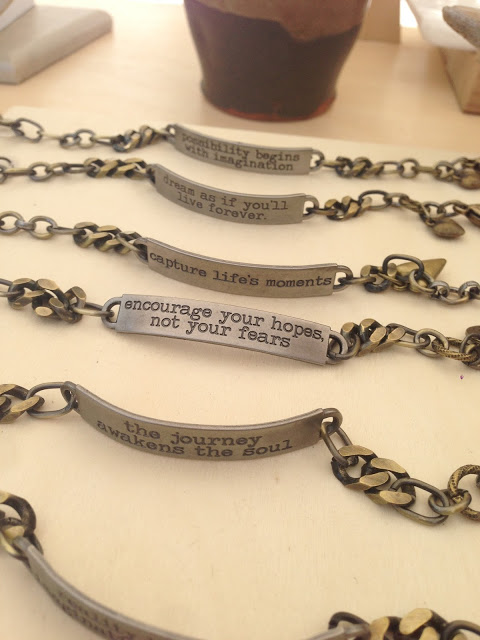 TONS! I mean, TONS of jewelers have crafted some gorgeous and original creations.
This year I picked up a dainty knuckle ring that also doubles a pinky ring as well. I admire
how some artisans pursue their passion to create magic for others. It reminds me of a friend, I think
you would remember fellow hockey wife Kristina Regehr who has an inspiring and enigmatic company
previously called 'FINERY', now the refined WYSH COLLECTIVE! If you missed my post on her check
out June's Feature Hockey Wife! And don't forget your clothing creator and May Feature Wifey Danielle Scott!
Of course the Farmers stake their well deserved claim
as hot ticket vendors at the Market. Fresh, Local, Organic.
Beets the alternative….hehe.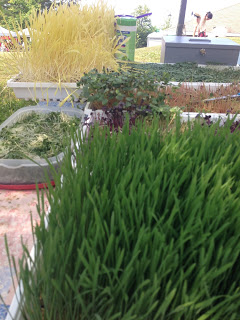 Wheat Grass anyone??? Boy oh boy what I would do to
that…I'd cut you and throw you in my juicer and do shots
of you….
The only way I can explain it is that it's a feel good place. No matter which location you attend you

are guaranteed to feel good about seeing what the good people are putting out there. And let me tell you their gratitude matches their enthusiasm for their craft. You will feel not only happy about your purchase because everything I have ever purchased has been nothing but the highest quality, but the merchants will make you feel like you have significantly contributed to the success of their growing business and passion. These are regular people just like you and not. They are not attached to any corporation of adhere to a specific brand to sell themselves. These are good people taking a chance on their talent and their passion. Some merchant's travel from all over Ontario to participate in these markets and many are local. It's a great way to meet new people and experiment with local, natural products.
CHECK OUT YOUR "LOCAL" COTTAGE COUNTRY
MARKET:
WEDNESDAY: GRAVENHURST FARMERS'
@ The
Muskoka Wharf.
THURSDAY: HUNTSVILLE FARMERS' MARKET
@ Canadian Tire parking lot

PORT CARLING FARMERS'
MARKET
@ Hannah Park (Bailey Street)
FRIDAY: ROSSEAU FARMER'S MARKET
@ The
Rosseau Waterfront
SATURDAY: BRACEBRIDGE FARMERS' MARKET
@
Memorial Park (Manitoba St)
HUNTSVILLE FARM FRESH
& HOMEMADE MARKET. (West St.)
MONDAY: BALA FARMERS' MARKET
@ Precambrian
Shield parking lot.
Get out and see what's up with your local
Famers' Markets ya'll. Tell me about your favorite vendor! They all deserve a
shout out!
Step away from the docks if you dare!
Love you all,
K.