Freezies, Popsicles, and Ice Cream OH MY! The weather this summer has been amazing once summer decided to rear its gorgeous head. I have to admit to "beat the heat" my first instinct is to indulge in something icy cold and delicious, just as the mentioned above. And what mommy has, Little Man also must have. I have no problem giving treats in moderation but my concern as a mother always brings me back to the amount of processed sugars both he and I are taking in. I want a cold snack that I won't feel guilty to treat myself to. YOGURT POPS!
This quick recipe was made on the fly and super easy to make with the most basic and yummy ingredients. (Disclaimer: this is NOT dairy-free)
I made two flavours: Coconut Mango and Raspberry Lime
This is a MUST-TRY! On your mark, get set GO!
What you will need: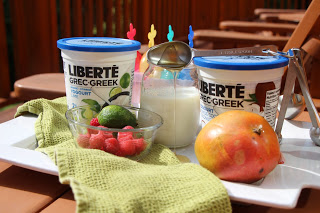 This is literally ALLLL you need!
**This recipe yields two (2) Yogurt Pops per flavour
Liberty Organic Greek Yogurt (Coconut & Lime)
Milk
Pasteurized Organic Honey
Lemon
Raspberry (Fresh Fruit of Choice)
Lime
Mango (Fresh Fruit of Choice)
Step by Step (ooh baby!):
This will be short and sweet! Oh so sweet!
Step 1: Use three healthy dollops of Liberte Organic Lime Yogurt (Approximately 4 Tablespoons) into your mixing bowl.
Step 2: Drizzle 1 Tablespoon of honey over the yogurt and stir.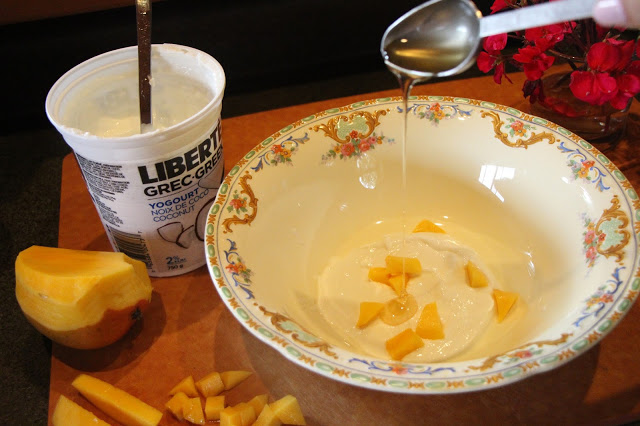 Step 3: While continuously stirring the mixture, squeeze 1/2 of a fresh lemon and 1/2 of a fresh lime.
Step 4: Add in your fresh cut or mashed fruit. It is totally up to you on how much fruit you would like to add. I used about 10 raspberries for this portion.
Step 5: Slowly pour about a 1/2 cup of milk. Whisk with pride! Your treat is almost ready! You want the consistency of this mixture to look like 'regular' yogurt (as opposed to the thick texture of greek yogurt), or a bit runnier.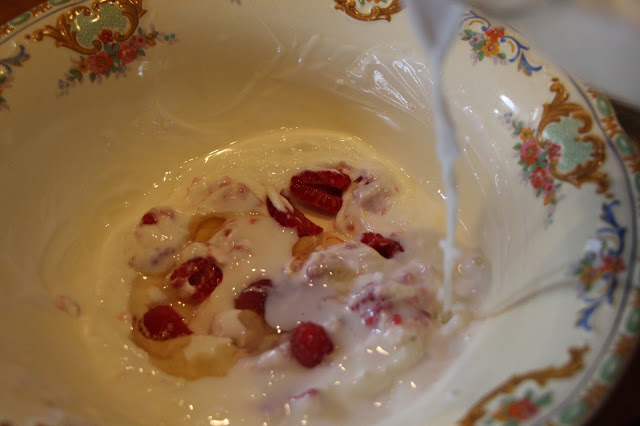 ***Do the same with your mango and coconut yogurt mix. Same ingredients just swap your yogurt and fruit. The base is the same.
Step 6: Pour your yogurt pop concoction into your desired freezing trays. You can get these anywhere! A Dollar Store, Walmart, Target, ANYWHERE!
Step 7: FREEZE!!! They should be ready in about 1-2 hours! Enjoy!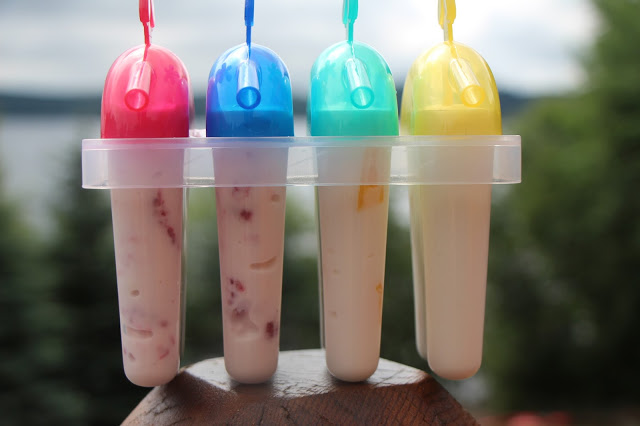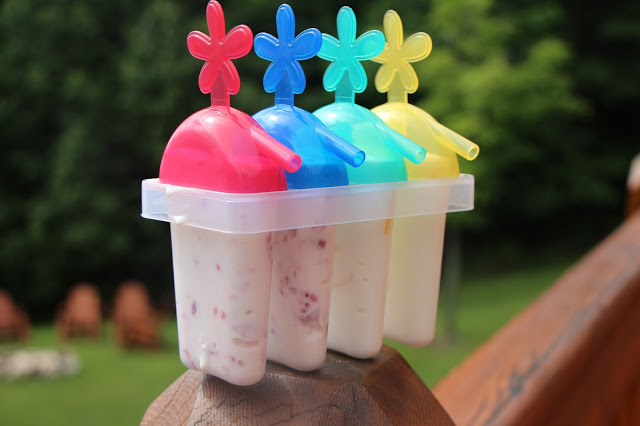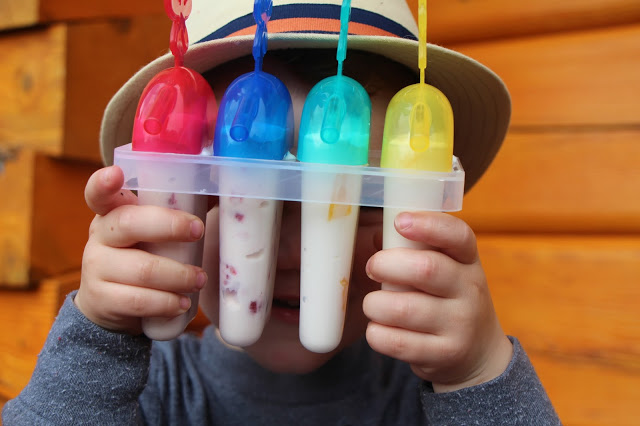 Someone is excited to FREEZE his treats! This is a fun activity for kids to help make too!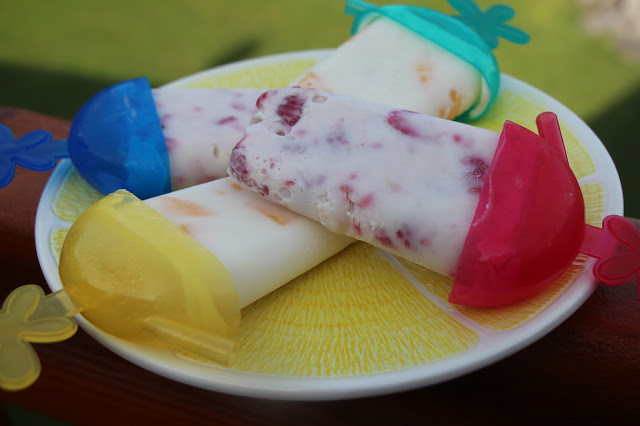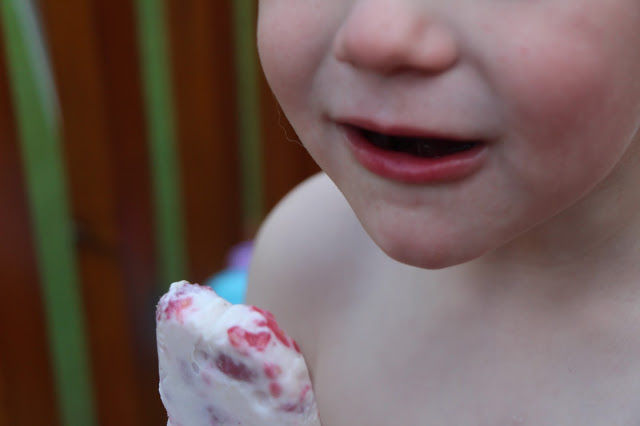 The smile of a satisfied customer.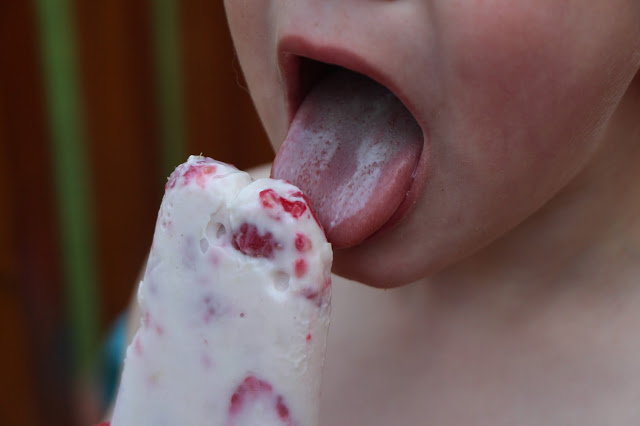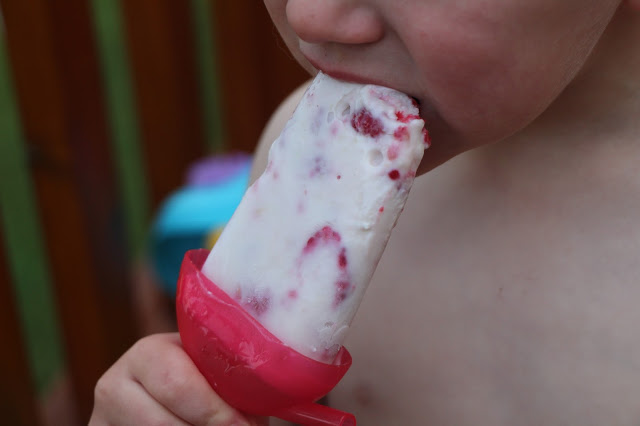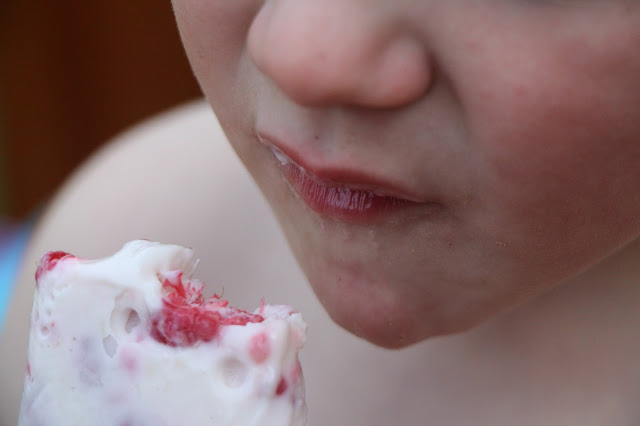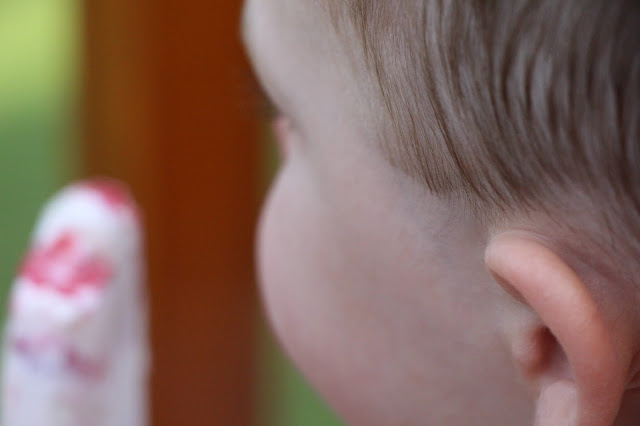 Good to the last lick!
GUILT FREE! Give it a Try!
Love you all,
K.