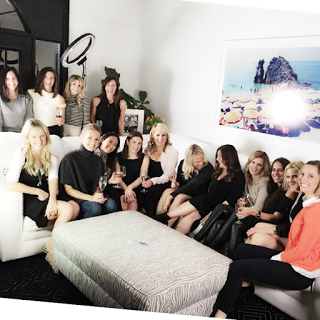 The Social Common Squad. Episode 6
Oh I was excited. What to wear? What time do I leave to beat rush hour, I can't be late for a live broadcast? Which bottle of wine to bring? It's been so long! Can you say GIRLS NIGHT?! I haven't had a girls night in oh so long…literally months. I mean, I legitimately have not gone out to have unfiltered, child-free, adult content conversation in a long time. Perhaps being 30 weeks prego has something to do with it, but should it be an excuse? NO! I truly don't think that husbands and children realize the amazing affect that a night out with the girls has on a mom/wife's temperament, psyche, or sanity. Let's just say that after a night with the Social Common squad, this mommy/wife's mental well-being has been recalibrated!
Last night I had the great pleasure of joining Catherine and Natalie, vlogging superstar moms and creators of Social Common. Social Common, if you don't know, is a "mom's club" where woman can come together after the kiddos have gone to bed to enjoy good wine, good conversation, and good people. They invite all mamma's out there to join their events to connect, learn, and inspire one another. For those of you who read my blog on a regular diet or even just occasionally you can see that I'm totally an advocate for supporting women who inspire and lift one another up rather than competing and tearing each other down. It's becoming an epidemic these days, and these two woman are changing the face of this epidemic and helping to make it a movement.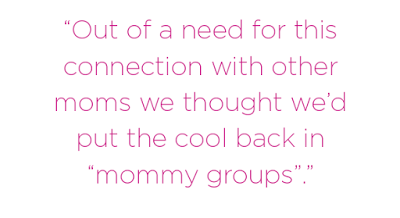 Over the years, the gals of Social Common have grown exponentially and presently host their own YouTube channel broadcasting Social Common Live from Catherine's home in Toronto. On this particular evening Natalie and Catherine invited me to take part in filming of one their live broadcasts as a guest blogger. I had attended one of their events a couple of years back with a friend and just loved what these ladies were all about. I was super pumped to have the chance to hang out with these gals again and to meet some of their panel experts and other guest bloggers as well.
The vibe was amazing. Tunes a-blazing, wine flowing, sushi served, and fabulous women buzzing around to ensure each gal had ample opportunity to get to know each other before the show started. It was kind of like speed-dating. I honestly felt like I had known some of these woman for years. I also hope to know these woman for many years to come.
It was time. We were instructed by the lovely Lindsey where our places were, what the context of the show would entail and our role in the show. Quick and Dirty. Booyah.
It was a fabulous show! I laughed hysterically at their candidness and whole-heartedly appreciated their honesty. I love that they were unfiltered and asked questions and brought up topics that were relevant.
They were joined first by Kate and Amanda, interior design aficionado's teaching us how to ditch tacky holiday decor and replacing it with a tasteful, trendy, and neutral palette for the whole winter season. Can you say textures, textures, textures? Can you please come to K-Town and help me?? Follow these design moguls on their Instagram account @kateandamanda You won't be sorry.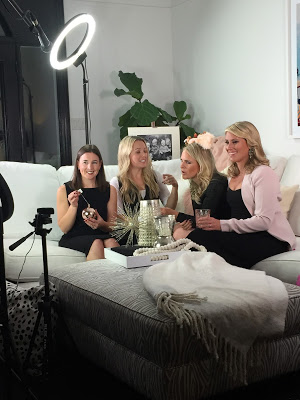 An SJP moment. Turning Holiday Decor into Winter Decor.
No need to strip your house of decor on the 26th!
Next up was Jamie who is a "Step-Family" coach. She offered amazing advice on what it is like being a step-mom and how to do it successfully. As a step-mom herself she gave some great pointers on how to deal with the often overwhelming tasks of scheduling, co-parenting, and most importantly maintaining a healthy relationship between you and your spouse. Follow this savvy step-momma on her Instagram account @thepoptartdiaries
Beth! What's in your Box?! Yes! Beth is a regular on Social Common Live. Natalie and Catherine provide Beth with a box of items and its Beth's job to reveal them to the SC viewers. The catch? Beth has no idea what is in her box. In this episode, Beth's box held some fab make up items from Benefit Cosmetics. This was hilarious and adorable. Beth is not a make up lover, but did a great job applying her High Beam highlighter, Fine-One-One cheek and lip colour, and the POREfessional Agent Zero Shine control. Even though Beth is not much of a make up guru, she rocked her cosmetics and her orange sweater like a boss. Kudos Beth! Nailed it. Follow Beth on Instagram @Iamthemamamantra
Returning to the Social Common stage was parenting expert Kelly Bourne, who I swear I know! I'll figure it out some day but until then, I'll just remain the creep who insists that we know each other. She offered some key insights on a very hot topic…"Handling Sass from your Kids". You can picture it right?…You ask your kiddo to do something and they throw at you some Mariah-Carey-diva-resting-bitch-face-head-swagger-Mary-Kate-Olsen-smirk attitude. Whaaaaaa? Oh heeeeelllll no. The fight or flight action kicks in….Kelly's advice? "Check yo'self, before your wreck yo'self". My instinct is to fight, but Kelly suggests that when you fight, you have already lost the long term battle of the Sass. It will return and it will become more powerful. Take a step back and breathe. Another great piece of advice to practice with your kiddos is to embrace the power of the apology. Apologizing to your child when you are wrong teaches them valuable lessons and also provides your child with a sense of worth and that you acknowledge them as a human being. Give Kelly a follow on her Instagram handle @kellybourne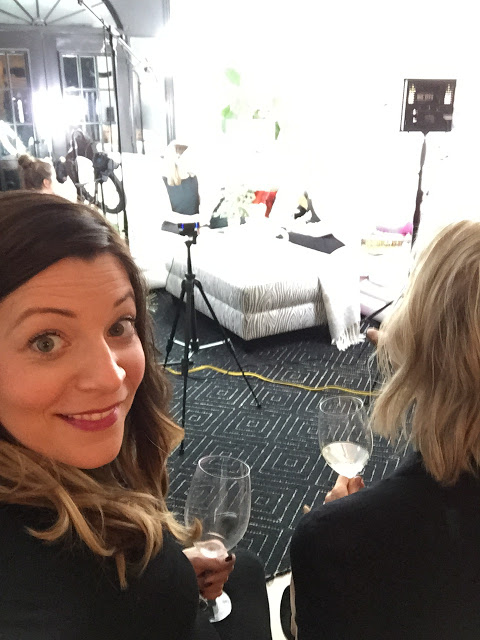 Remember this! "Check yo'self, before you wreck yo'self"
That's a wrap! What a success! Um…so….the tape didn't record the show….we have to do it again. Catherine delivered the news so chill and calm, I actually thought she was joking. So just like that…take two. We had to do it all over again. Was I upset? God no! The night continues! No one was upset, no one ditched the party, we just filled up our wine glasses (or my sparkling lemonade, thank you Lindsey!) and got right to it! It gave me incredible insight that you really have to roll with the punches. Last week I wrote a great blog on my first feature hockey wife of the season and my computer froze and lost three-quarters of the article. I had to do it all over again, and I whined and griped about it. I wasted more energy complaining about it rather than just getting right to it. Ladies, you gave me a healthy reminder that crappy things happen and you can't control it. So move on and get 'er done.
Natalie and Catherine turned the conversation to the guest bloggers to start the show off with their "Hot Topics" segment. Our topic? Leggings….Pants or not Pants, that is the question. We had a healthy and hilarious conversation and came to the conclusion that leggings must have Crotch Coverage and Crack Coverage. Meaning your tights cannot be so thin as to see your skin tone, and your shirt must cover either your crack or your crotch. Too much exposure could result in the dreaded "C"…the Camel Toe.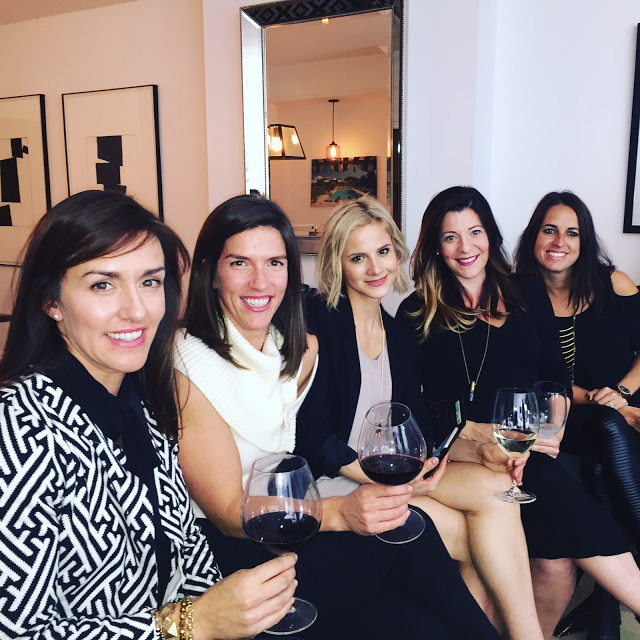 The Guest Bloggers: Leigh and Meg (LeighandMeg), Kat(bumpandhustle) Moi, and Jaclyn (MOMspired)
But, that was the first Hot Topic. To mix it up a bit and keep us bloggers on our toes Natalie and Catherine switched up our topic. The Hot Topic on the table this time was about Khlo-money and Lamb-Lamb. Yes, Kardashian talk. I got this. First guy ever to get his wife back by going to a brothel, taking 10 Viagra and overdosing on a smorgasbord of narcotics. Slow clap. The concluding thoughts….no way would we ever let our daughters go back to someone with those life goals. Khloe is my favourite Kardash. I wish nothing but a healthy recovery for Lammy but Ko-ko deserves better. Can you tell I "never watch it-all the time"? Haters gonna hate.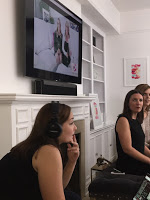 "Tech-spert"
All in all the night was fabulous. I am super thankful for the networking and laughter that commenced last night at the Social Common headquarters. No one took themselves too seriously, and I am super thankful for the opportunity to watch Natalie and Catherine do their thing. I can't wait to work with these ladies soon! Much love to the experts, bloggers, producers, and hostesses with the mostess..es? …. THANK YOU!
Hey all you Momma's out there! Follow these gals, you won't regret it! Tune into Social Common Live every Tuesday at 8:30pm. Get those kiddos to bed, pour yourself a glass of wine and settle in for some unfiltered, female, fun!
Watch the live broadcast of Social Common Live –> https://www.youtube.com/watch?v=8kTmCKgKiwI and follow the hashtag #socialcommonlive
Until we meet again.
Love you all,
K.