I had the extreme privilege to attend the last tour performance and perhaps the last ever concert venue performance of my favourite band, The Tragically Hip. Perhaps you have heard of them? I've had a number of people asking me the "Well? How was it?!" question. And I find myself lost for words, which is infrequent, on my part. But it was such a monumental moment in my life that I can't help but recap with a post. It's the least I can do for a band that has essentially been the score of my life. And this is after all, a lifestyle blog.
I rewind back to when I was 13 years old and summered at Camp Hollyburn in Muskoka, Ontario. I was in awe of the counsellors who could pick up their guitars and strum the most playful and soothing chords that indeed nourished my soul. Soon around the campfire, these songs became prayer for us. Those songs made the air smell memorable. I would inhale and I became full. I'm not sure if this feeling resonates with any of you, but when Wheat Kings and Fiddlers Green played, I was lifted. This was the first time that music and I really connected.
Years later, I still played those campfire hits on repeat. I became in tune with their rock side of music and realized that one did not have to be A or B. Then he winked at me. I was front row at their concert, my second time seeing them live, at the Toledo Zoo in Michigan. Contact. I made contact. I had separated with my friends to make my way up to the front so I could literally see the sweat drip off the brim of his hat. Their performance was flawless.
The internet blew up. My heart sank. Brain Cancer. WTF. Rewind in black and white. I felt as if the color had been stripped from my memory. Word had travelled that this tour, Man Machine Poem, would be their last. It seemed like fate that it would be in the town that this hockey life had brought us to. I hate to use the word fate in this instance, only because if this is Gord's fate, it's bullshit.
The day of the concert I was full of jitters. I used to get the excited "pukes" as a kid and well, this excitement was pretty close to that. I knew it would be emotional for me. I sent a group Facebook message to my camp people telling them that they were in my pocket with me on this one and I was thanking them for their sole influence on introducing me to this band. Even that message was extremely emotional for me. Once in the building at the KRock Centre in Kingston, On. I was calmed.
I made it to Courage. The second song. That's when the tears came. For so many reasons. For one. His courage. Two, the feeling in this grand room was electric. Thousands of popcorn heads bobbing and bouncing in chaotic unison singing this anthem. And three, because when I first heard this song I thought Gord was singing my name. If you listen to Courage, it really does sound like he's singing "Kel-ly!, My World!"….at least it did in my head. I always sang my own name. Narcissistic? Maybe. But on this night, I sang Courage.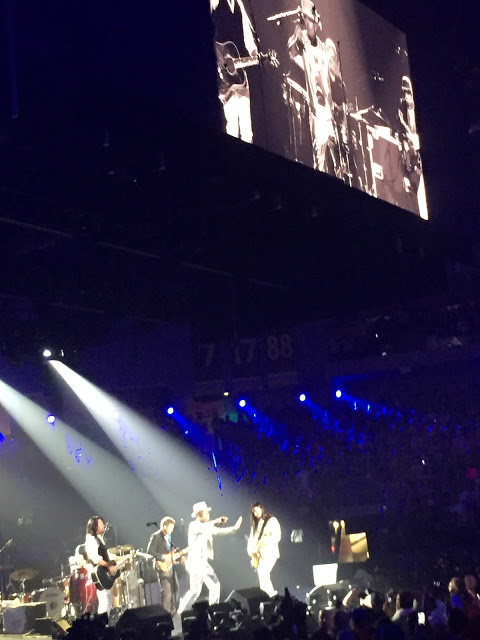 Courage
Then came Wheat Kings and I looked around, and I wasn't alone. The air was oceanesque. Humid with heat from the salt of our tears. We were all transported back to a time, yet so present in this moment. "So how was it?", it was universal, unified….beautiful.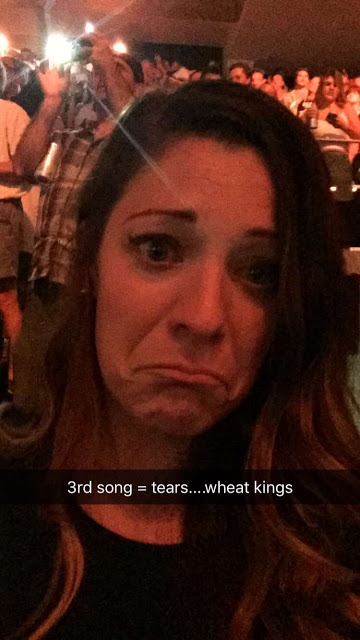 I Snapped and Instragram 'storied' the night away….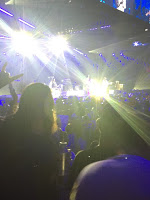 The set list rolled magically; At the Hundredth Meridian, In a World Possessed, Fiddler's Green (don't even get me started), Something On, Bobcaygeon, Boots or Hearts, and Nautical Disaster. Each metallic suit after another sparked electricity in his loyal fans. People in the hallway and in the aisles smiled at you and actually made eye contact as you passed them by. This building was bursting with love and respect. The building roared with respect as Mr. Downie rallied for our Prime Minister who was in attendance. Despite anyone's political agenda or preference, everyone was kind to one another. Realistically, you know that not everyone in that building voted Liberal, but it was quite amazing to see that listening to someone's platform can be eye opening, worthy and respectful. It's true, the world needs more Canada. The world needs more Hip. Screw you Cancer.
Then came the most emotional moment of the whole concert. Scared. Gord, although a beacon, a superstar, a poet, an advocate, a Canadian hero, he proved that he was….human. It was riveting and painful to watch this man become so raw and vulnerable with all of us. I have no words to adequately describe or paint this picture for you. I'm sorry. Over 12 million Canadians watched on CBC's live broadcast but it was such an intimate and naked moment. I'll never forget it.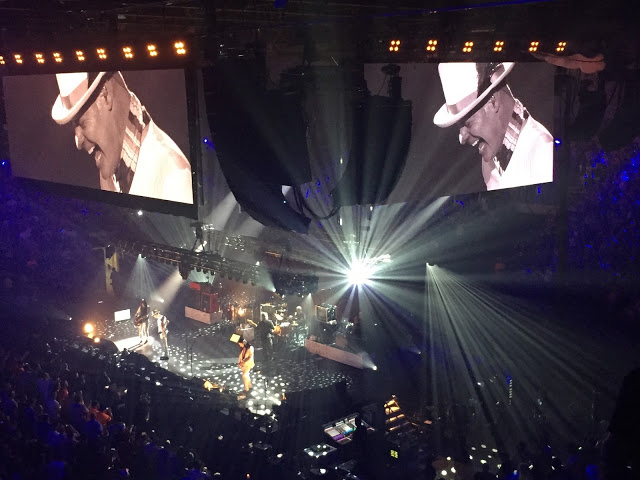 Raw, Unbridled, Vulnerable, Angered, Scared….Loved.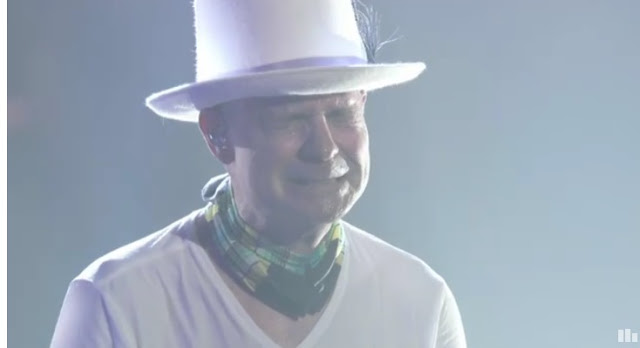 Photo: CBC
Encore after encore, they crushed it. Gord gave it his all; Having to be assisted off the stage after each one. Glorious instrumentals and solos from Gordon, Paul, Rob, and Johnny unified these musicians and teased the audience with intros to their favourite songs about to be played. They swapped guitars and drum sets in and out, peaking our interest of what hit they would delight us with next. The audience buzzed and rallied after each encore finished, begging him to come out just one more time. And he did. The guitar strings strummed a song that I knew would be the closer. The moment I didn't want to come, yet I begged to hear just this last song that completed the commentary to my upbringing with this band. Ahead by a Century. I rocked out as hard as I could, fighting back every tear then finally giving up and taking Gord's lead in that there is greater power and release with being vulnerable. Perhaps the name of the band in quite ironic, in that it was a tragically hip concert. It was the greatest music being celebrated but in also the most tragic way. To think that we will all lose this man is tragic, but dammit he did make it the hippest, coolest, most inspiring concert I've ever, ever seen.
It was a tribute. It was the perfect musical journey. A musical interlude of my adolscence, a poetic catapult of my teenage years, the score of my soul, and the soundtrack of my being. Words can't express how I truly felt, but I hope Gord knows what he did that night. Two nights ago I witnessed history. I am so proud to be Canadian. We love you Gord.
In Gord We Trust.
Please Donate to the Gord Downie Fund for Brain Cancer Research. Awareness begins with you. No dress rehearsal….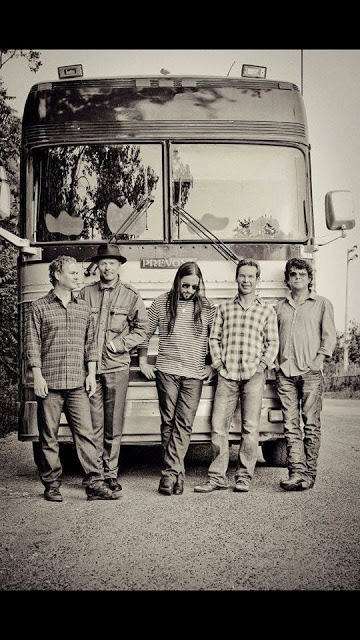 The Coolest band that ever was and is.