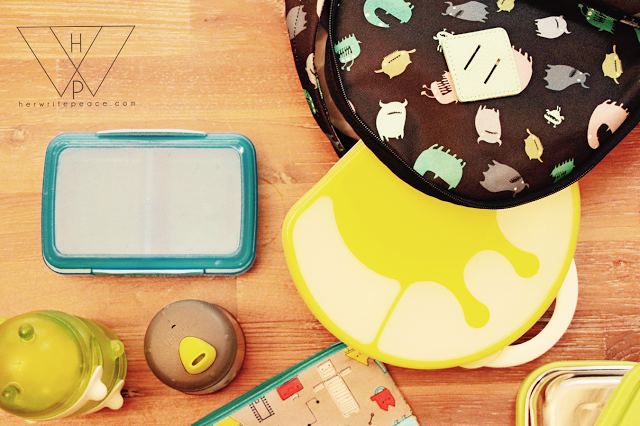 So not only is it Little Man's first day of school, but it's mine too. I have never sent a child to school before. Being a teacher I know exactly what happens on the first day, yet my inner mom dialogue is screaming WTF, He's not ready! But….sigh….he is. First of all, how did this happen? Where did the time go?
I made a mad run to Old Navy and H&M and got him his adorable new 'back to school' threads, bought him new 'indoor' shoes, got a fresh haircut, a backpack, lunch box yada yada yada…But I started to think about his lunches. Little Man gets hangry. I feel like he is eating all the time, so it will be an adjustment for him to not eat whenever the heck he wants. So the reason I am making such a point as to make a post about lunches is because I wanted to make sure that he is going to eat what is packed for him. Trust me. I taught kindergarten and I've seen some scowled faces scanning their lunch boxes, throwing away full sandwiches, and making trades. Frig, I've seen grade 6's and 8's not eat anything in their lunch or only eat the sugary type snacks. Of course, we shouldn't totally cater to our kids and be over the top, but kids.need.food. They need food to stimulate their brains and bodies to thrive. Also, a hungry kid can be an ass. So please, feed your kids right.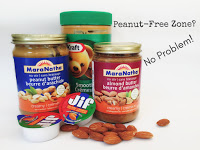 A growing concern in our classrooms.
Please be mindful.
I made some examples of what can be included in a lunch that I think would be appealing to most kids, based solely on the fact that my kid loves all these foods. Every item is peanut-free. This post was essentially a full rehearsal for the live lunches starting this Tuesday. Last week, I made these lunches and gave one to Little Man each day and figured out what he liked and didn't like. Therefore, he will actually eat what is given to him, and he is not wasting food by throwing it out or bringing it back home. In theory.
Here is a FIVE DAY PLAN for school lunches :
***Disclaimer, Almost ALL of these items I have in my home on a regular basis. My shopping budget doesn't have to veer just because it's back to school. There are a few items that are a splurge, but aren't they worth it?
I've also included a shopping list for you!
DAY 1: MONDAY
Totally basic lunch that has all the essential food groups.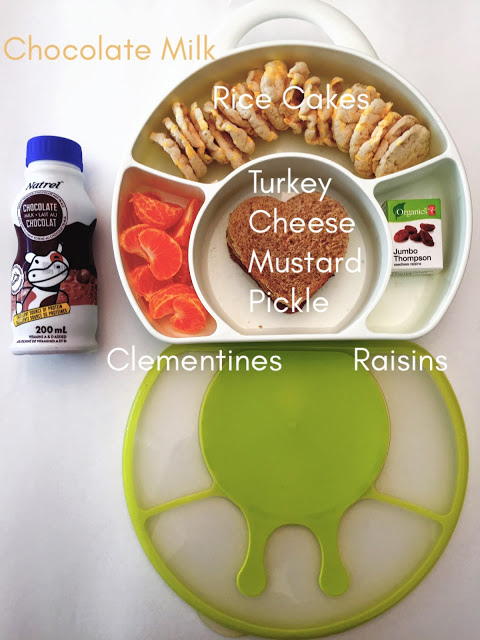 Make the old fashioned sandwich exciting with cookie cutter shapes! We have a heart and
a car that are permenantly next to the toaster. It takes one second. Shapes erryday.
Dish by Boon.
DAY 2 : TUESDAY
Let them help! When they take part in their nutrition they will be more invested to what is packed in their lunch. Little Man loves to go into the pantry and pick which granola bar he prefers. He also helps to make the roll-ups.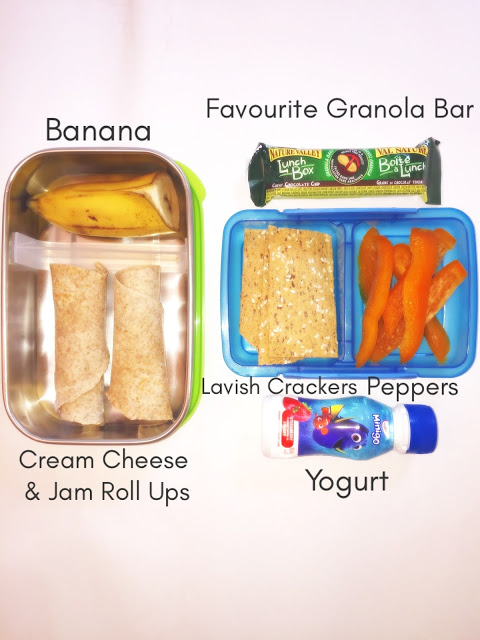 Yogurt in packages like this are our "Splurge" item
Stainless steel dish by U-Konserve, other by Sistema.
DAY 3: WEDNESDAY
LEFTOVERS!
Don't make it harder than it has to be. It's Hump Day. You just need to get the food and the child out the door and on time. Make it easy, pack up your Taco Tuesday or whatever you had last night, and you know your child will like it.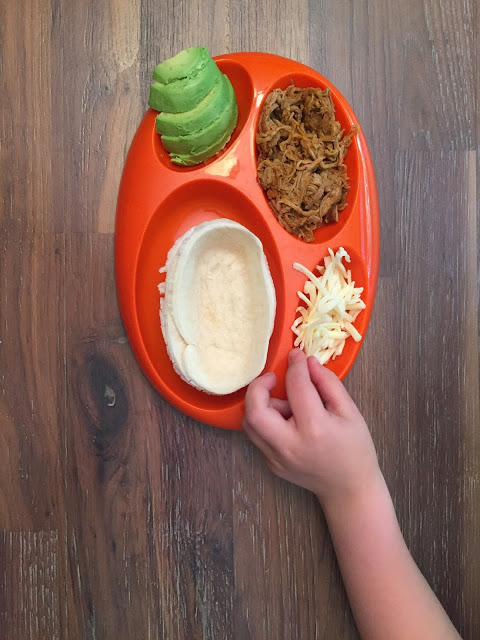 You know you have leftovers…
This was our Pulled Pork Taco Tuesday last week.
Dish by Boon.
DAY 4 : THURSDAY
Breakfast for Lunch. Um yeah!Nothing better than an all day breakfast. I've instilled this in my son. Nothing will come home from this lunch.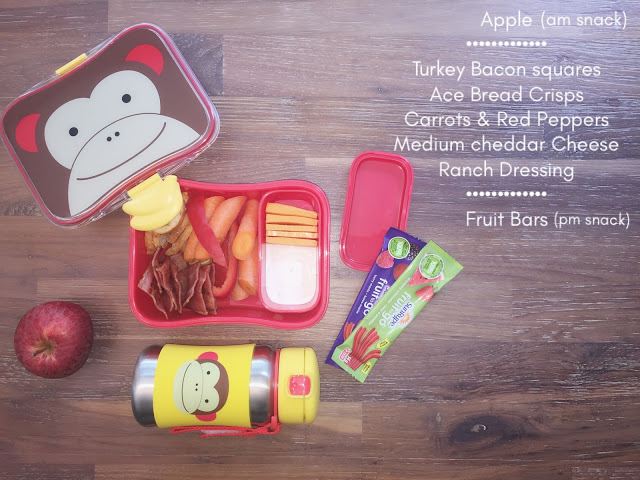 Tip: Make everything bite-sized.
Dish by Skip-Hop
DAY 5 : FRIDAY!
I'm very lucky that my kid eats relatively healthy. So even "treats" aren't even that bad. He picks up habit from me like cucumber water and has never really let go of his love for baby food pouches. I love it. And I am by no mean, Martha Steward…The quiche took 10 mins max and I made 10. I but the remaining in the freezer and now I have 2 more lunches when I just don't have my arse together.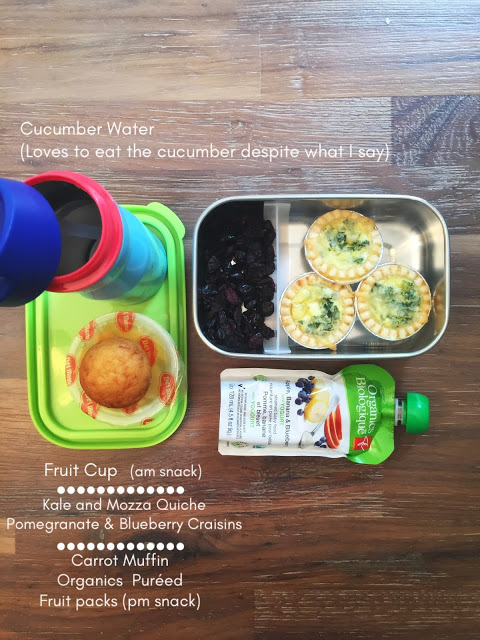 If you notice, I used convenience foods because by Friday I've lost my lunch patience.
ADDITIONAL IDEAS to play around with!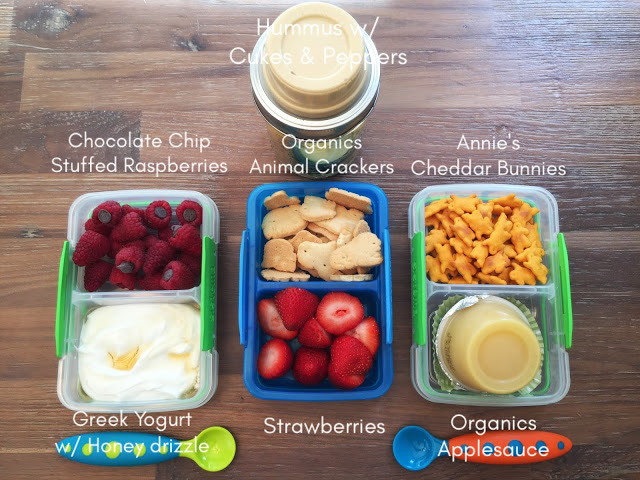 Some snack examples for days when they come home for lunch. MAKE IT FUN!
Dishes by Sistema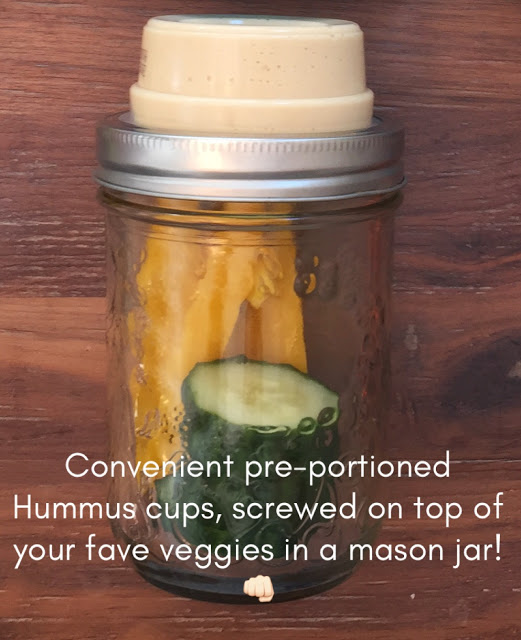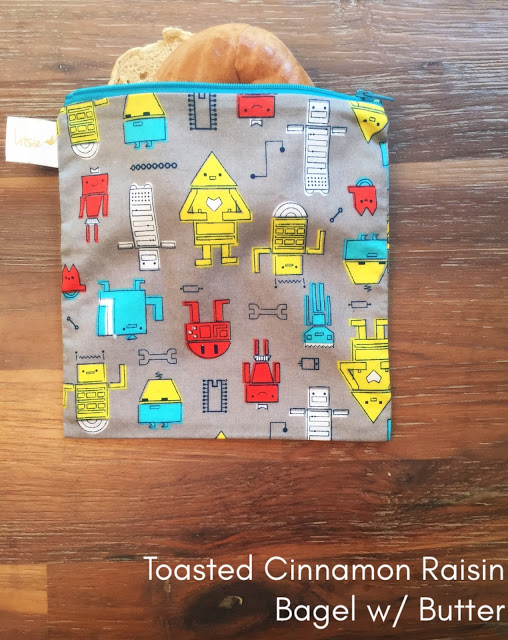 Reusable Sandwich Bag by Litsie (Hip Kids, Kingston)
Shopping List: (By "food group")
**NOTE: These items include the above mentioned "additional items" so you would not need everything on this, especially with produce which can expire and become waste.
Whole Grain Bread, Crackers, Animal Crackers, Annie's Cheddar Bunnies, Bagels, Granola Bars, Rice Cakes (S&V), Mini Carrot Muffins

Turkey Bacon, Smoked Deli Turkey or Chicken

Dill Pickles, Cucumber, Peppers, Carrots
Raspberries, Strawberries, Apples, Bananas, Clementines, Organics Apple Sauce, Raspberry Jam, Fruit Bars, Organics Pureed Food pouches, Organics Raisins.
Cheddar cheese, Cream Cheese, Yogurt and/or Yogurt drinks, Chocolate Milk drink, Ranch Dressing.
I hope you find this helpful!
Happy Lunching! I know Little Man will be!
Excuse me while I go cry….