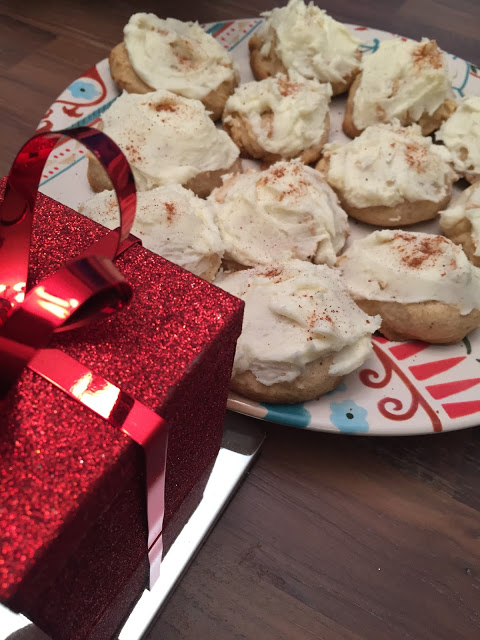 Oh my NOG these are so good. Here is my disclaimer, I am obsessed with egg nog. Thank the Nogs that this creamy, rich, sweetly nutmegged beverage is only around during the holidays. I can't say no to it any anyway, shape or form. Straight up, on the rocks, served up with rum, grilled into FRENCH TOAST, swirled into a smoothie, or folded into a delicious and moist cookie. This holiday season I'm sharing one of my seasonal treats that you will ALWAYS find in a cookie tin made by yours truly. My sister in law and I first discovered it a few years back when we would have our yearly Christmas baking party (the two of us). Since then, I've tweaked and turned around a few ingredients here and there and found the perfect Christmas cookie.
What you will need :
Cookie
2 1/4 Cup of Flour of choice.
1 Teaspoon of Baking POWDER
3/4 Teaspoon of Cinnamon
1/2 Teaspoon of Ground Nutmeg
Pinch of salt
1 Cup of Sugar
1/4 Cup of Brown Sugar
3/4 of softened unsalted butter
3/4 Cup of Egg Nog (NOT light)
2 Egg Yolks
1 Teaspoon of Vanilla
Icing
8 oz of cream cheese
6 tablespoons of softened unsalted butter
1 Cup of Icing Sugar
1/2 Cup of Egg Nog
1 Teaspoon of Vanilla
1/4 Teaspoon of Nutmeg
Step by Step (ooh baby!):
Step 1: Preheat your oven to 300 F
Step 2: In a large mixing bowl, combine your dry ingredients of FLOUR, BAKING POWDER, CINNAMON, and NUTMEG.
Step 3: In a separate bowl, fold together your softened BUTTER and SUGAR.
Step 4: Slowly add Eggnog, Egg Yolks and Vanilla into the butter and sugar mixture.
Step 5: Mix your dry ingredients into the bowl at a low speed.
Step 6: Dollop a Tablespoon helping of the cookie batter onto a cookie sheet. Do not flatten. This takes away moisture content of your cookie.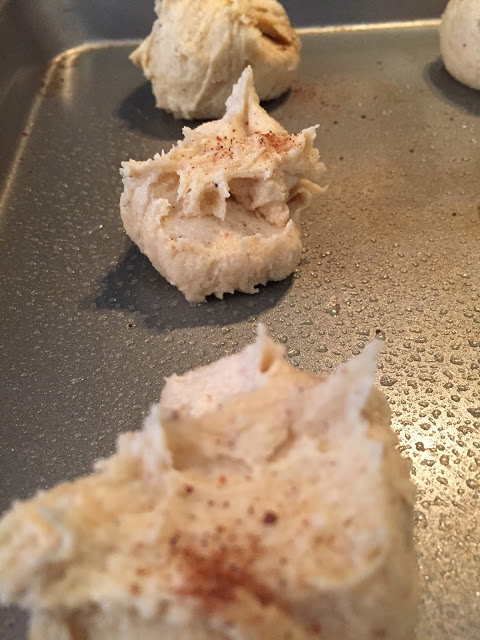 A dollop will do ya!
Step 7: Sprinkle with a touch of cinnamon and nutmeg (be careful, Nutmeg is has a much stronger appeal than cinnamon).
Step 8: Bake cookies for 18-20 minutes or until the bottoms are a golden brown.
Step 9: Prepare the icing while the cookies bake.
ICING:
Step 1: Soften cream cheese in a bowl. You may use a hand mixer or rubber spatula.
Step 2: Slowly add your butter making a soft and smooth consistency.
Step 3: Sift your icing sugar with the cream cheese and butter; mixing well.
Step 4: Add your egg nog and vanilla.
Step 5: Spread your icing on! Don't worry about making it neat and perfect! I love the whipped look!
HAPPY HOLIDAYS!!