So I kind of knew this day was going to come. Not because it was all part of a grand scheme, but because Little Man is authentically, rejoicing that he finally gets to get out on the ice. No mom, No dad…just out there with the girls, the boys, and the coaches. Practice? You want to talk about practice? He wanted game scenario, instant scrimmage, 'where are the goalies' type of hockey. Slow down young grasshopper, you have to learn how to skate before you can play…kind of like the walk before you can run analogy…only on ice…with blades attached to your feet. PAY ATTENTION!
My husband enrolled our Little Man in the NHL's Learn to Play program, run through the Ottawa Senators. I was shocked that hubby did it, actually. All of a sudden I started receiving emails about equipment fittings and ice times and BOOM, the birth of a hockey mom. And I'm ok with that.
But even though it seems I live and breathe hockey it was a bit daunting to prepare him and myself. Of course mom things start running around in my head like, how do I know the equipment is the right size? Is it protective enough, neck guard, a jock?!..that's my baby we are talking about. You would think I would know a thing or two considering my brother grew up playing hockey, my husband played and coaches, my brother in law plays in Europe, hell, I even played. But when it came to my Little Man, I kinda froze up. I needed a 'How To' for Hockey Momming. Here's what I did. Went to Sport Check, gave the gentlemen in the hockey department my list of sizes from the Little Senators program, and he got 'er done. He got 'er done also knowing that I wasn't buying anything with them. I was just getting him sized. Which was a bit awkward. But Thank You Sport Chek.
The Learn to Play program runs a 10-week learn to skate program with experienced coaches, complete with full gear. Everything except the jock. And gitch too. The program is cost-effective to say the least, and allows anyone to be able to experience the play of hockey. The program motto is "Learning to play hockey is more than just learning a game." The program is also run all across North America. If your area has an NHL team, they have the Learn to Skate program. This is such a great program for little ones to get to have fun out on the ice and build skills of the game.
When it came time to try on his Little Senators gear, we FaceTimed Daddy to ensure everything was the right fit. My idea. It was just instinct. I know he really appreciates being a part of those experiences, even from afar. So us at the rink, and Dad on the bus, we fitted our boy. I also had some great help from NHL Alumni Rick Smith. Here is the trick moms…Just ask for help. At one point, it's everybody's first time.
So in fine family fashion, Myself, Hubby, and Grandma packed the kids (Little Man was pre-dressed in some gear for a more timely and fluid transition from car to ice) up and headed for the rink. This past weekend was his first session. I can guarantee that he was the hardest working kid out there because he was on his butt… a lot, but got right back up again. There were kids down everywhere. It was a true hockey yard sale only with 4-8 year olds. There was no quit in this kid; a smile tattooed on his face. He was having the time of his life. Drinkin' from his water bottle, having a seat on the bench for a quick second, mixing in a drill or two, and somehow finding a puck and just shooting on his own…facepalm. But! I had that Mama Moment. I could have cried. I really could of. But I kept it together. As Mom's when our kids are happy, life is good.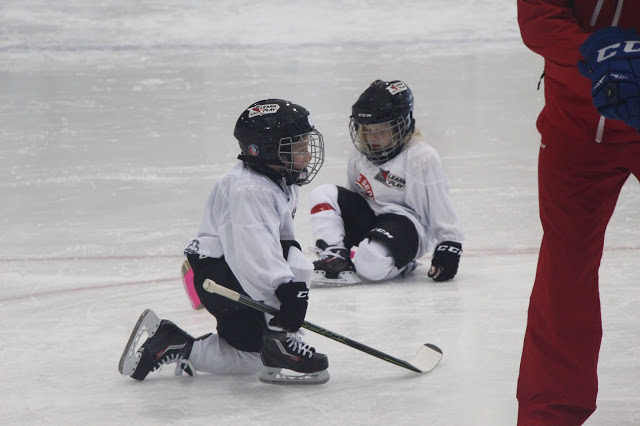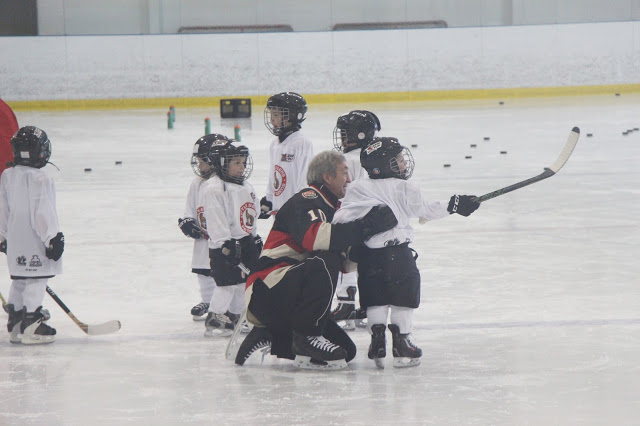 Some additional tutelage from NHL Alum, Rick Smith (nicest man ever).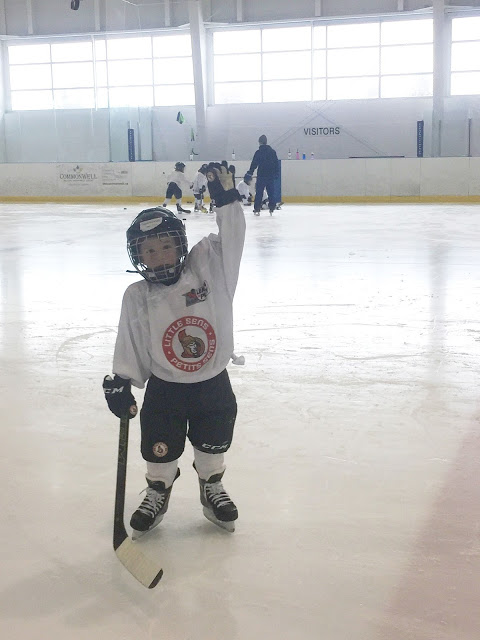 About the time I got the "get outta there" text. Tee Hee.
Since Hubby was there, I had extra pointers on how to execute everything. It was so good for me to watch him, watch Little Man, take notes and take photos, obviously. Hubs actually text me when I was along the glass (with about another million parents) to get outta there. Maybe I was hovering…maybe. The day was great. We finished it off with a Gatorade from the vending machine and we were on our way, rosey cheeked, sweat sodden locks, and the gears just a turning for Little Man.
Next week it just me and the two kids. Dad has a game. I'm on my own. Taking the reigns…the training wheels come off…wish me luck. Let me know if you have any tips all you hockey Mom vets!
Thanks for reading!
And check out the Learn To Play program. Read the LEARN MORE section for more details.