Surrounded by rich girls in boarding school, a tall, spritely and resting bitch face little girl had aspirations of her own. She recognized her father's persistence to give his all to see that his kids were presented with the best education possible. He found the money for education which left little for anything else. And when I say little…I mean "$0 leftover over for anything else". In this, she found herself. Hand stitching threads of her own to suit her style she began to chase. She chased a vision that wouldn't allow nay-sayers or others to sway or dictate her path. Khaleesi Status. Nay-sayers…I invite you to stay here in this space for just a few minutes longer. To read, to process, to realize that your opinion of others is, by all means, welcome in this world. However, I must state that opening yourself up to perspective is one of the most powerful gifts you can give yourself. And with this, I gift you with this month's feature wife who does not falter often, shoots straight from the hip, and mothers the philosophy that you've got to find yourself. You can't live your life for someone else. From a young age, go-getting Tiffany Parros was DOING IT RIGHT. Still is.
Here is the thing. I have never met Tiffany Parros in person. But you know what? In the exchanges we have made, she is open and honest, and there is a quiet confidence about her, paired with a healthy helping of no-bullshit. Her sense of humor is dry and playful. I can see why George Parros is smitten with his wife and the mother of their twins, Lola and Jagger.
George and Tiffany met in their teens when George played junior hockey with Tiffany's brother, Josh. But they didn't start dating until they were 25. Tiffany wanted to explore the world, to learn, to add layers to herself. On her own, she lived in Maine, Chicago, LA, Spain, and Croatia. She loved life in LA, but she realized that it was "the same sh!+" and didn't become attached to any specific place. She felt more enriched when she was able to see other places. So you can see that travel or moving isn't a problem for her. Which is perfect if you are going to marry a hockey player. To this day, Tiffany and George consider themselves gypsies.
The two officially became the Parros' at a winery is Paso Robles, California. Tiffany isn't what you would think of in terms of brides. "I'm not the girl that dreamt of a big wedding or dress. George is greek and forced me into something small." she quips. But the two are the most perfect pair. Together they carry a sophisticated openness, pride, and admiration for each other. Not to mention they are ridiculously sexy.
Tiffany is the Jack of all Trades, although claims to be "master of none"…I disagree. She has mastered running her own businesses (plural), while being super mom to her adorable 5-year-old twins. We share a philosophy about our children. Obsession. Tiffany gushes, "Lola is smart like dad, boss like mom. Jagger is a little loner like me, and total momma's boy." These cuties get another attribute from their parents. They've got the fight in them. When George was playing overseas, Tiffany went into labour at 27 weeks. Alone, terrified, and without the one person you need by your side. A mother's nightmare. It was touch and go. Alone. George soon arrived and they willed for their little boy and girl to grow every day. At one year old, they were 12 pounds.
"They are still on the small side but we just focus on keeping them active, and aren't really pushing any one thing. I laugh at all the moms and dads that think they can tell their kid is going to go pro when they are still kids. There are so many variables that come into play. " Tiffany rightfully supports the notion of knowing what is important in life. Perspective is a powerful thing.
Tiffany and George find "home" in Las Vegas. But they really don't call it home…and can't really tell you where home would be. "Well, home has a different meaning for George and I. We have a house in Vegas. But I wouldn't consider this home. Just a convenient place to live for the next couple of years." Living the hockey life has brought 5 NHL teams into their life. And with 5 NHL teams, comes 5 different cities. I asked Tiffany what it was like for them to experience trade or injuries, and she matter of factly shares that, "We just took trades as they came. That stuff always leaves you like you get the wind knocked out of you. But I try to recover quickly, count my blessings, and keep it moving." At the end of the day there is nothing you can do. In fine fashion, the Parros' continued to chip away…good things come to those who…hustle.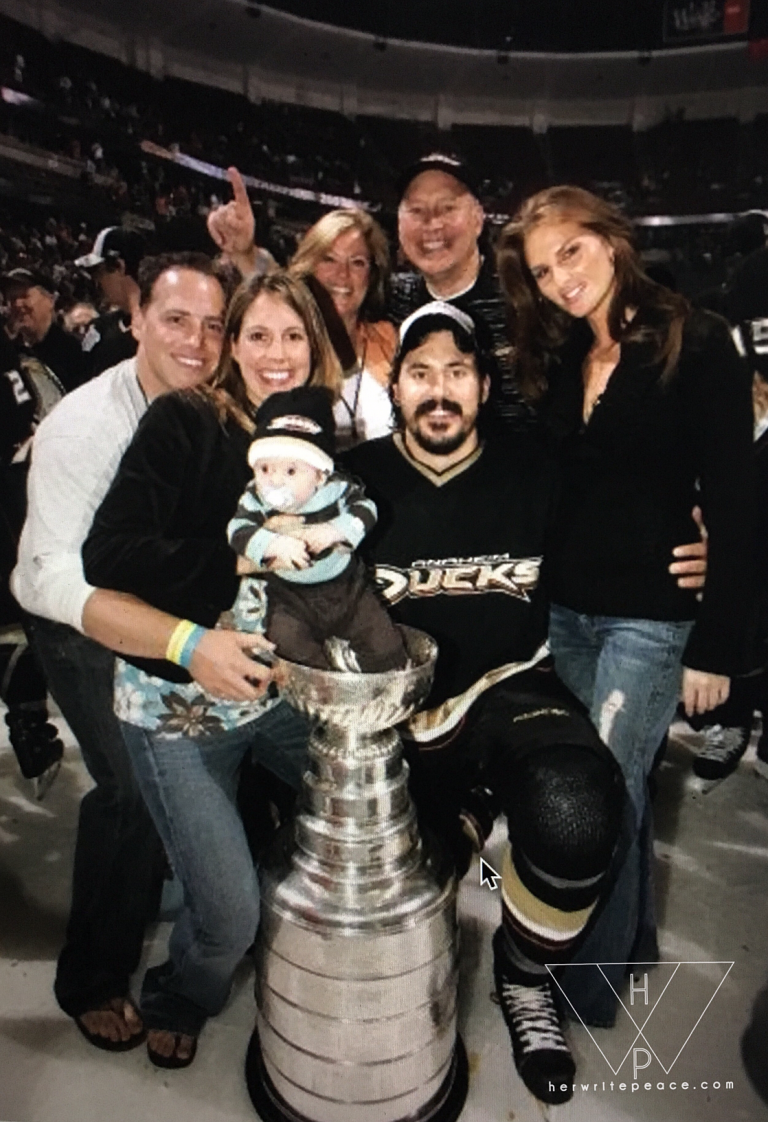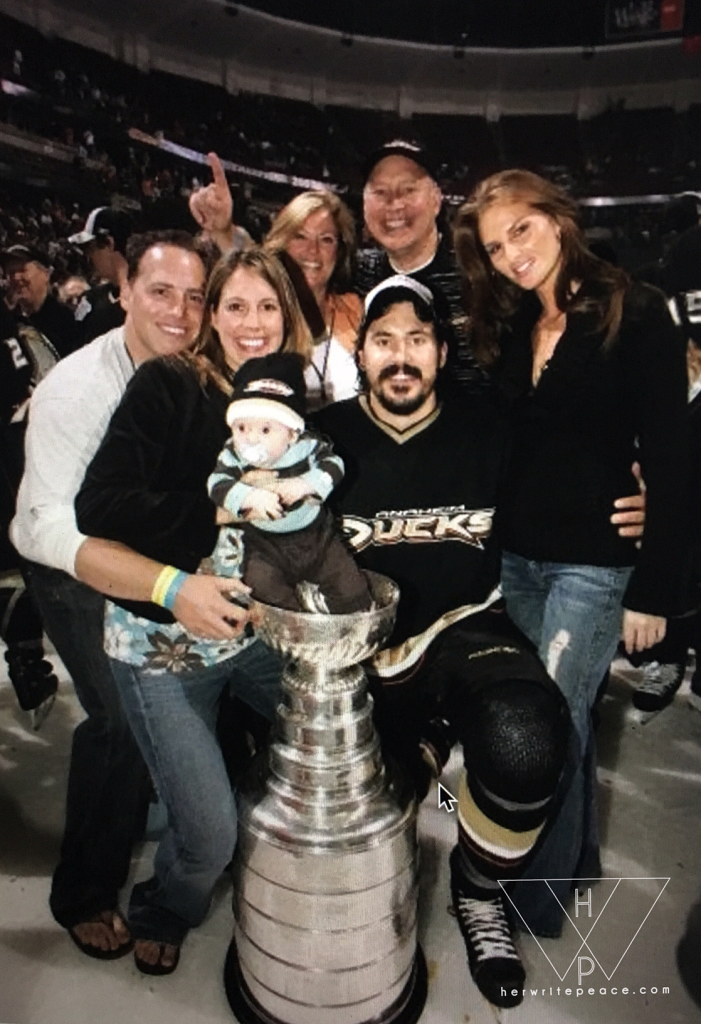 What did irk Tiffany though, as a spouse, was that people tend to be quite judgemental and opinionated when it comes to matters of sport. When they assume that it is all about riches and fame, it's hard not to want to jump to the defense of your husband when critics become critical. "The hand shot is just a reminder that people have no idea what is happening behind the scenes. I remember people giving George shit for not 'fighting well' and it was because he was fighting with his left because they didn't disclose his hand injury and this is what it looked like. Just one of many. But a reminder that people really have no clue…"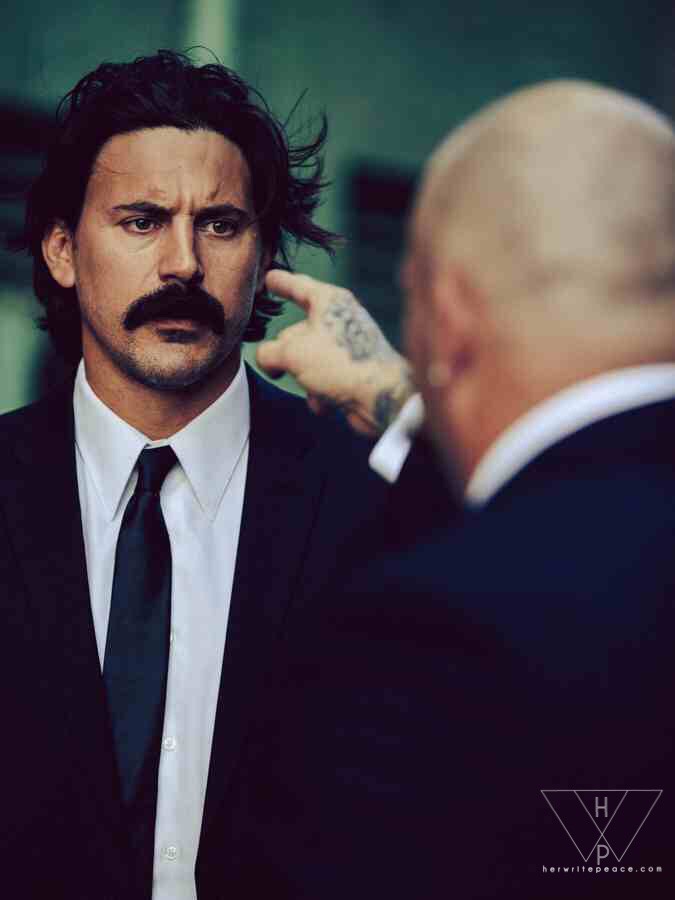 George is now retired from playing professional hockey. But that doesn't leave him out of the game. Being a well-known enforcer, he was merely gaining experience for his most current job with the NHL working in the Player Safety Department. To boot, he also has an iconic hockey inspired fashion company, Violent Gentlemen.
Tiffany and George have a relationship that is genuine, full of love, admiration, and understanding. George tells me that he, "has always been so impressed with Tiffany. It's no easy task to start up and run a business singlehandedly while moving to a new city every season." She just makes things work out with what she has. Tiffany says her motivation for her career path was "desperation". Rewind back to boarding school to where there wasn't much for the extras, so Tiffany started making her own clothes. "And I found when I made clothes for myself, and someone asked, 'who made it?', I loved that feeling of saying I made it myself. So I chased it. I still chase that feeling. That's how I got started."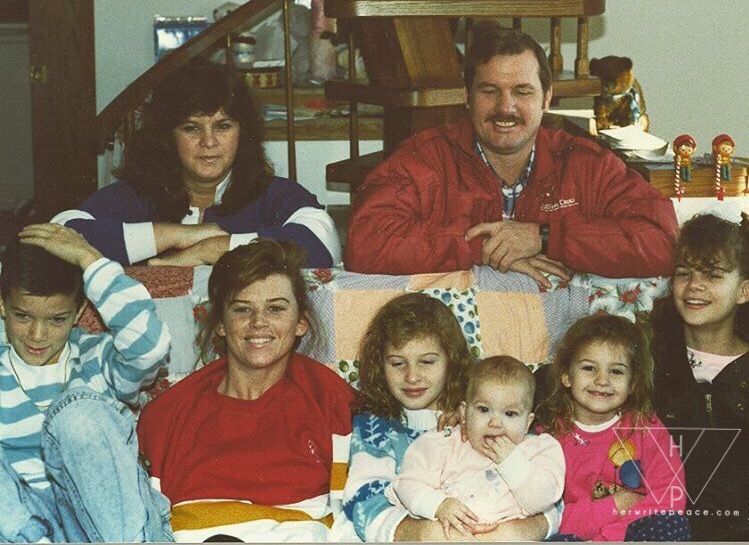 Thinking nothing of starting her own business, she jumped right into it. Her father had started his own asphalt company with just himself and a Bobcat. "They worked their asses off and 30 years later are still going strong. So in light of them, I never thought anything of trying to start my own company. She went from restructuring vintage clothes to creating t-shirts for the NHL. And now she making waves with her company, Plain Threads.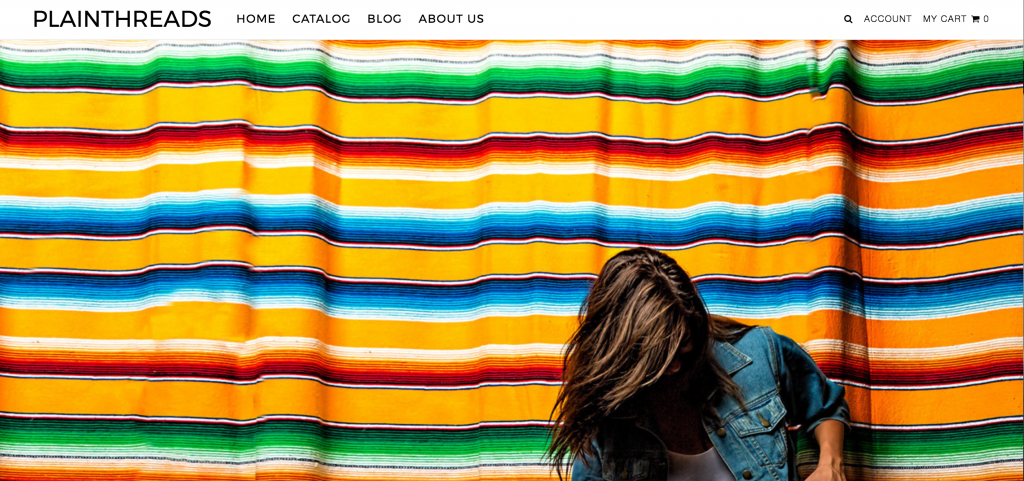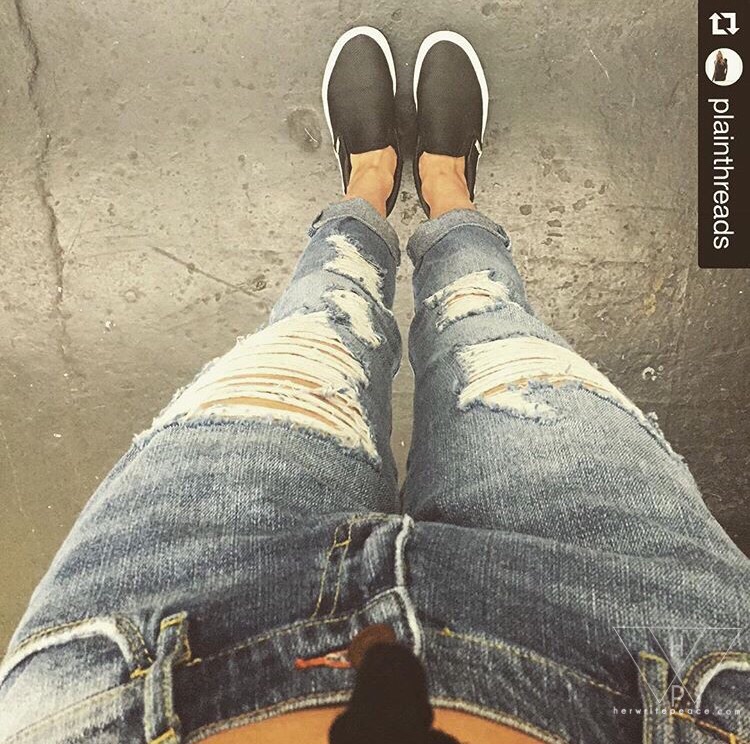 In the clothing business, Tiffany found that she was most commonly dealing with girls and women. She began giving beauty advice and recommending hair or makeup which ultimately led to her partnering with a friend in a MediSpa business. Being a multi-business owner doesn't stress Tiffany out. She doesn't find it stressful because of how convenient technology is. With phones, computers, and tablets, it makes it easy for communication and business. With the perks of technology, Tiffany says that she is "always working but also not on anyone else's schedule." Tiffany is always moving forward and firmly believes that one thing leads to another. She's not afraid of the hustle, that's for sure. "I just want full days. Full days make me feel good. It makes me feel like I bring more to the table than just being a good wife. I'm a good boss, good friend, and I get to be creative. "George also adds of his wife, "Her sense of style has always been truly her own and sets her apart from convention. She's confident, beautiful, and has raised two outstanding children along the way." I mean….
The two not only share mad love for one another, but they also collide perfectly in a creative sphere, have insane work ethic, and believe in one another. "George is impressive. He is honestly the nicest person, a great dad, and so so smart." They don't believe that any one career is better than the other, "We compliment each other, but George would be successful with or without me. I can say it's probably more fun with me though" she pokes.
But when hubby is away, which is often in the professional hockey world, you need people around you as well. You begin to gather a hockey family. But Tiffany sometimes gets the reputation of being hard to read or not being friendly. When you are traded to another team, you are alone. Forced to make new friends, that can be a difficult and scary experience for some. Small talk is the worst, and some people aren't willing to let you in. Tiffany recalled that with one team she wasn't welcomed well by the other ladies. "Apparently I wasn't on the list. From that point on, any girl that self-appointed herself as 'in charge', I kind looked at them like they were a joke. You cannot live your man's life. You have got to find yourself. My job is to compliment and support. None of this is mine. The bubble was tough for me, I always gravitated to the girls that had their own thing."
But not all experiences were entirely negative. "It's funny because I always had a bad reputation before people actually met me. Then, the more girlfriends I had the better it got. It goes with the RBF, Alpha, dry wit persona." And people got it. They got Tiffany. "I have lots of close girlfriends in this space. It's always temporary to be in the same city so I try to gravitate towards the girls I know I'm going to want to make the effort with once we are in two separate cities. Some of my best friends are hockey wives."
While on the topic of Hockey Wives, you may recognize her from the W Networks show, Hockey Wives. Tiffany is no longer on the show. When I asked her if doing the show was a positive experience,"It's tough. The first season was gray area documentary. The second, they pulled the bait and switch. It's like they got a hit, and just started trying to grind out a show we've all seen before. "The Real Housewives'… I would send them my schedule and they actually wrote back 'your work is boring'. It all became so generic. I was embarrassed to be part of it. The NHL wants nothing to do with it." It is troublesome to think that a network that prides itself in relating to the female demographic would try to adhere to the noxious stereotype that gets attached to a 'hockey wife'. "I think what people don't realize is most of the conversations are prompted. So we aren't talking about what we would normally talk about."
Another case of everything doesn't seem as it appears. Tiffany adds, "How is that for women looking out for women? I signed for 30 days and as soon as I hit 30 days I quit. I said either make the show you promised or let us decide to go." They even went so far as to tell Tiffany that she wasn't allowed to talk to the other girls on the show. Claiming that Tiffany was asking for money…her response? "I have 18 jobs, I don't need your money, I just want you to do what you promised."
But was it accurate? Was it the documentary that we all buy into or the reality show that we sell out for? "I tried to be me…" Tiffany wanted for that show, what I do here in these features. To show the good in women. The women who maintain their integrity and self-worth while married to a professional athlete, who have their own goals and accomplishments, who live with the challenges but don't make it their whole life, who are making it work…who are doing it right.
It's to say that Tiffany has separated herself from others on the show. She has also separated herself from who she was on the show. "I lost respect for the show, and it made me upset with the girls. Not really their fault. It was all becoming so fake. I didn't like who I was, being a part of it." For a woman to work hard for her career and personal accomplishments and have them undertoned by a new purse or bracelet was not copacetic for Tiffany. "One of the reasons I wanted to do the show is that I was one of few wives that, legit, worked through my husband's whole career. I earned this."
There is always an upside to things in my book. Tiffany did enjoy some things while on Hockey Wives, "I did fall in love with the production side of things, the story-telling aspect. The authentic moments I think we all loved about the show. I would like to do that again in some form. And I love the footage of the kids." Tiffany was most certainly a fan-favorite on the show. One of mine. Whether you loved to love her because of her honesty and dry humour, or whether you loved to hate her for whatever known reason to find hate. I have to admit I love the show. I would never go on the show, but I love the show. I just wish that the W Network stood for something more powerful in women than surface junk.
Let's get a little deeper. Tiffany isn't slowing down anytime soon. In fact, Tiffany is releasing her own Lifestyle Blog called A Surface Collective. You can get your fix of the blog on her Instagram Blog HERE! So why add this to her repertoire? First and foremost, blogging is an industry. Secondly, I told you that Tiffany is a Jack of all Trades but the motivation was an amalgamation of many things. For example, "George and I just reno'd a house. I got my real estate license for our own investments and am open to working with other people. I was looking to put it all in one place. I have my online store, my Spa. Busy but always looking for more. Just don't look for me on a bench anytime soon.
So I had to ask Tiffany how she really felt about the term "resting bitch face" being attached to her. Inquiring minds had to know! Forthcoming, light-heartedly, and matter of factly she tells me that, "Honestly, it's a real thing. Ever since I was a kid unless I'm laughing, people think I'm in a mood. I didn't get what people were talking about and then I would watch and think I was being loud and obnoxious. And then they cut to me and I'm stone cold in the corner. I know a lot of people that have sweet faces that are evil. So I guess I'm the sheep in wolves clothing."
Tiffany Parros. I dig you.
Thank you so much for gracing Her Write Peace as a feature WOMAN who is doing it right.
Perspective is Power people.