Tacos are somewhat of a passion of mine. I enjoy eating them, I enjoy making them, I enjoy buying them, I love experimenting with them…I've even got my Little Man running into the kitchen every Tuesday after school and knowingly he says, "Hey Mama, what day is it?" To which I reply, "I don't know. You tell me." and with a coy smile and raised brows, "TACO TUESDAY!" with little flying fist bumps to accompany his bunny hops. Tacos are a thing in our house. It is my husband's favourite meal as well, long before our kiddos made their appearance.
Every Tuesday I have welcomed you into my world of Taco-ry, and now I will be sharing with you some of my favourites, drool worthy taco combinations.
Lately, I've been venturing away from having meat at dinner every day. Don't get me wrong, I love meat, but lately I've been craving the tofu or veggie tacos or fajita's, respectively. Or fish…if you're a pescetarian. Heh.
Last week I tried something off the cuff, totally unplanned and winged a recipe that is now going to be around more often.A meatless taco with a little more substance, a little more texture, and a lot more flavor! May I present to you, The Butternut Squash Taco.
What You Will Need:
Kelly's Taco Spice  (if I were a Spice Girl, I'd be Taco Spice)
Butternut Squash
Coconut Oil
Lime
Garlic (minced)
1 small-medium Onion
1 of each – Yellow and Red Peppers
1/2 Cabbage (Green, my preference)
Kale
Greek Yogurt
Salsa
Black Beans
Taco Spice (I make in bulk and will usually last me for at least 5 or 6 taco nights.)
1 TBSP of Tumeric
1 TBSP of Chili Powder
1 TBSP of Paprika
1 TSP of Oregano
1 TBSP of Onion Powder
1 TBSP of Garlic Powder
1 TBSP of Cumin
1 TSP of Mustard Seed
Salt & Peppa
1/2TSP of Chili Flakes (Taste to your own liking)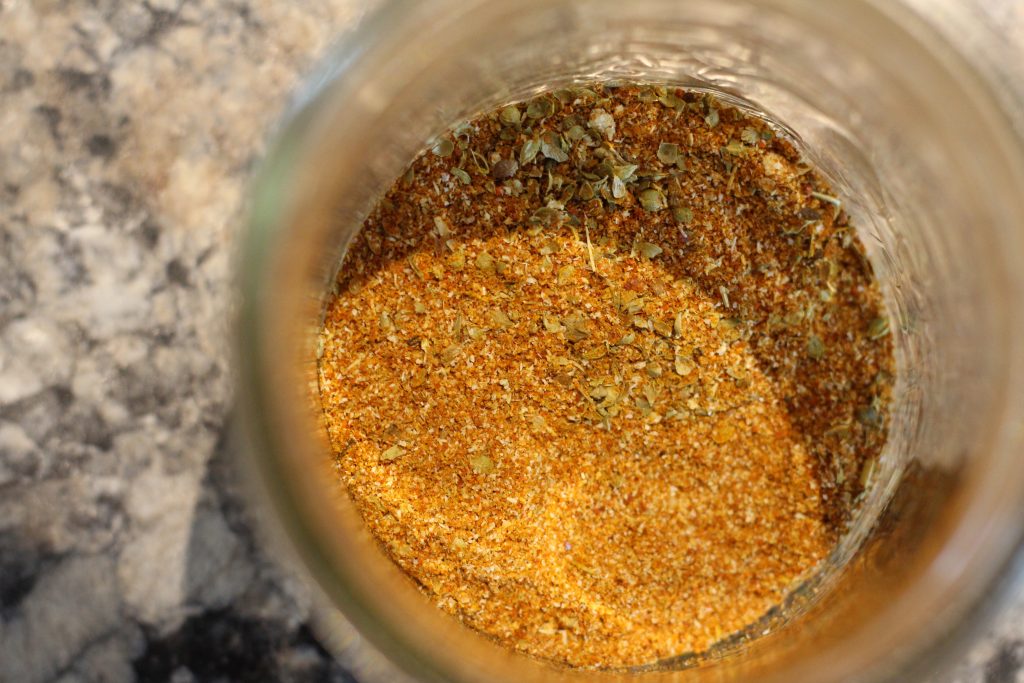 Step by Step (Oooh Baby!)
Squash:
Preheat oven to 375F
On a flat surface peel the squash. Then cut squash lengthwise and hollow out and discard the seeds. Cut into 1/2 cubes.
In a ziplock bag or large bowl, drizzle melted coconut oil over the squash cubes. Add 1 Tsp of minced garlic. Shake/Stir.
Mix in 2-3 tablespoons of Taco Spice making sure each cube is getting some love.
Spread the squash on a cookie sheet covered in parchment paper.
Bake for 35-40 minutes. Turning once.
The Mix
Cut Cabbage,  Peppers, and onions into strips.
In a pan with coconut oil, sautee the cabbage and onions with salt and pepper. (cooking cabbage is optional-Little Man only eats it if it's cooked…I pick my battles)
Set Aside
Brush Corn on the cob with olive oil and wrap in tinfoil. Roast it on the BBQ for 15 minutes.
Sautee Peppers at a med-high heat with coconut oil and onion powder. For best results don't cook the peppers too long. You want burn marks but not soggy. Always cook the peppers last!
Use hard taco shells, tortilla chips,  or soft whole wheat wraps!
Other Favorite Flavour Enhancers:
Black beans sauteed with salsa (Added Protein)
Medium Salsa
Greek Yogurt (Probiotic and Protein)
Franks Red Hot Sauce
Jalapeno Peppers
Shredded Cheese
So there it is! My Butternut Squash Tacos! I hope this post finds you hungry and happy today! I know I am!