It's no secret that I'm a Tac-oholic. And since it's Tuesday there is no better day to share this fail-proof recipe for the most perfect and satiating meal. Now just because this recipe is meatless it doesn't mean you meat lovers need to steer clear. In fact, I encourage you to introduce yourself to different taco experiences. Let me introduce you to Cauliflower Tacos on this fine Tuesday afternoon.
The brilliant part about this taco recipe is that it takes hardly any time at all. No meat to thaw. No trimming of the fat. No sterilizing cooking or prep tools. This recipe is so basic bitch you will be craving them on the regular. Additionally, if you are like me you eat your tacos faster than your brain can alert you that you are full. Lucky for you taco bingers, this recipe is so light they won't leave you in a Veruca Salt state of bloat.
Now before I dive in, I would be remiss if I didn't share some benefits of my dear friend Cauliflower. News Flash! Cauliflower often gets a bad rap for being a bland vegetable or one that lacks nutrition because of its blanchiness. Blanch does not equal bland or blank. On the contrary! Cauliflower absorbs flavor quite beautifully and compliments many spices, including that of my homemade Taco Seasoning! In addition, cauliflower also boasts these badass benefits for your body:
High in fiber! Who doesn't love to be regular?
Good source of anti-oxidants! Bye bye inflammation–Hence no bloat!
May aid in weight loss if that's your goal.
Low-Carb option
It's CHEAP! and goes a long way.
So wait no longer!
Taco Tuesday meet Cauliflower!
What you will need:
1 Head of (organic) cauliflower
Kelly's Homemade Taco Seasoning
Olive Oil
Coconut Flour
Additional Taco Fillers: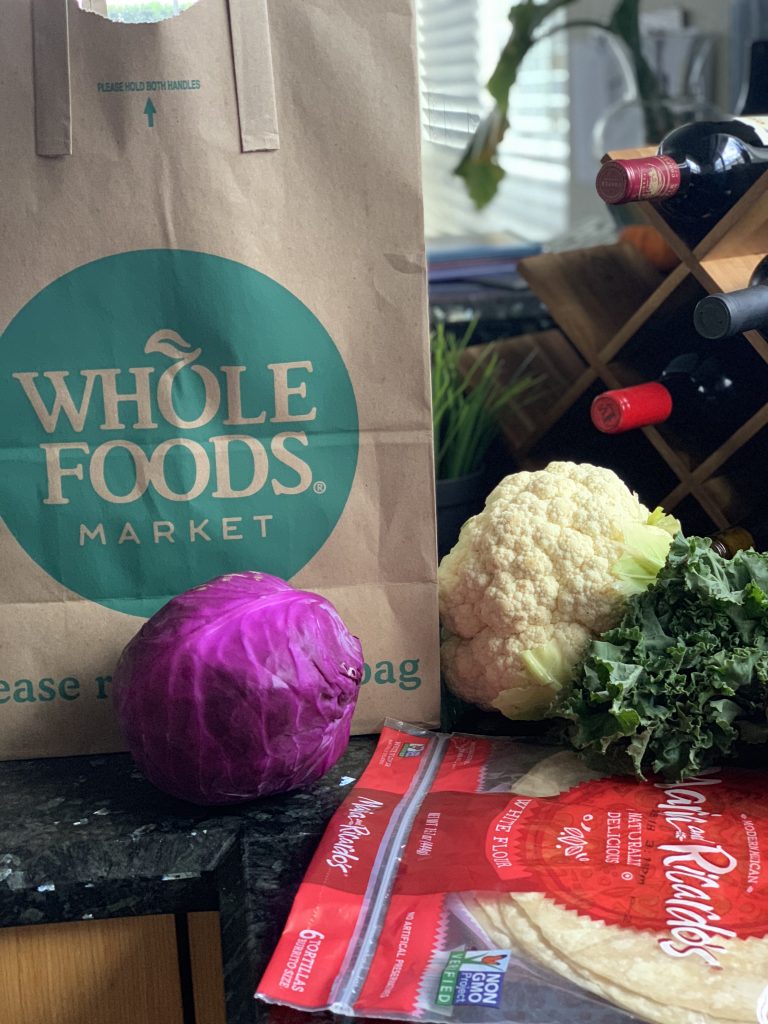 Red, Green and Yellow Peppers
Purple Cabbage
Sweet White Onions
Garlic
Avocado
Plain Greek Yogurt
Maria and Ricardo's Tortillas (Sold at Whole Foods)
Salsa
Quinoa or Brown Rice
Lime
Step by Step (Ooh Baby!)
*Disclaimer- DON'T BLINK!
Cut your cauliflower into small bite-sized florets. Side aside in a large zip lock baggie.
Make your Taco Seasoning (I make ahead in bulk so I have a large mason jar ready for Tuesdays!)
Add 3 tbsp of Olive oil into a baggie with your Cauliflower.
Mince one clove of fresh garlic, add to Cauliflower mix.
Add 2-3 tbsp of Taco seasoning.
Add 3 tbsp of Coconut Flour to Cauliflower mixture.
Seal your ziplock bag and shake up until your cauliflower is coated nicely.
Spread on a cookie sheet lined with Parchment paper.
Dust with salt and pepper.
Bake for 25 mins at 375, turning halfway through the cooking time.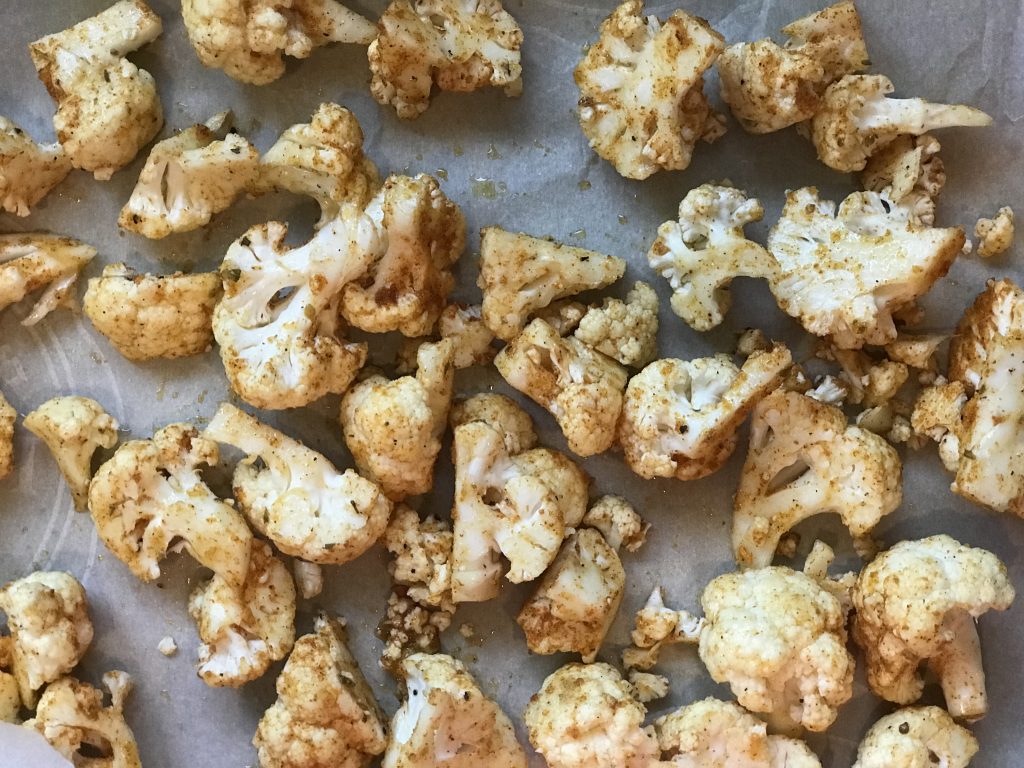 To save time and clean up, I also like to roast my peppers and onion on the same cookie sheet. The flavors marry quite brilliantly.
While this the cauliflower mix is filling my house with the most delish aroma, I begin to cut and prep the additional sides and fillers for my tacos. Your fillers are entirely preferential.
**Cook your grain at this point. Your quinoa or rice will take 10-15 mins to cook and settle. (I've forgotten to cook my grain until the last minute and have been grainless. This makes me sad)
Cut your cabbage, avocado, tomato, and lime (halved). Shred your cheese. And set your table garnished with your tortillas, salsa, and greek yogurt.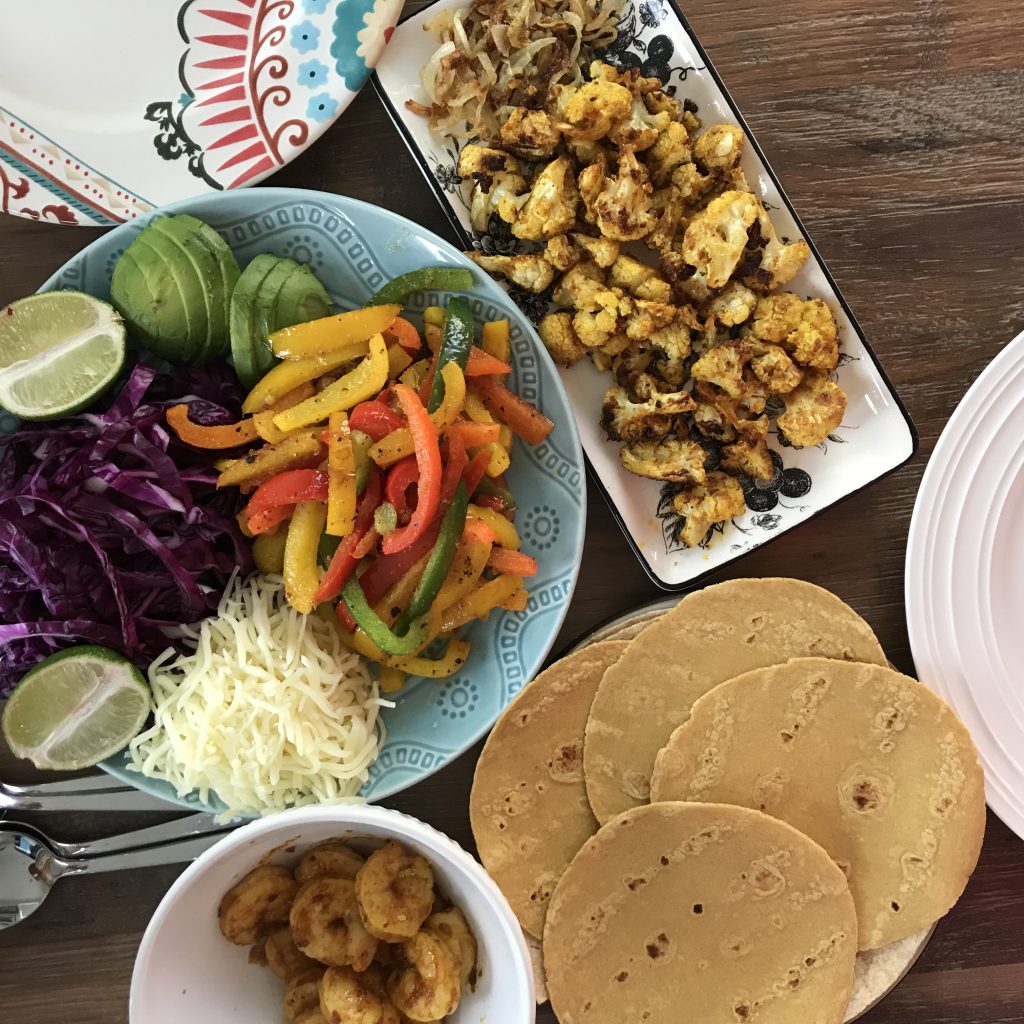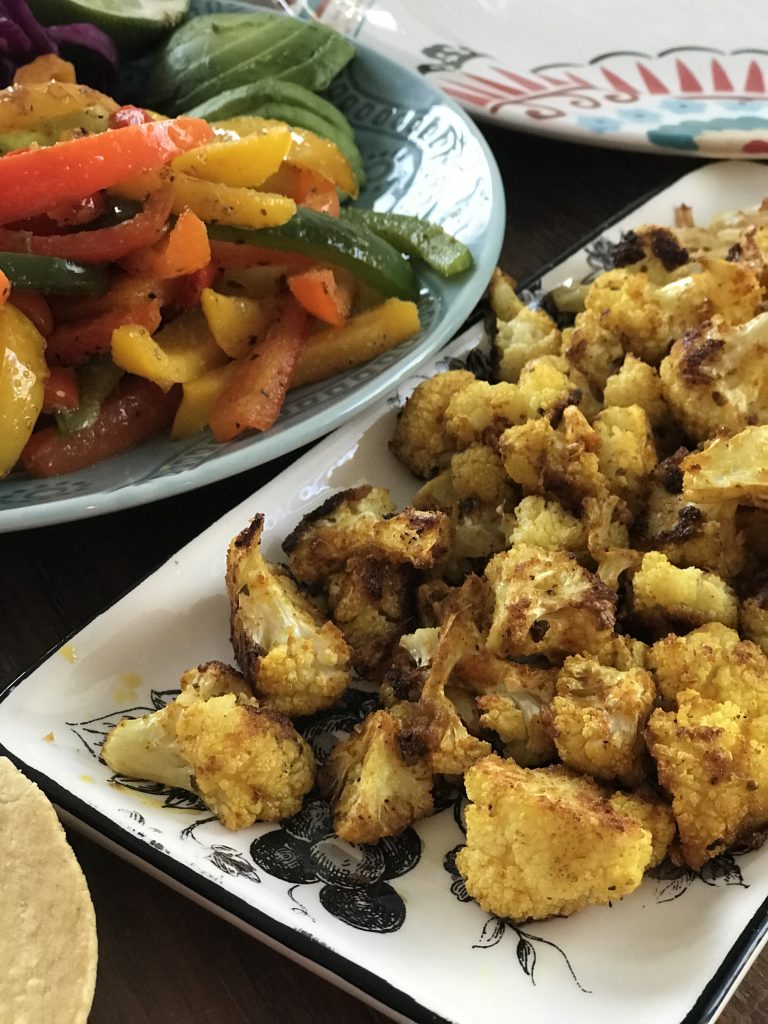 If you have time, mix yourself up a salty margarita and countdown the remainder of the time before you can settle intothis gorgeous Cauliflower taco recipe!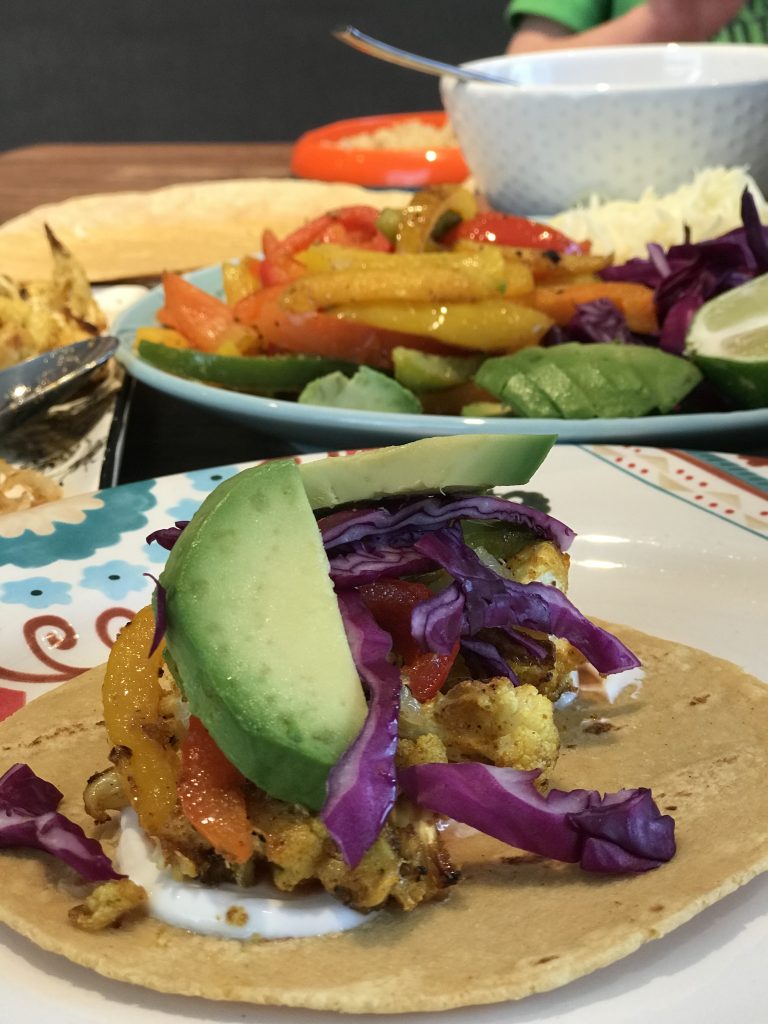 Enjoy!